Private Noel McDonnell, Mary Claire O'Malley, Helen Collins (both grand nieces of Gen Michael Collins) and the Chief of Staff Lt Gen Conor O'Boyle beside Gen Michael Collin's Death Mask in its display in the Cathal Brugha Barracks Visitors Centre. Source: Corporal Neville Coughlan
THE DEATH MASK of General Michael Collins has been presented to the Cathal Brugha Barracks museum by the general's grand niece Helen Collins.
His other grand niece, Mary Claire O'Malley was also present at the ceremony yesterday, where wreathes were laid to mark the death of the first Commander in Chief of the National Army, General Michael Collins, on 22 August, 1922.
The death mask will be on display in the museum.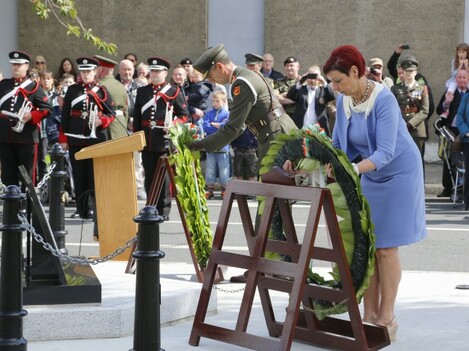 Chief of Staff of the Defence Forces Lt Gen Conor O'Boyle and grand niece of General Michael Collins, Ms Helen Collins, lay wreaths at the Gen Michael Collins plaque in Cathal Brugha Barracks. Source: Corporal Neville Coughlan
The visitor centre holds many fine military artefacts and displays that are unique to the barracks.
The museum website states that personal memorabilia that belonged to General Michael Collins has pride of place in the barracks museum as it was from Cathal Brugha Barracks that Michael Collins departed on his ill-fated tour of the south of the country, where he was killed at Béal Na mBláth, County Cork.
Also on display is his desk the flag that draped his coffin, his Colt 45 pistol and three pistols from his hit team, The Squad.