Updated 1.08pm 
MICHEÁL MARTIN BELIEVES he is the only alternative Taoiseach to Enda Kenny at the next general election.
The Fianna Fáil leader was speaking at the start of his party's two-day parliamentary party meeting in Sutton, north Dublin this afternoon.
With Sinn Féin leader Gerry Adams saying last week that he had no personal desire to be Taoiseach, Martin was asked if he believed he was the only alternative leader on offer to voters at the next election.
He responded:
Eh, yes, absolutely. I think that is the bottom line in terms of Taoiseach. 
Martin said Fine Gael appeared to be adopting a "fundamental strategy" of hiding Kenny "as often as they can in order to propel themselves to victory".
He continued: "I think it will be up to the Taoiseach to come up front and to debate publicly with me in relation to these issues and that we could have fulsome, energetic and active campaign where political leaders don't go in for the soundbites or the organised PR opportunities.
"But that we have no holds barred debates with the Taoiseach and others, and I'm up for that and I hope the Taoiseach is.
At the start of his party's think-in, Martin repeated his claim that Kenny had effectively sacked former Garda Commissioner Martin Callinan last year.
Martin also declined to be drawn on where he ranked in the history of Fianna Fáil leaders.
Not a 'policy-free zone' 
Earlier, the Cork South-Central TD was in a feisty mood as he vigorously defended his party's policy-making and electoral chances.
Speaking on RTE's Morning Ireland Martin described the assertion that Fianna Fáil are a "policy-free zone" as "wildly inaccurate, fundamentally wrong".
"If anything we've been criticised for an over-emphasis on detail, we're the most policy-producing opposition seen in a long, long time," he said.
We have detailed and sound policies on health, homelessness, agriculture, the renewal of towns across Ireland, enterprise, housing and childcare.
Martin came out all guns blazing when it was suggested to him that he as Minister for Health had wasted his health budget surpluses when in power.
"That is an outrageous assertion," he replied.
Life expectancy has dramatically improved in the last decade. Cardiovascular strategy introduced in 1999 revolutionised how we deal with heart disease in this country. We transformed how we deal with cancer in this country as well.
It was not all wasted, if you compare hospitals from where they were in 1997 to 2003 there is no comparison.
Irish Water
Martin said that if returned to power his party would "abolish Irish Water as a model", and suspend the application of water charges.
He acknowledged that he and his party have no issue with water charges as a "basic principle" once the infrastructure is sound.
"Irish Water is now a debacle, and is costing the taxpayer €70 million a year," he said.
We want to go back to the drawing board completely, because the situation as it stands is a complete farce.
Martin said that he thought the next five or six years would be a "realistic timeframe" for the successful implementation of charges, and contrasted the current government's capital spend on water infrastructure as being €200 million per annum less than Fianna Fáil's spend when in power in 2010.
He denied that Fianna Fáil had jumped on the bandwagon when it came to anti-water charges sentiment only after they saw the scale of public disquiet regarding the charges.
What we've seen is 13 u-turns on Irish Water from the government, and that's even before Eurostat came in and said that the idea of putting Irish Water off balance sheet is nonsense.
Now we've a situation where someone who doesn't pay their water charges is eligible for €100 grant. That's a situation that is out of control.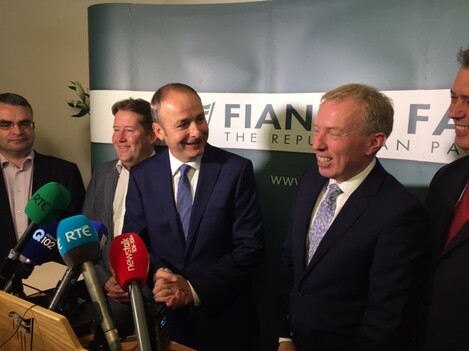 Members of the Fianna Fáíl parliamentary party at the Marine Hotel in Sutton this morning. Source: Hugh O'Connell/TheJournal.ie
He further said that his party would reduce the Universal Social Charge in a phased manner as opposed to abolishing it entirely.
"We have to be careful when we talk about abolishing it, when the Labour Party say they will do so you have to remember that this is the same Labour Party that said they would burn the bondholders," he said.
Election
Martin would not be drawn on how many TDs he expects his party to return at the next election (latest opinion polls would suggest that Fianna Fáil will return 29).
When it was suggested to him that if he doesn't go into coalition with Labour or Fine Gael then Fianna Fáil won't be in government come the next election, and that therefore there is no point voting for them, Martin was dismissive.
"The electorate has its own way of confounding the pundits and the commentators, you only have to look at the British general election to see that," he said.
A vote for Fianna Fáil will change the nature of politics in this country.
- additional reporting from Hugh O'Connell