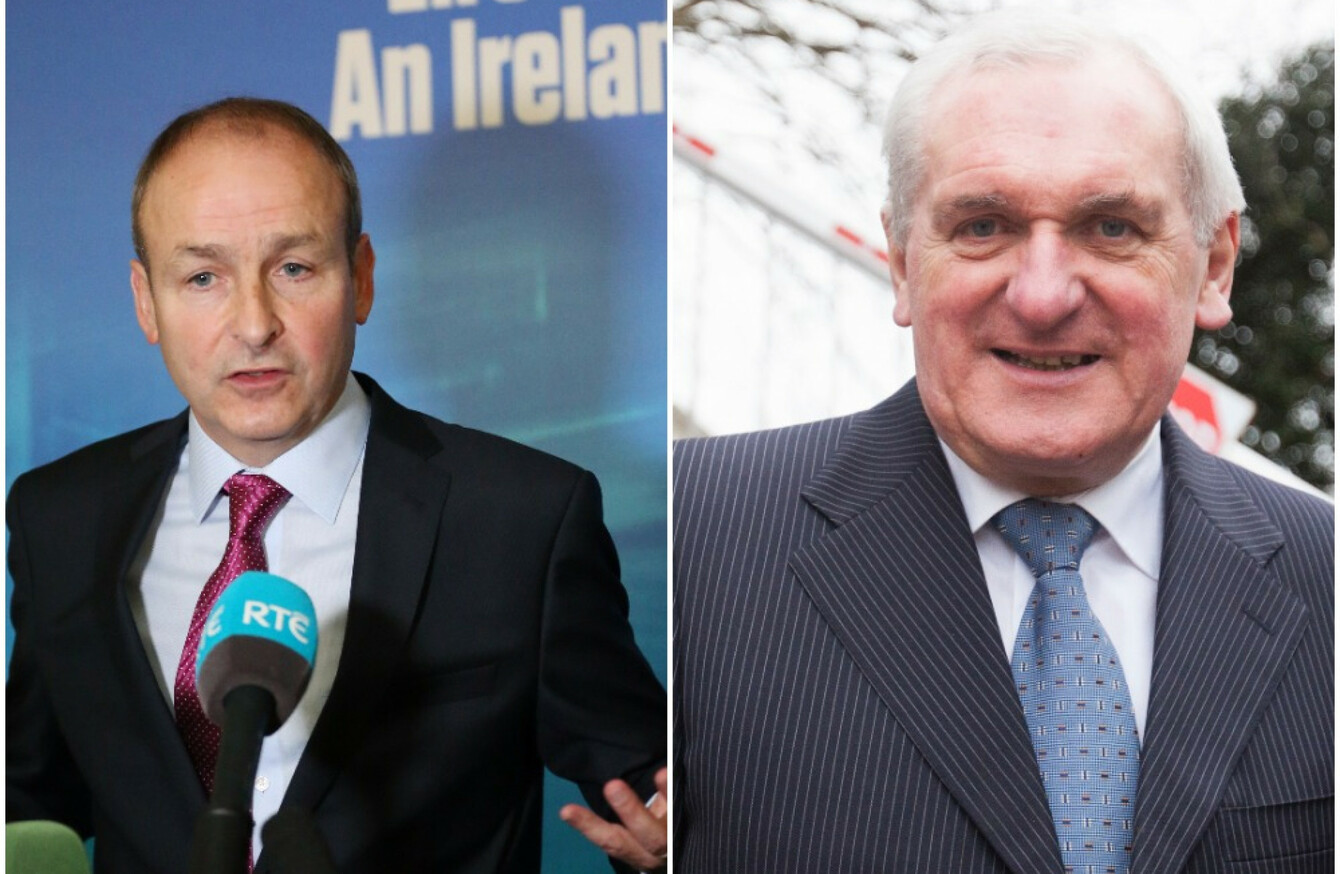 Fianna Fáil leader Micheál Martin and former Taoiseach Bertie Ahern.
Image: Rollingnews.ie
Fianna Fáil leader Micheál Martin and former Taoiseach Bertie Ahern.
Image: Rollingnews.ie
FIANNA FÁIL LEADER Micheál Martin said his views on Bertie Ahern returning to the party haven't changed.
Speaking to reporters at the launch of his party's Ard Fheis in the RDS in Dublin this evening, Martin ruled out a return by Ahern.
The former taoiseach's old cumann wants him to be given a distinguished services award by the party he led into government three times.
Martin called the letter issued by the cumann yesterday "a mischievous letter", stating that those awards are for grassroots volunteers only.
He said they are for people who have given their service "loyally" to the party.
"Those of us, including Bertie, who have had the honour of serving the party in high office, that is our award. It is a great privilege to serve in office," he added.
Last year, Martin made it clear that he did not anticipate Ahern coming back as a party member, despite reports Ahern had said he would be willing to rejoin if his local organisation approved.
At the time, Martin said his views had not changed since he moved to expel Ahern from the party following the report of the Mahon Tribunal. Ahern resigned in 2012.
Abortion 
Over 4,000 Fianna Fáil delegates are gathering in Dublin this weekend to debate a range of party motions.
There are two opposing motions on abortion and the Eighth Amendment. The London cumann of the party want members to endorse a woman's right to choose, while the Kildare cumann want the party to back the rights of the unborn.
Martin said the issue remains a matter for the individual conscience of each party member.
"Every parliamentary party member will have freedom of conscience to vote when a decision eventually comes before the Oireachtas. That has been a position since a number of years ago," he said.
"The fact there are two different motions illustrates the position across society. What I will be calling for in the first instance is that the tolerance of divergent opinions be the touchstone of our debate on this, not just here, but across society. That is absolutely essential," he said, adding that there is good work being done by the Oireachtas committee examining the Citizens' Assembly report on the Eighth Amendment.
Martin said he has been watching committee proceedings and will be reading the transcripts of the expert opinions, adding that he will be making his position on the Eighth Amendment clear after the committee delivers its report in December.
#Open journalism No news is bad news Support The Journal

Your contributions will help us continue to deliver the stories that are important to you

Support us now
He reiterated that he is in favour of a referendum on the issue being held to allow the public have their say.
Abortion is not the only issue up for debate at the Ard Fheis this year. Housing, health, and the party organisation are due to be discussed.
A motion, due to be voted on tonight, calls for the party to rule out going into coalition with Sinn Féin. There has been much to and fro between Fianna Fáil and Sinn Féin and whether there would ever be a possibility of them going into government together.
This evening, Martin said he would "of course" be supporting the motion that rules out the two parties teaming up.
"I have repeatedly said that I will not be going into coalition with them, the Fianna Fáil party will not be. I said that before the last general election," he said.
He added that a confidence and supply agreement with Sinn Féin has also been ruled out.