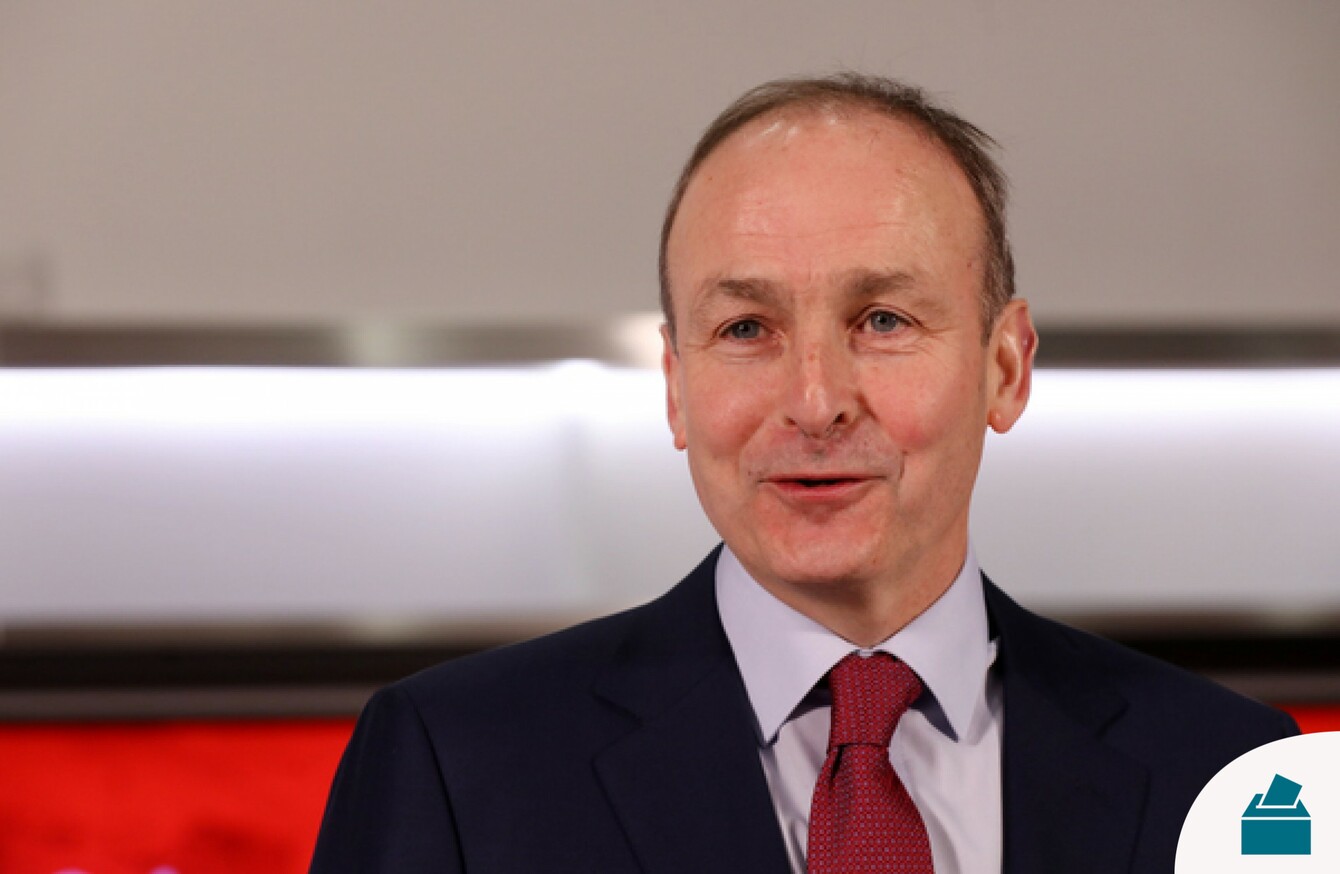 Micheál Martin is leading Fianna Fáil into his third general election as leader.
Image: Leah Farrell/RollingNews.ie
Micheál Martin is leading Fianna Fáil into his third general election as leader.
Image: Leah Farrell/RollingNews.ie
Updated Feb 3rd 2020, 1:52 PM
FIANNA FÁIL LEADER Micheál Martin has again ruled out a coalition with Sinn Féin after the general election, adding that the election is about issues and not opinion polls.
Martin was speaking on RTÉ's Morning Ireland in Kerry and said his party is "united" behind the position of ruling out Sinn Féin as a coalition partner.
"The Fianna Fáil party will not be going to government with Sinn Féin, it's not just about the past, I've laid of my stall on that but it's also about the future as well," Martin said.
"I was in Killarney yesterday, thriving in tourism, the Sinn Féin tax proposals would destroy the enterprise that was so evident yesterday in Killarney and has made Killarney what it is, in terms of employers' PRSI and all of that. And I just have to say, do not underestimate the strength of will within the Fianna Fáil party."
Martin was speaking after two opinion polls showed Sinn Féin surging ahead of Saturday's election, with one showing the party in second place behind Fianna Fáil and another showing it in joint first place with Martin's party.
Martin, however, said that opinion polls are being given too much focus during the election campaign.
"I think you also need to take a deep breath here, opinion polls seem to be dominating the narrative and the agenda. We're putting forward, we're the only party with 84 candidates running that can actually lead an alternative to Fine Gael, that can create real change and a different government, with other like-minded parties," Martin said.
And you seem to be writing off the Green Party, you seem to be writing off the Labour Party and others just based on opinion polls, we had these opinion polls before the 2016 election. 
RTÉ is hosting a number of debates in the final days of the election campaign, with Claire Byrne Live hosting a climate debate tonight and Prime Time hosting another debate tomorrow. 
After initially designating the debate as a head-to-head between Martin and Leo Varadkar, RTÉ has this afternoon reversed its stance and said that Mary Lou McDonald would also be invited. 
Speaking ahead of RTÉ's decision today, Martin said he would have "no issue" with McDonald taking part. 
"RTÉ decides that," Martin said. "I actually accepted an invitation to a debate this evening on Today FM with Mary Lou McDonald and Leo Varadkar, both of them couldn't and didn't take up that offer.
"But I actually would say, if it's about who could potentially be in a government, then I think the Greens and Labour Party might have something to say about that as well, because they obviously are in a key position also to be participants in any future government," he added.
As the campaign enters its final week, Fine Gael have also taken aim at Sinn Féin with Finance Minister Paschal Donohoe saying that the party will "do such harm to workers income, to wages and to their jobs."
"They have claimed they are going to put forward new ideas for investment involving 15 different tax hikes – tax hikes that would be bad for those at work, tax hikes that would be bad for those looking to create jobs," Donohoe said. 
Extinction rebellion
Meanwhile, activists from the climate action group, Extinction Rebellion, arrived at the headquarters of Fine Gael in Dublin, spraying the path outside and the steps leading up to it with a green dye. 
The dye, known as Uranine, is the same dye used to turn the Chicago River green on St Patrick's Day. 
Activists targeted Fine Gael's office but said other party's should take it as a "warning" should they be the governing party following this weekend's election. 
"They've been in government for the last four years and we've scrutinized their actions and any other party that will be in government will be under the same scrutiny," Claire Brennan said. 
#Open journalism No news is bad news Support The Journal

Your contributions will help us continue to deliver the stories that are important to you

Support us now
"This will be a bit of a warning that we're onto the politics of it and we want to see real action."
Asked if offices of other parties will be targeted this week specifically, Brennan said: "I'm not sure what's planned but there are actions planned, more action coming up to the election and possibly outside other parties."
With reporting from Conor McCrave