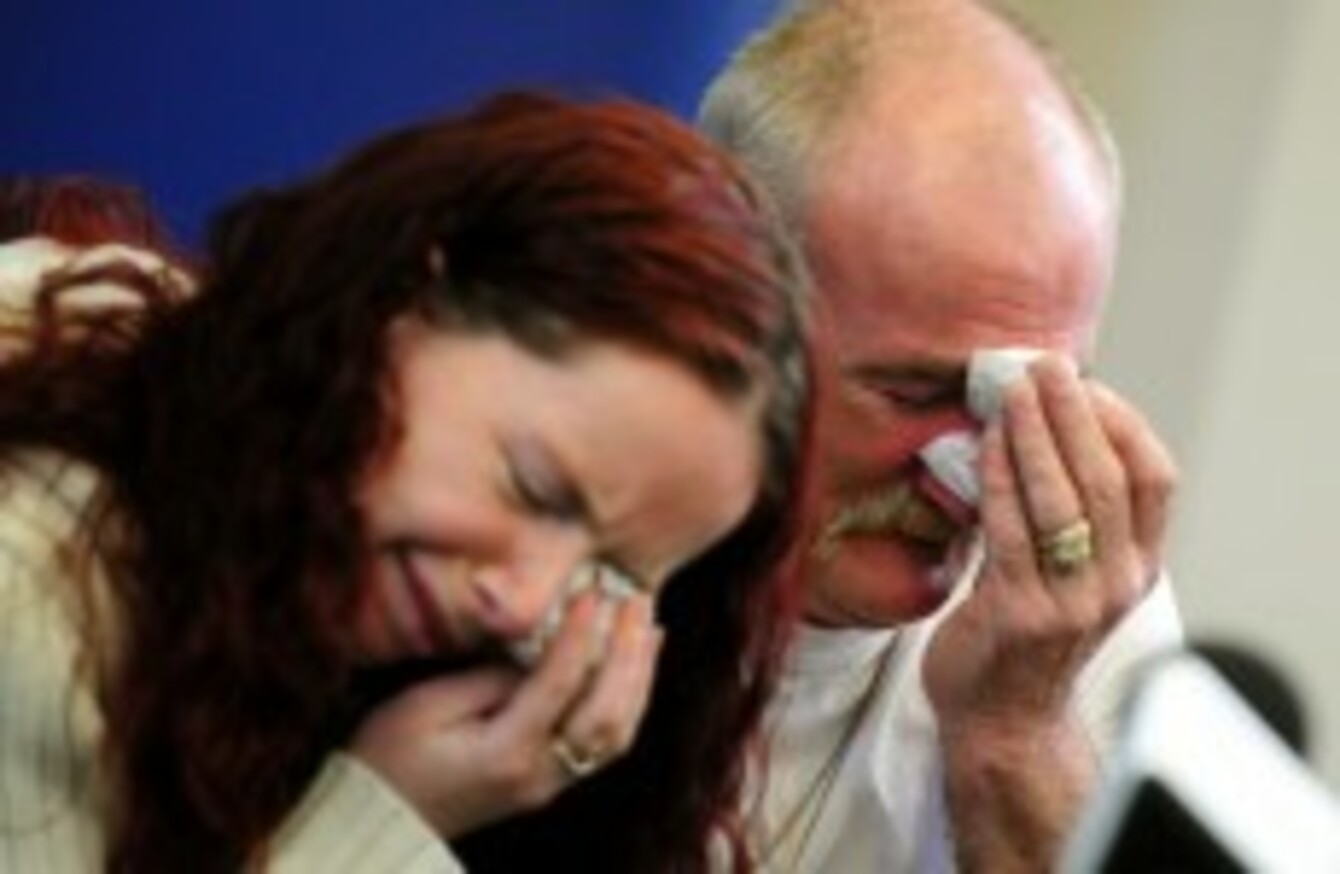 Mick Philpott and wife Mairead speak to the media at Derby Conference Centre, Derby following a fire at their home
Image: Rui Vieira/PA Wire/Press Association Images
Mick Philpott and wife Mairead speak to the media at Derby Conference Centre, Derby following a fire at their home
Image: Rui Vieira/PA Wire/Press Association Images
A FATHER WHO killed six of his children by setting the family home ablaze will have to live the rest of his life facing "hatred and hostility" in Britain, his lawyer told a court today.
Mick Philpott, 56, and his 32-year-old wife Mairead were found guilty on Tuesday of the manslaughter of the six children in a deliberate house fire in Derby, central England, on May 11 last year.
They will be sentenced Thursday, judge Kathryn Thirlwall said after hearing the defendants' lawyers speak in mitigation at Nottingham Crown Court.
Prosecutors said the couple had set their home on fire in a bid to frame Philpott's 29-year-old former live-in girlfriend and claim custody of her five children – four of which he fathered.
She had left the house three months earlier, taking her children and leaving just six youngsters for whom Philpott could claim welfare payments.
He was supposed to have rescued the children through a bedroom window, but the petrol-fuelled fire spread faster than he expected and the window would not open.
Philpott, who fathered 17 children by five different women, has already served jail time for the attempted murder of a previous girlfriend.
He achieved national notoriety in 2006 when his "layabout" lifestyle, funded by hefty welfare handouts that were more than double the average wage, hit the headlines and earned him the nickname "Shameless Mick".
Philpott's lawyer Anthony Orchard said in mitigation that despite his faults, "he was a very good father and loved those children".
"There's no evidence at any stage that he deliberately harmed any of them.
"He will have to live with the hatred and hostility of the press and the public for the rest of his life," he added. Philpott fathered five of Mairead's six children, who were all killed in the blaze. They were aged five to 13.
Her lawyer Shaun Smith claimed all the evidence showed that she was "an extremely good mother" but her husband had dominated their relationship.
"Her grief is overwhelming," he told the court. "She will be forever known as a child killer."
Third defendant
A third defendant, Paul Mosley, was also found guilty of manslaughter by the jury following an eight-week trial. The court heard that Mosley, who denies any involvement in the fire, joined Philpott for sexual encounters with Mairead before and after the blaze.
Newspapers vilified Mick Philpott on Wednesday, with some blaming his lifestyle on generous welfare payments.
Philpott, who claimed he had not washed for 12 weeks before the fire, was reported to be recouping £60,000 (€71,000 euros) a year in state handouts.