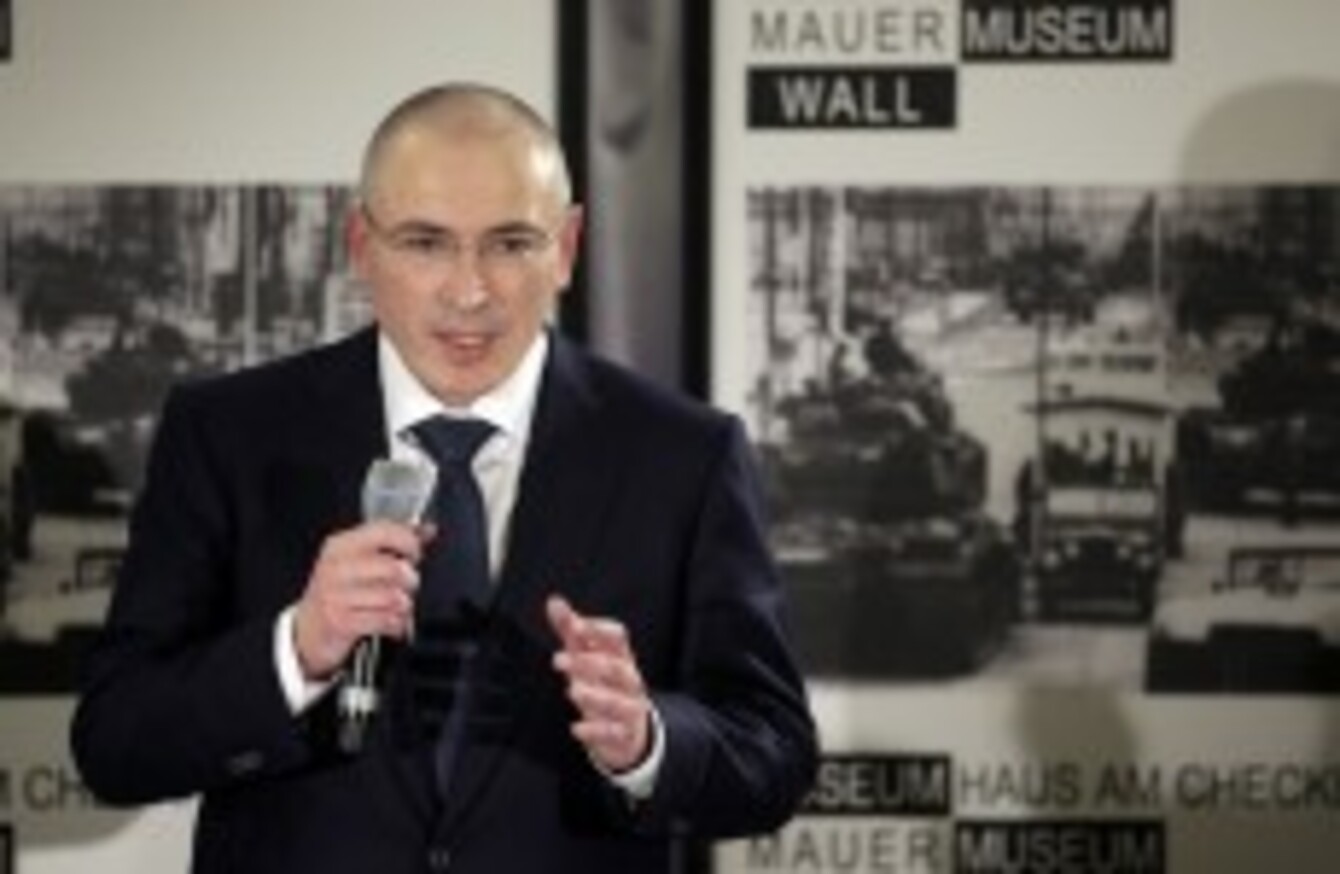 Mikhail Khodorkovsky speaks during his first news conference after his release in Berlin earlier today.
Image: Michael Sohn/AP/Press Association Images
Mikhail Khodorkovsky speaks during his first news conference after his release in Berlin earlier today.
Image: Michael Sohn/AP/Press Association Images
RUSSIA'S FORMER OIL tycoon Mikhail Khodorkovsky has said that he will stay away from his homeland but help to free Russian political prisoners still behind bars after walking free from a decade in jail.
In an astonishing turn of events, the Kremlin critic surfaced in Germany hours after his release on Friday from a prison in an obscure corner of northern Russia, following a pardon by President Vladimir Putin.
Mobbed by reporters at his first news conference in Berlin barely two days since leaving jail, Khodorkovsky admitted he had been given no choice over his final destination and thanked German Chancellor Angela Merkel for aiding his liberation.
Khodorkovsky, formerly Russia's richest man, said he had no intention of becoming involved in Russian politics and could not return to the country so long as a court order for him to pay $550 million in damages was still in place.
"A fight for power is not for me," said Khodorkovsky, wearing a sharp business suit but almost shaven-headed, at the news conference held in the Berlin Wall museum at the symbolic Cold War location of Checkpoint Charlie.
He said he would focus his energies on helping political prisoners walk out of Russian jails. "I will do everything so that there are none left, do everything I can."
He added that Western governments should "remember I am not the last political prisoner in Russia," adding it would be wrong if he was seen as a "symbol" that there were no longer political prisoners in his country.
Rights groups are still seeking to secure the release of around a dozen protesters arrested for their role in a 2012 rally on the eve of Putin's inauguration for a third term, who many see as political prisoners.
Khodorkovsky's co-accused, business partner and friend Platon Lebedev also remains incarcerated.
Facts unknown
He said he could only return to Russia if the Supreme Court lifted the lawsuit claiming the $550 million in damages. The existence of the claim meant that if he ever returned there was no "guarantee" he would ever be allowed to leave Russia.
The former chief executive and founder of the Yukos oil giant said he had no plans to go back into business but had enough means to live on.
But he said had had "no choice" over his final destination after his release, which began on Friday morning when he was awoken at 2am by the head of his prison colony in Segezha in Karelia.
He said it was only clear he was heading to Germany when the doors closed of the private jet laid on by Genscher which took him out of Russia. "Many facts of my release are still unknown to me," said Khodorkovsky.
Asked about his relationship with Putin, Khodorkovsky refused to be drawn into expressing hatred towards the Russian strongman who the former tycoon's supporters accuse of ordering his two trials and convictions to eliminate a potentially dangerous opponent.
#Open journalism No news is bad news Support The Journal

Your contributions will help us continue to deliver the stories that are important to you

Support us now
At the time of his arrest in 2003, Khodorkovsky was openly critical of Putin and had begun financing the Russian opposition.
But he said that while he had been treated harshly, "my family had never been touched" and as a result he was able to view relations with Putin with "pragmatism which does not foresee such unpragmatic things like revenge, hatred and so on."
Khodorkovsky said he was against a boycott of the Sochi Olympics in February 2014, noting a "festival of sport should not be spoilt". But he acknowledged it should not become a "festival of Vladimir Putin".
Widely seen as Russia's most famous post-Soviet inmate, Khodorkovsky was jailed for financial crimes in separate convictions in 2005 and 2010. He had been due for release in August 2014.