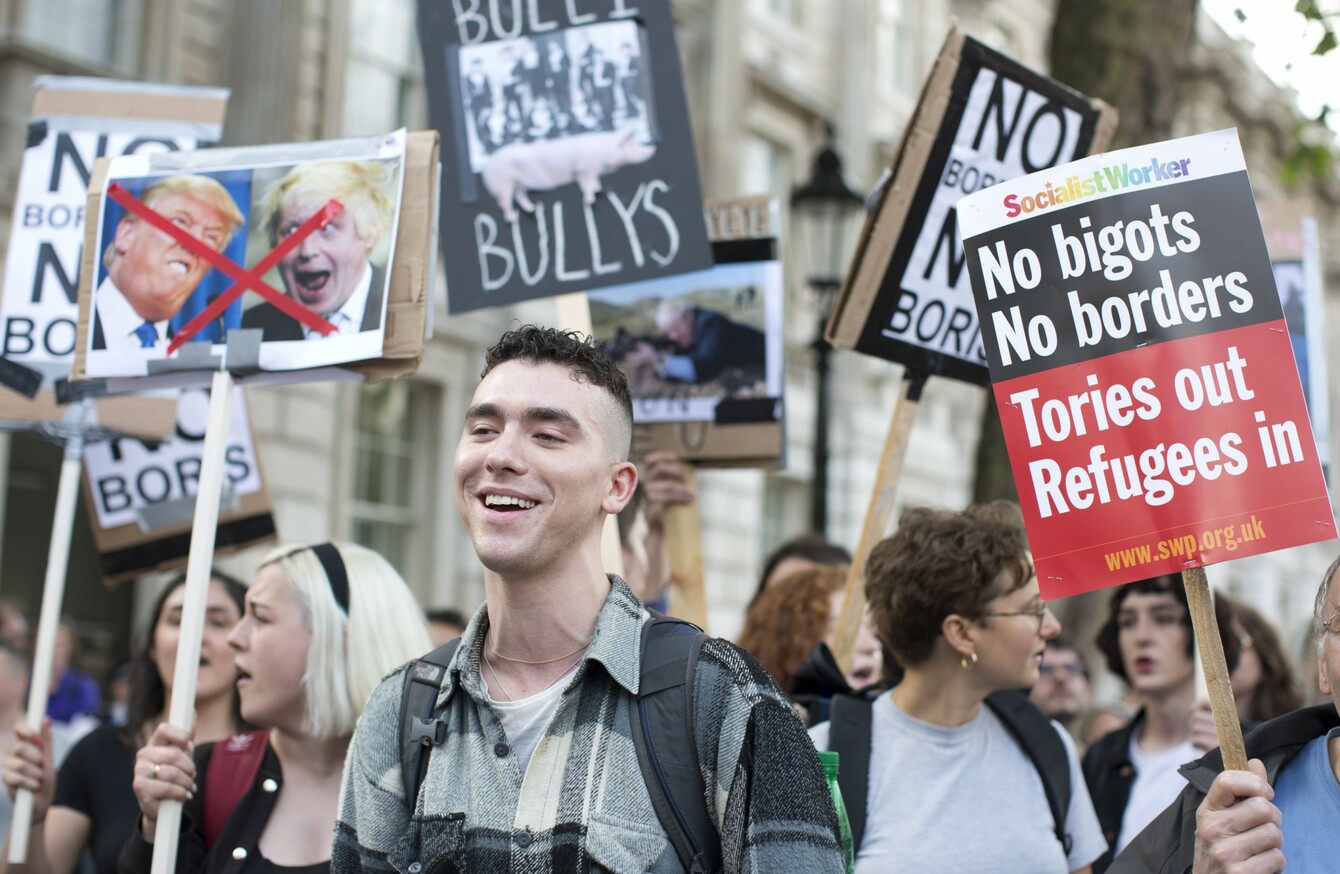 Protestors outside Downing Street yesterday following the Brexit vote.
Image: Isabel Infantes via PA Images
Protestors outside Downing Street yesterday following the Brexit vote.
Image: Isabel Infantes via PA Images
THOSE WITH LEAST to fear from a Brexit were most likely to vote for it.
Those with most to lose, and therefore more inclined to vote against it, were less likely to vote at all.
Those two polling predictions came to pass over the course of Thursday and proved key contributors to the decision by the British public, by a slim margin, to leave the EU. The old versus the young; Brexit-voting baby boomers versus EU-embracing millennials.
The split at the polls
A YouGov poll taken just before the referendum gave a telling snapshot of how the split would occur along the age demographics – it found 72% of 18- to 24-year-olds were in favour of a 'Remain' vote, while 59% of those over pensionable age would opt for 'Leave'. A majority of those in the 25-49 year age group (56%) were also planning to vote 'Remain'.
Best intentions, however, were trumped by turnout. No matter their fury at yesterday's result, millennials were confronted by the fact that a higher percentage of the older 'Leave' camp made the trip to the polling station and made their vote count.
This excellent graph compiled by the Telegraph by mapping local results shows the correlation of turnout and percentage of over-65s in the various voting regions.
(Those electoral areas with higher proportions of pensioners than younger voters saw, as a rule, higher turnout rates. Only South Lakeland and South Hams bucked this trend.)
An uncertain future
The result has been greeted with dismay by the age group who will have longest to live with the impact of the result.
This the75percent Tumblr – run by The Guardian – refers to the three-quarters of younger voters who wished for the UK to stay within the EU. It carries testimony from that demographic reacting to yesterday's result.
One writer, Becky, 20, notes:
I voted Remain for, primarily, a very simple reason; uncertainty. Yesterday, we had no idea what would happen if we left the EU. We had opinions, but no facts, no figures, no truth. We were facing something no one had ever done before. Today, we know. We know that our economy is crashing, that the pound is becoming worth less and less. We know that our future is very uncertain.
That uncertainty is an issue for every UK citizen, not just the young. Just as the Irish government is scrambling to predict the impact of the UK exit on our economy and other inter-related sectors, there is simply not a roadmap for British citizens on what will happen next.
Millennials, though, have very specific concerns. They are the group most likely to take advantage of the free movement within the other 27 EU states that membership affords. They are more likely to be at the beginning of working lives that will be impacted by any economic contraction within the UK or limit imposed on their ability to work beyond the border.
They are also the generation already reeling from debt imposed by economic mismanagement and unable to see themselves ever being able to afford to buy their own homes. This situation, they believe, is inherited from the generations above them who will not bear the brunt of any Brexit fallout.
The pound and the fury
This comment left on the Financial Times, and which quickly went viral on social media, neatly encapsulates the anger:
The Union of Students in Ireland (USI) president Kevin Donoghue told TheJournal.ie that he understood the anger of millennials in the UK – and said it was echoed among their counterparts here.
"I went to bed for a couple of hours and got up at 4.30am (on Friday morning) to take a look at the results. To be completely frank, I was quite disappointed at what was happening. I think there were three issues at play – selfishness, ignorance of the issues involved and racism," he said.
He said that there have been concerns already raised with the USI over the position of students wishing to study in the UK. "Those already studying there should be alright, but the future is completely coloured with uncertainty," he said. "We will be looking for reassurances from our Minister for Education that those concerns will be addressed."
As it is, Irish students have already been impacted by decisions made by the British government to attach a cost to third-level education. Figures from UCAS show that the number of Irish students choosing to study in the UK, for example, have dropped over the past three years since hefty tuition fees have been introduced there. There are currently just 2,000 Irish students studying in the UK.
Donoghue claims that the priority in the UK system has become to "get as much money out of students as possible", and that in particular doesn't bode well for anyone coming from outside the UK, who may well find a premium attached to their desire for a place in these under-resourced and under-funded institutions.
There is no way of predicting a deal that might be worked out between the Irish and UK government on the education sector but what is known is that UK millennials have already seen tuition fees introduced and trebled to up to stg£9,000 in some universities.
For college students in the UK, the much-lauded Erasmus scheme could be in jeopardy – it is a European scheme that affords EU students a small grant to spend a year studying in another EU country.
"The vindication of the selfish vote"
On a philosophical note, Donoghue says that millennials are concerned that the decision to leave the EU betrays an attitude among those older voters to "look out for yourself".
#Open journalism No news is bad news Support The Journal

Your contributions will help us continue to deliver the stories that are important to you

Support us now
He said:
If you look at climate change, it's the same section of society that don't want to do anything about it. We talk about millennials being self-entitled but baby boomers are proving to be exactly that.

It's not to suggest that millennials are all altruistic but there is an unwillingness among (baby boomers) to consider the impact of decisions on people other than your own section of society. That erodes the idea of collective contribution to society.

The most damaging thing to come out of this decision is the vindication of the selfish vote.
Travel and work opportunities
Freedom to travel and work within the 27 remaining EU states is a huge concern for UK millennials – and conversely, for those non-British EU citizens doing the same within the UK's borders.
According to a study from the Oxford Migration Observatory, there are 2.2 million of those in employment in the UK right now (that's 6% of the workforce) – the same study claims that four-fifths of those would fail visa criteria that the UK could now require of them.
This last statistic might vindicate those in the 'Leave' camp who pointed to EU migrants as eroding job opportunities for British-born citizens. A change to the free-to-work criteria would, however, also affect those British-born citizens living in EU countries.
There are over 300,000 of those in Spain, over 250,000 in Ireland and large numbers in France, Germany, Italy, the Netherlands, Poland and a smattering across other countries. While some are retirees, particularly in Spain and France, the more recent arrivals are millennials or of the Generation 'Y' era, and more likely to be affected by any working visa criteria.
Fewer jobs, less money, no homes to go to?
Apart from the free movement of goods, services and people, there is also uncertainty over the impact on business in the UK – whether some multinational companies might be tempted to set up elsewhere because of a weak currency or other economic considerations.
Any negative movement in this area would boil down to fewer jobs for the working-age population. (Investment bank Morgan Stanley has already had to deny in the past 24 hours that it is moving lock, stock and barrel from the City in London – its president Colm Kelleher told Bloomberg earlier this week that a Brexit would be "the most consequential thing postwar that we've ever seen".)
Any tumble in pension fund values would affect schemes that came after the defined benefit pension schemes enjoyed by many baby boomers.
A new recession would slow construction – including and perhaps in particular social housing – affecting the ability of the current crop of renters to 'get on the ladder'. A rise in interest rates to keep pace with higher inflation caused by the devaluation of the pound will also put mortgages out of reach for many first-time buyers.
It will take up to three years for the UK to exit fully from the EU. In the meantime, there will be frantic efforts made by the incoming leadership to secure deals to lessen the impact of it on trade and the economy.
The long-term consequences can't be predicted but one will surely be a continued widening of the gap in circumstances and understanding between the generations who opted to leave and those who wanted to stay.