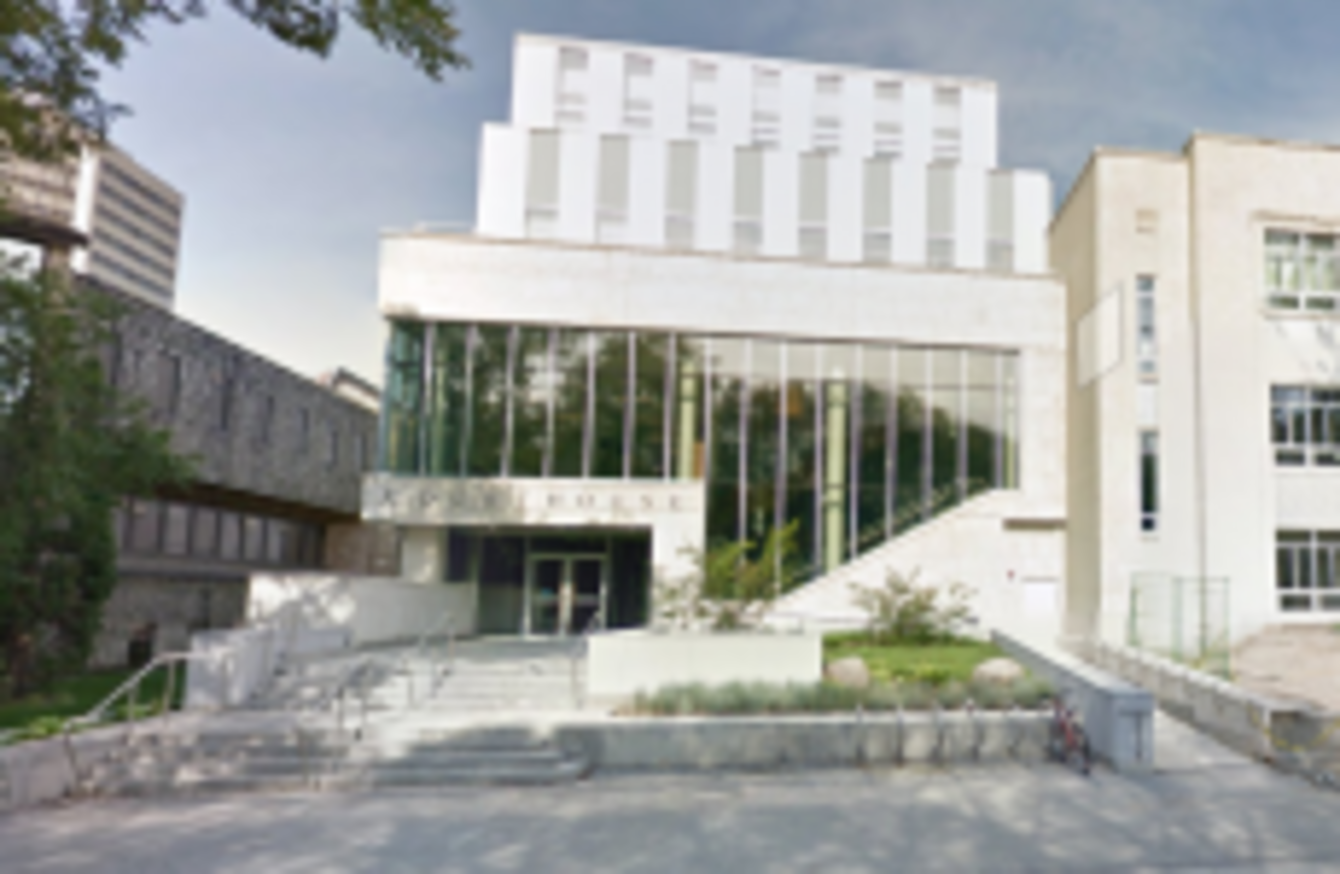 The courthouse in Saskatoon
Image: Google Streetview
The courthouse in Saskatoon
Image: Google Streetview
A COURT CASE is underway in Saskatoon, Saskatchewan, Canada in which the accused's wife has claimed her husband is linked to a missing person's case in Ireland dating back to the 1990s.
(Editor's notes: This article contains some graphic material.
There is a publication ban from the Canadian court on using the identities of anyone involved.)
DAY ONE
The trial started on Monday for a Saskatoon man accused of filming himself performing non-consensual sex acts with his wife while she was unconscious or intoxicated.
The accused cannot be named in order to protect the identity of his wife. He faces two counts of uttering death threats, two counts of sexual assault and another count of sexual assault with a weapon.
His wife took the stand Monday morning at Saskatoon Court of Queen's Bench, describing how she did not remember being recorded in any of the videos that police uncovered during a search in August 2014.
Becoming paranoid after move
Court heard the couple had immigrated to Saskatchewan from Ireland in 2012. Despite not wanting to leave her job and family, the woman said she brought her three kids to Canada so that her husband could buy land.
But as time went on, she said her husband became paranoid and obsessed with preparing for an economic collapse. He started buying gold and silver, and she testified that he also wanted to build a bunker to live in.
When she told him things were going too far, the alleged victim said he would lash out at her, saying she was against him and had no brain of her own. She testified that during at least four arguments, he said if she kept pushing him she would end up like his ex-girlfriend, who had gone missing almost 20 years ago in Ireland.
"'You know I've done it before, they'll never find you, is that what you want?'" the woman testified her husband had said.
The situation came to a head in November 2013, when the alleged victim decided to return to Ireland out of fear of what her husband might do.
She said while she was terrified of him, she was also terrified about what he might do to himself. Shortly before she left, the accused told her he would shoot himself in the head, she testified.
"Things were volatile," the woman said, describing how he would threaten a divorce and apologise shortly after.
Then one night, she said she woke up to her husband standing beside her bed in the dark. The accused was a truck driver and wasn't supposed to be home, she said.
Conspiracy theories
While she was in Ireland visiting family, the alleged victim said she would email her husband to tell him that she was scared. He pleaded for her to give him another chance, she told the court, and admitted that his conspiracy theories were causing problems and promised to go to counselling. His wife testified that she agreed to return to Canada on the condition that he seek help.
But according to the alleged victim, nothing changed when she came back. Instead, her husband bought a house in a small town, even though his wife did not want to live in a remote, rural area. She testified that he also refused to see a counsellor.
One of the alleged sexual assaults happened at their new rural property in May 2014.
After two glasses of champagne to celebrate the move, the woman said she felt exhausted and went to bed. In vague flashes of memory, she said she had an awareness of her husband touching her face and eyes and putting his penis into her mouth. She then described being pulled by her calves to the edge of the bed and being penetrated by her husband.
The woman told the court that she believes her husband thought she was unconscious at the time. She said she was too scared to confront him about it the next day; instead, she told him the relationship wasn't working and that she was going back to Ireland.
She said her husband responded by saying "the only way you're leaving here is in a box".
The woman fled the home after discovering that her and her children's passports were missing, she testified. She went to police in July 2014 and stayed with friends and at crisis shelters for the time being.
Shocking videos
Police searched the rural home of the accused the next month. Then during an RCMP interview in October 2014, the alleged victim said she was presented with a series of disturbing videos taken of her without her knowledge.
In four of the video clips she was performing oral sex on her husband. One clip showed a hand sticking a cucumber into her vagina. She testified that it was her husband's hand because he was wearing his wedding ring.
But she told the court that she looked either drunk or passed out in all of the recordings and did not remember participating in any of the sexual acts.
"It was a complete betrayal and violation of me," the woman said, covering her face with her hands as she cried. "It's humiliating."
In every video shown at the trial, the alleged victim was wearing dark, garish make-up that sometimes included blue eye shadow and fake eyelashes. At times she was also wearing long, fake pink nails. The woman testified that she never wore that kind of make-up, nor did she have any memory of putting it on.
Although the videos were shocking, the woman testified that she had discovered similar videos in 2009 when the couple lived in Ireland. In them, she said she was wearing "horrendous makeup" and a blond wig. She also found one of her husband's bags filled with strange make-up and fake nails hidden under a mattress in a spare bedroom.
She said when she asked him about it, he told her it was none of her business and that she should be grateful that he was interested in his wife instead of other women.
Memories of that incident came flooding back to her during her time in Saskatchewan, when she said she would "black out" after a couple glasses of wine and find traces of unfamiliar make-up on her face the next morning.
DAY TWO
The defence is trying to prove that a woman accusing her husband of sexually assaulting her while she was either drunk or passed out—and filming it without her knowledge—was in fact awake, aware of what was going on and had consented to the sexual acts that were recorded.
His wife has been on the stand since Monday morning, when she testified that she did not remember participating in sex acts that were recorded on videos and uncovered by police during a search in August 2014.
#Open journalism No news is bad news Support The Journal

Your contributions will help us continue to deliver the stories that are important to you

Support us now
During cross-examination Tuesday, defence lawyer Davin Burlingham questioned the alleged victim about inconsistencies between what she said at the trial and what she told police during an interview last year.
At that time, she was being shown the videos police had found inside her husband's home in rural Saskatchewan. In them, the woman was wearing dark make-up and was performing oral sex on her husband. One video showed a cucumber being inserted into her vagina.
But the woman testified she looked either passed out or drunk in the videos shown in court. She also said she believes her husband secretly put the makeup on her without her knowing.
Trauma
Burlingham brought up her police interview, when she was asked if maybe the sex acts were something she wanted to do for her husband even though she didn't know she was being recorded. In the interview tape, she said yes, possibly, but in court Tuesday she said she was confused and traumatised when she answered those questions.
At another point in the interview the woman said she was aware and participating but was extremely intoxicated and didn't know she was being recorded. When asked if she remembered performing oral sex on her husband, she answered "yeah".
"Do you feel that you could have given consent?" the officer asks the woman.
"It's so hard to know … I didn't stop him," she replies.
The sex tapes were discovered after the woman reported her husband to police. She testified she wanted to take her three kids and go back to Ireland, where the couple was from, because her husband was trying to force her to live in an underground bunker and threatened her if she left.
On the stand, she admitted going to police out of fear that her husband was going to kidnap the children and take them to the bunker. But during cross-examination, she said she did not initially tell police about the two alleged sexual assaults that she remembered.
On Monday, she testified that she had vague memories of her husband touching her face, putting his penis into her mouth and then pulling her to the edge of the bed and penetrating her. She said it happened at their rural property in May 2014 after she had a couple glasses of champagne.
The alleged victim recalled another time in October 2013 when she felt her husband touching her face, followed by a sensation of something cold near her genitals. Again, she said she had a few sips of bitter-tasting alcohol the night before.
The woman testified under cross-examination that she thinks she was drugged but doesn't know for sure. That unknown is the reason she told police that she believed she was only intoxicated from alcohol, she told the court.
Court heard that police found pill bottles when they searched the trunk of a car belonging to the accused. An officer called as a witness identified them as weight loss pills. The woman told the defence she had ordered the pills, but their relevance to the trial has yet to be discussed.
The alleged victim will remain on the stand when the trial continues Wednesday morning.
DAY THREE
The Saskatoon man accused of sexually assaulting his wife and recording it without her knowledge says the sex acts were consensual and that she was never unconscious or too intoxicated to give her consent.
The man, who cannot be named to protect the identity of his wife, also testified that his wife applied the makeup she was wearing in the videos herself and was aware that the sex acts were being filmed.
He took the stand Wednesday in Saskatoon Court of Queen's Bench as the first defence witness at his trial for sexual assault and uttering death threats.
'Sex life'
The accused said the videos were part of the couple's private life and included his wife dressing up in bright makeup and wearing fake eyelashes and nails.
He said she put those items on willingly; a video clip the judge allowed as admissible evidence shows the woman applying lipstick. But she testified that she had no memory of doing so, saying she appeared passed-out or drunk in the sex videos played during the trial.
The Crown asked her husband about a makeup bag found in the trunk of a car that was parked in the driveway of their home. The woman said she had never seen the bag or its contents, which included the lipstick from the video.
Her husband testified that it was their "sex makeup" and had been thrown in the trunk during their move to rural Saskatchewan and forgotten about. He said his wife wore her own makeup during the videos made at that home.
But the Crown suggested he was hiding the makeup from her, along with other items that police seized from the trunk. The makeup was found in a bag that included his kids' passports and other personal paperwork. Silver coins and weight loss pills were also discovered in the trunk.
The accused said the bag did belong to him, but denied hiding its contents from his wife. He said she had a key and could access the car whenever she wanted. But earlier in the trial, his wife testified that she did not have a key to the car.
The man was also questioned about the videos. He said his wife would often take them herself, but accepted the Crown's statement that he must have been the one holding the phone in the videos that pertain to the trial.
When asked how he could have gotten consent to take a photo of his naked, sleeping wife, the accused said he didn't think he had done anything wrong. He went on to state that in an intimate relationship, consent is always assumed unless his wife said "no".
"What I like isn't always what my wife likes," the man told an RCMP officer who was asking him about the couple's sex life. But in court, the accused insisted that if his wife wasn't enjoying herself, she would let him know, and if she didn't want to do something she wouldn't do it.
"You didn't care what your wife thought," Crown prosecutor Frank Impey said, challenging the accused. "She was there to please you."
Accused says wife was trying to kidnap their children
Getting emotional on the stand, the man said his wife was angry with him for not allowing her to take their kids back to Ireland.
Court heard she went to her homeland in 2013 to visit family over the Christmas holidays. She said she left Saskatchewan early because the accused had threatened her. But her husband testified she left without involving him because she didn't like living in Canada, and he was worried that she wouldn't return.
The couple went to family court in July 2014. The defence accused the alleged victim of not reporting her sexual assault allegations to police until after an interim court order was made, which prevented her children from leaving the country.
RCMP Const. Dean Kletzel said the woman had contacted him in June 2014 when she left her home in rural Saskatchewan and came to Saskatoon. He escorted her to the home so that she could pick up some belongings, but she did not want to give a statement at the time, he said.
A few days later in early July, the woman made a statement to Saskatoon police. Const. Andrew Dubnyk testified that she reported being scared for her and her kids' safety and had concerns about her husband's mental health. He also said she told him she believed her husband had drugged, sexually assaulted and video recorded her.
But Dubnyk said there was not enough evidence to lay charges. Upon re-examination by the Crown, the woman said she wrote down her story and sent it to an inspector in Ireland, including the details about her husband's connection to the disappearance of his ex-girlfriend in that country. That inspector forwarded the statement to RCMP, which resulted in a police interview in August 2014.
Cross-examination of the accused will continue on Friday.
Comments are disabled as the court case continues. 
By Bre McAdam of News Talk 650 CKOM