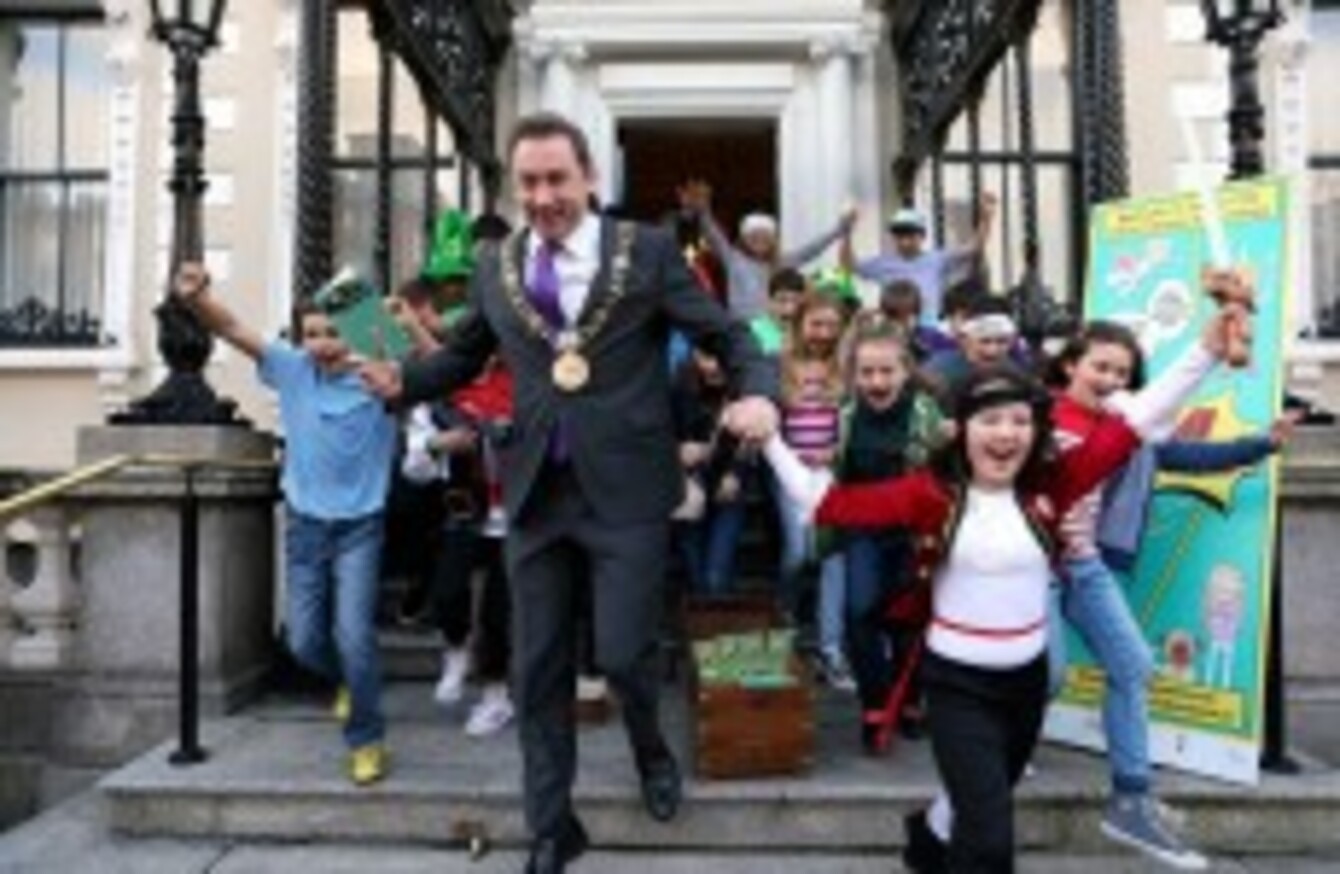 Lord Mayor of Dublin Oisín Quinn launching a reading initiative at the Mansion House.
Lord Mayor of Dublin Oisín Quinn launching a reading initiative at the Mansion House.
DESPITE A CUT in annual funding of almost €1 million since the start of the recession, Dublin City Libraries continue to serve thousands of people each week – including the sick and elderly.
And one of its most innovative strands – the mobile library service – is used by about 500 people per week.
The library-on-wheels visits 24 areas across the city, stopping off at schools in the morning and residential areas in the afternoon and evenings.
Mark French-Mullen, divisional librarian at Dublin City Public Libraries, told TheJournal.ie that the service is "highly valued by those communities".
"We aim to provide a service that is accessible to all, and we do that through our network of 21 branch libraries – including the central library on Henry Street. However, Dublin is a very extensive city and there are still areas that are not convenient to one of our service points," French-Mullen said.
He added that the mobile service is "particularly valued by those who cannot travel easily to the branch library. That may be due to distance or it may be due to incapacity or age. For many the mobile library is a beacon in their week."
The organisation also provides a limited home delivery service to those who cannot leave their house.
The library, which is free to join, has a selection of books, DVDs and audio books. If customers can't find what they're looking for, they can request a particular item. Almost 5,000 requests are placed every year.
French-Mullen said that some of  the most popular books at the moment are The Lost Child of Philomena Lee, the Diary of a Wimpy Kid series, and the Driver Theory Test.
Paper Cuts
Funding for Dublin City Libraries peaked in 2008 at €2.2 million. In 2013, the figure stood at €1.34 million.
French-Mullen said the biggest hit came in 2010, when there was a decrease in funding of 20-25 per cent. The rate of cuts has slowed since then, with a three per cent dip in 2012 and "no real cuts" in 2013 and 2014.
"The fortunate thing was that we were starting from a very good position," French-Mullen noted.
He added:"Our long-term goal would be to have [permanent] libraries in all areas where there is a demand."
#Open journalism No news is bad news Support The Journal

Your contributions will help us continue to deliver the stories that are important to you

Support us now
'A better insight than the internet'
TheJournal.ie visited the mobile library at its Artane stop this week.
Róisín Shanahan uses the service regularly with her children Ellen, 8, and Tadhg, 6.
"It's great for the kids and myself. I'm doing a counselling course so I find I get a lot of books for the course here … The kids love coming up picking their own books and, knowing they have to return them within a week or two, they're reading them. Otherwise they'd just be watching telly," Róisín said.
"I like the Roald Dahl books, he's my second favourite writer. Jacqueline Wilson is my favourite," Ellen added.
Dave Murphy, 36, lives locally and has attended the library "most weeks" for the last five years. "It's brilliant. It's great for cookbooks and things that you mightn't necessarily want to buy," he said.
If you don't think you're a big reader, you've the cookbooks, DVDs, even audiobooks for going walking – which are brilliant as well … I got an American Civil War DVD boxset by Ken Burns – it was five discs and I watched the thing twice. You just sort of see stuff and you say 'ah, sure it's free so just chance it.
Sarah Kennedy, 17, is among the many students that visit the mobile library regularly.
"I use it every week. Usually you get school projects and presentations and you can reserve books on the topics that you need. You'd get a better insight than the internet gives you. I had a project on civil rights so I got books about Rosa Parks and Martin Luther King … they were very interesting," Sarah said.