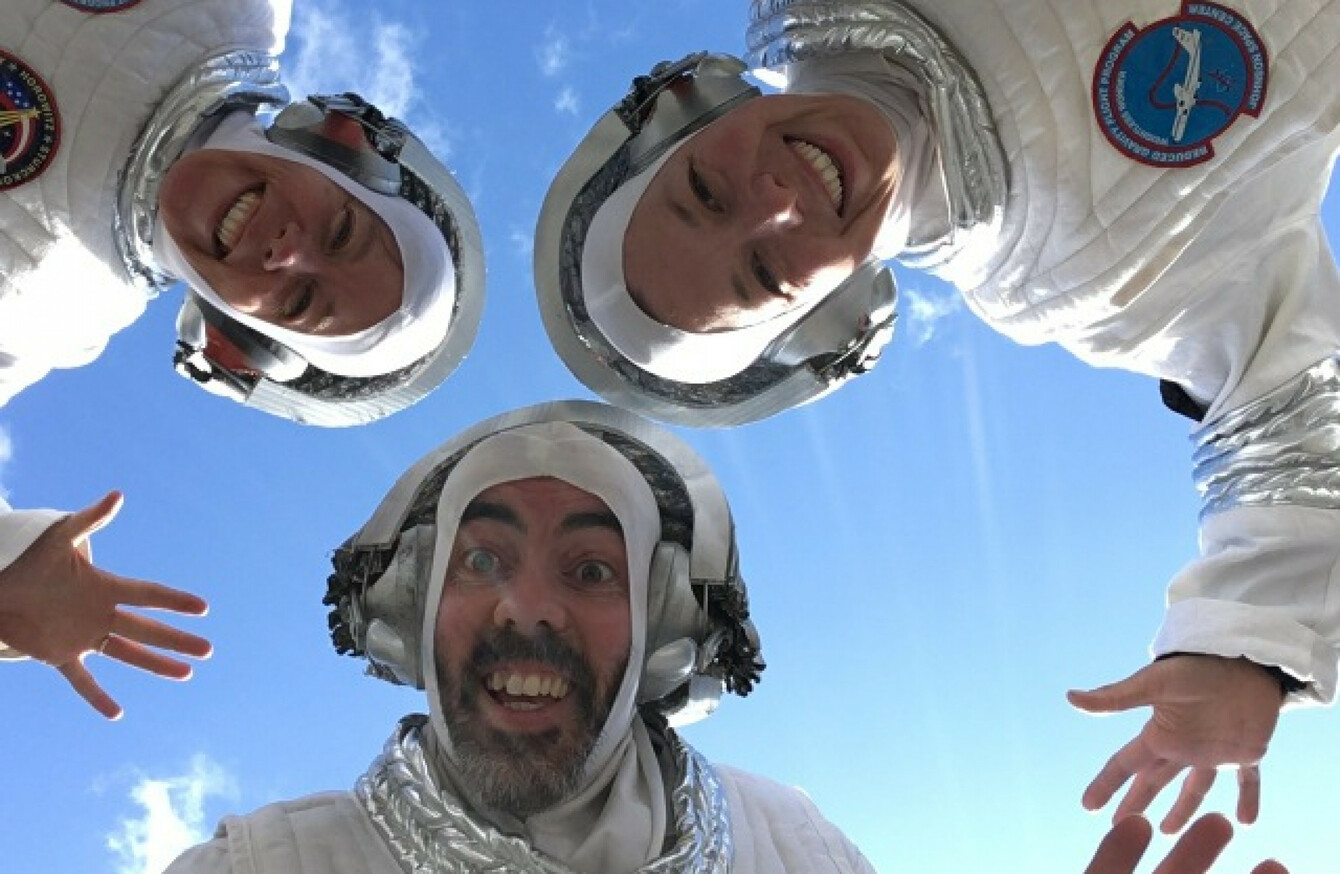 FOUR SPACE TRAVELLERS are set to visit Tallaght next week for a special intergalactic project involving local schoolchildren.
Monkeyshine, the critically-acclaimed theatre company, will assume the identities of four lonely intergalactic space travellers from the spaceship Demeter, who are travelling the cosmos in search of friendship.
When they land on planet Earth, they are amazed at the array of life forms they encounter and the incredible connections they discover. The project, GROW, will take place from 30 April – 4 May.
During their five days of exploration in Tallaght, they will work closely with eight-year-olds from local schools as they investigate their new environment and make 'friends' with all manner of life forms. They will be planting with the community, creating with local artists, gathering poetry, thoughts and gardening tips and sharing skills from outer space.
Kareen Pennefather, who is joint artistic director at Monkeyshine alongside James Jobson, explains more for TheJournal.ie:
"It's a weeklong project that ends in a show. We're four lonely space travellers and we land on planet earth – and we just happen to land in Tallaght and we are going to be looking for friends, looking for lifeforms basically."
They will send two "homing beacons" ahead of them, which will crashland into two schools in Tallaght. The pupils will then have to translate code inside the beacons which will set them off so they can be found by the aliens.
"We'll arrive in on Monday into our schools," said Pennefather. "The children will give us a description of Tallaght and help us orientate ourselves. Then we will set off exploring in Tallaght looking at the different lifeforms – plants, animal life, human life – and how all the different species interact with each other."
Monkeyshine were inspired to carry out the project as they want to help children to connect to the natural world around them. "As human beings we've become quite detached from nature and we are nature, we are part of nature – so it's with the children looking at that and looking at their surroundings and really noticing what's in their environment."
At the end of the week they will do a public show at Tallaght's Civic Theatre to show off what they've learned in the past few days. "It becomes almost like a Ted talk, it's a documentary of our week but also a show about the space travellers."
The children will visit the aliens for a day at their spaceship in the Civic Theatre, and the gang will take a field trip to explore their local area.
There will also be a community planting day that other schools and members of the community can get involved in.
"The impetus behind it is really looking at children's connection to nature," explains Pennefather. "At how important that is [to] the future of our planet, very important, that children feel connected to nature. There is the saying: You can't ask a child to save the planet if you haven't taught them to love it first."
One of the interesting implements the aliens will have with them is an item called a 'midi sprout', which enables them to make music out of a plant's electromagnetic field.
The GROW performance will take place on Friday 4 May at 11am and 4.30pm at Civic Theatre Tallaght,Belgard Square East, Tallaght, Dublin 24. Tickets: €7 adults /€5 children/ teachers go free. Box office: 01 4627477 | www.civictheatre.ie
Tuesday 1 May – community planting day at the Civic. Sessions are from 11am – 1pm and 2.30pm – 5pm. For more information see www.civictheatre.ie