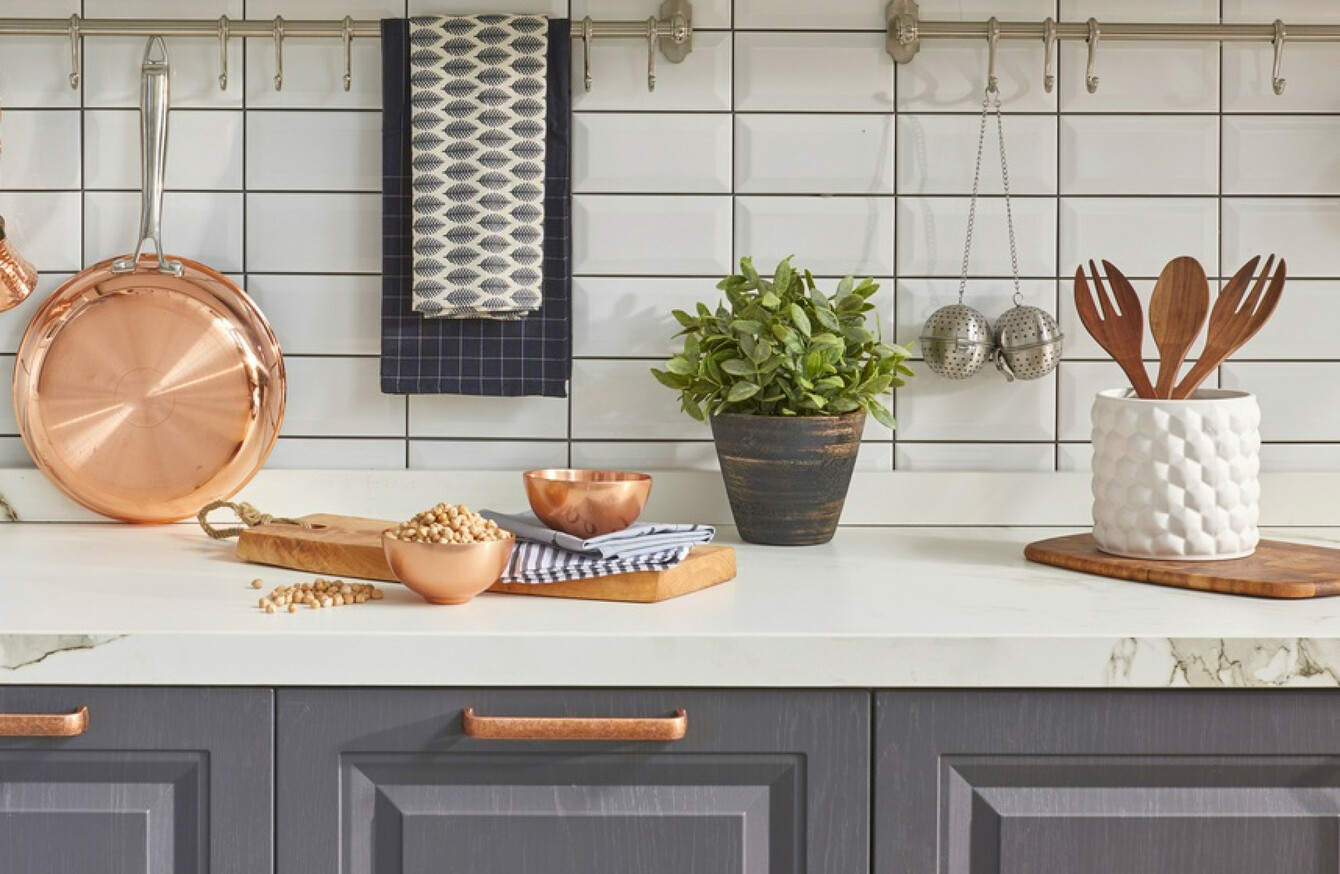 Image: Shutterstock
Image: Shutterstock
UNLIKE MOST OTHER rooms in your home, a kitchen has multiple jobs to fulfill.
It's a cooking space, a food prep space, a hang-out space, a storage space and a dining space. All that is a lot to ask of one single area… especially if your kitchen is currently cramped, cluttered and can only fit two people in it at once.
So how can you maximise what you have right now, without blowing your design budget?
There are a few things to keep in mind before you get started, says Caroline Flannery, the owner of Interiors By Caroline, a Dublin-based interior design firm.
"Aesthetics are important, but practicality is just as crucial. People spend so much time in their kitchens now. The space needs to look welcoming but be functional too."
Here are Caroline's design tips for turning your kitchen into a mecca of space and storage…
1. Put that massive toaster away (unless you really love toast)
Yes, you might use your kettle or microwave regularly, but what about that four-slice toaster? The ice-cream maker? The toasted sandwich maker? The rice cooker?
"The easiest way to create space in your kitchen is to pare back what you already have," says Caroline. She advises putting away anything you don't use regularly – and being honest with yourself:
Switching on the mixer once a year for your Christmas cake is not regular use.
2. Get rid of your wall units
Small kitchens generally have a wealth of cupboards designed to offer storage space out of the way of the food prep area, but having all those wall units at mid-level height can really infringe on space.
Caroline suggests taking out those cupboards and replacing them by space-efficient open shelving or more innovative solutions. "Try a hanging metal ledge, for example, which you can attach S-hooks to. Then you can hang stuff off it and stack other things on top of it."
3. …Or build upwards to fill the dead space
If culling cabinets isn't a realistic option in your kitchen, look above them instead, says Caroline:
I've had clients who don't want to get rid of cabinets, so I'll often say, 'let's build up to the ceiling instead'. Most standard cupboards have around 40cm of dead space above them, which is usually a dust trap or a storage area for boxes and biscuit tins.
Add in more cabinets, glass-fronted units or open shelving, and some lights too to draw the eye upward and make the room feel bigger.
4. It's not all about units and shelves
If you want to expand your kitchen area with nothing more than a trip to your local interiors store, Caroline has a few budget-friendly suggestions:
Use your vertical space as much as you can. Invest in a magnetic board to attach knives and scissors to, and hang it above your sink or countertop. Rattan baskets are also a great storage solution which can be tucked on top of cabinets.
5. Extend your prep space with a portable butcher block
If you're not quite ready to install a kitchen island, or just want a handy way to add more workspace, try a portable butcher block:
Freestanding butcher blocks can be picked up very easily. You have prep space on top and storage space below. I've even seen people put seats on either side.
For an extra square foot or two of counter space, try a custom wooden chopping block that fits over your sink. "It even hides the dishes," adds Caroline.
6. Choose your stools wisely
A breakfast bar is the centrepiece of many an Irish kitchen, but it can become a wasteground for clutter – and those stools can take up lots of extra space.
I had a client who really wanted a kitchen island but didn't have the room. In the end we went for a curved version and chose stools that slotted in under the countertop and had no backs. Whatever kind of room you have, there are always options.
When you're making the decision to sell up or renovate, everyone'll have their opinion – and won't think twice about letting you know what it is. But how do you block out the noise and get to the point? 
At permanent tsb, we value finding a better way. If you're thinking about doing up a place, you'll want to do things the right way the right way. Head over to our Bring It Home Hub for the inside scoop.
Lending criteria, terms and conditions apply. Security and Insurance required. permanent tsb p.l.c is regulated by the Central Bank of Ireland.