THE VAST MAJORITY of parents are financially supporting their child through college – with 60% of parents saying they will have to go into debt to fund their offspring's third level education.
A study by the Irish League of Credit Unions shows that 87% of parents give an average of €447 a month to their child to cover the cost of going to college, and €4,300 is the average debt amount incurred per child.
62% responded that their family budget had been adversely affected by the increased registration fee, and 30% of parents save for five to six years to cover college costs – an increase of 50% (20% in 2015 saved for 5-6 years).
When asked 'Do you struggle to cover the cost of third level education?' 53% of parents responded with 'Yes it is really hard, costs are constantly increasing'.
The biggest worry for both parents funding their child's education and students attending college was getting paid employment after they get their degree (32% of parents, 29% of students).
Students' worries
The study also asked students a series of questions on their experience of going to college, and found that 63% of students will work through the college term.
Although the male students work an average of 21 hours per week, compared to 15 hours for women, the percentage of male students who skip lectures to work instead is 6 percentage points lower – 19% for men, 25% for women.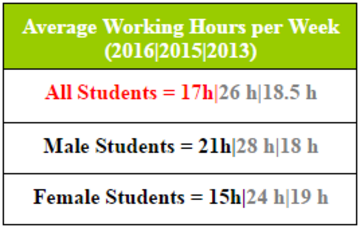 ILCU study shows the average number of hours worked by students. Source: ILCU study - Cost of Third Level Education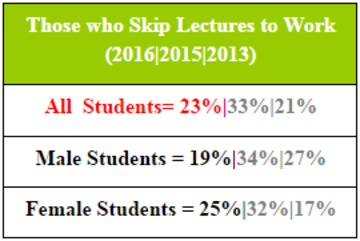 ILCU study shows the percentage of students who work. Source: ILCU study - Cost of Third Level Education
Although passing their exams remained the number one worry for students (83%), almost half of students said that they were worried about the quality of their course (44%).
Commenting on the stats, Sinead Butler of the Irish League of Credit Unions said:
Families are already struggling with the wider impact of austerity and paying for college has become increasingly challenging for many. This round of research shows that 73% of parents struggle with the cost of third level education. While parents are saving hard to cover this cost for their children, eight years on average, saving approximately €8150, approximately 60% are still getting into debt.
A huge number of students were also extremely worried about finding suitable accommodation for the academic year, as expenses for students in college-based accommodation is on average twice of that for those living at home.
The news comes just days after students received their Leaving Certificate results and before their round of CAO's college course offers are released.