THE SHEER NUMBER of registered maternity homes presents a "difficulty" for the Commission of Inquiry tasked with investigating mother and baby homes.
Core group
In an inter-departmental report published today into what the government knows about these institutions, it lists the "core group" of Mother and Baby Homes as: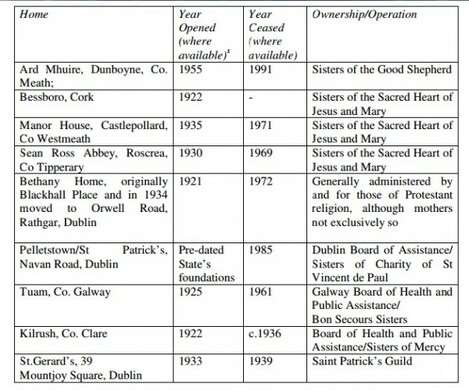 Source: Report of the Inter-Departmental Group on Mother and Baby Homes via Department of Children and Youth Affairs
However, the Commission have been asked to include a wide range of institutions within their scope of their inquiry.
The institutions come under the what were known as registered maternity homes (Registration of Maternity Homes Act, 1934). However, while many of the homes catered for unmarried mothers, their function was not solely confined to that function.
Under the Maternity Homes Act 1934 every local authority in Ireland had to register the maternity homes in the county with the Department of Health.
Maternity Homes 
The returns for registered maternity homes for 1947 seen by TheJournal.ie, shows the large scale task that the Commission faces.
The government report states:
… the scale of the challenge can be seen, even on this basis, with over 200 locations having been identified from the records relating to 1949.
The overall difficulty presented from this, of necessity, very curtailed review of the Registration of Maternity Homes Act 1934 records is to distinguish between those institutions which played a significant role in relation to unmarried mothers in a manner that is consistent with the areas to be addressed by the Commission of Investigation.
The report stated that this needs to be done in such a way that it does not unintentionally "bring in other areas which would undermine the effectiveness and timeliness of the Commission of Investigation process".
Institutions
A number of calls have been made to include a range of institutions such as orphanages, infant homes, children's homes and residential care centres where children were accommodated but where mothers were not present.
In the report it was stated that this is "understandable" since amongst these will be some such institutions that may have had a relationship with a mother and baby home and/or where issues such as adoption and vaccine  trials which form part of the mother and baby home controversy may also be relevant.
However, a broad-ranging investigation into such institutions would be huge in scope and
would have the potential to repeat much of the work of the Commission to Inquire into Child Abuse which looked in detail into such institutions, said the report.