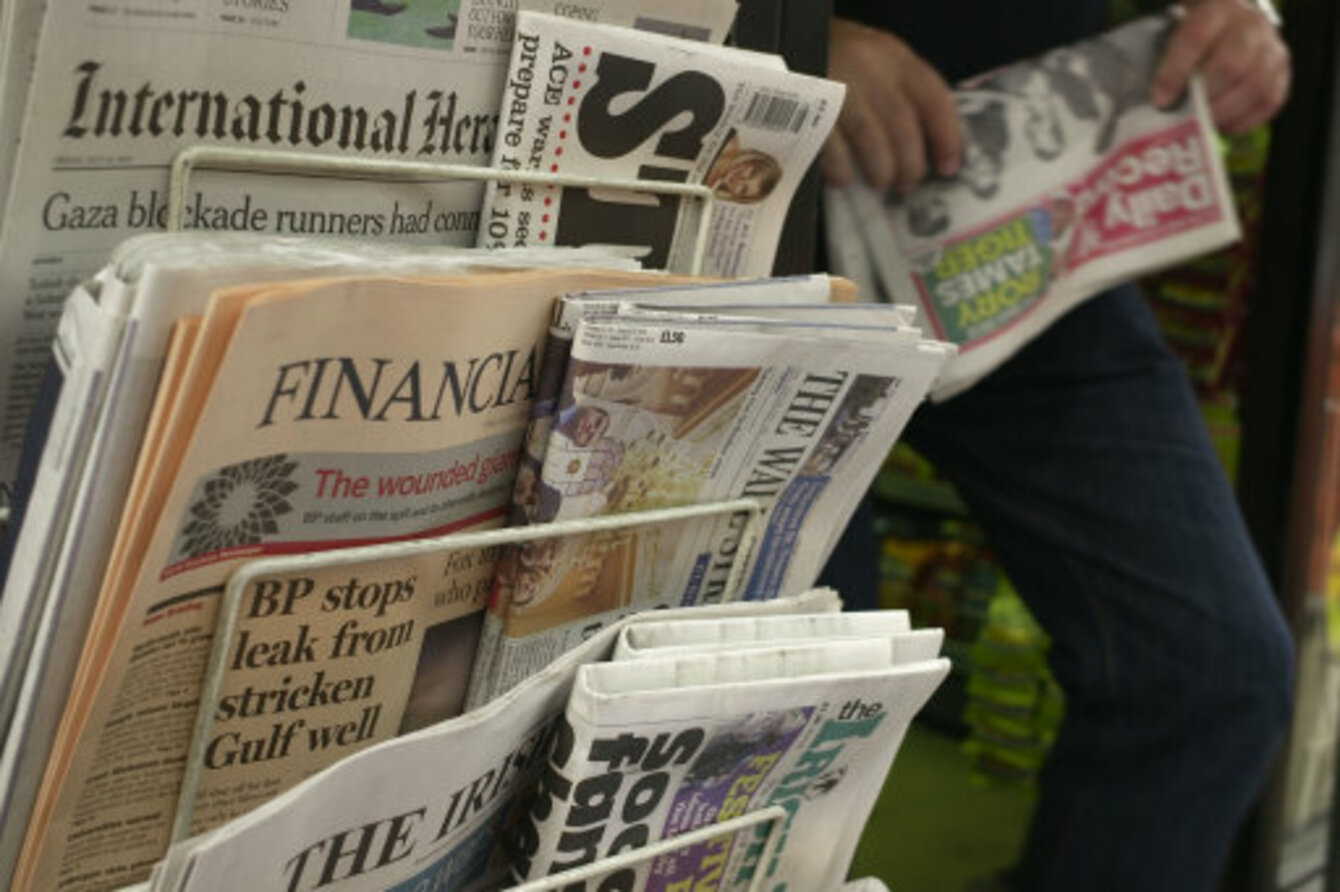 THE SUNDAY TRIBUNE opens with further revelations about Ivor Callely, detailing how he claimed he had travelled 5,000 miles a month while he was living in Dublin despite residing less than three miles from his office. This claim translated into €87,000 in payments in two years.
The paper discusses how convicted rapist Larry Murphy has declined a second offer of rehabilitation. Murphy is currently living in a private residence run by the Probation Service, which offers a range of support for ex-prisoners include therapy and education for sex offenders.
The Tribune also tell how US news magazine Newsweek has defended its decision to include Brian Cowen in a 'Top 10 world leaders' feature, dubbing him a "fiscal taskmaster". Newsweek said it hadn't run a comprehensive profile of each leader, but that Cowen had won respect abroad for his approach to the banking crisis, adding: " Some countries seems better poised to bounce back in the long run, and Ireland qualified for that criteria".
The Sunday Business Post leads  how a proposed new tax on petrol and diesel, to raise funds for road maintenance, will mean higher fuel bills for motorists. Minister for the Environment Noel Dempsey says that the charge will create a more environmentally sustainable system.
It also reveals how mobile phone operator 3 has admitted to mixing up information that was given to Commission for Communications Regulation (ComReg), which affects four years of official communications data that has been used in EU-wide statistics.
Ireland's two-tier health service is becoming more pronounced because public hospitals are struggling to fill consultants posts, according to the Post. A problem caused by new consultants' contracts that mean consultants can earn significantly more by working in a private hospital.
The Post's Agenda magazine examines the revelations that Legion of Christ founder, Fr Marcial Maciel, was a paedophile and a fraudster – and asks: how will the Vatican deal with this latest disclosure?
The Sunday Times leads with results of a new study that shows how students from disadvantaged backgrounds do just as well as their wealthy peers – once they reach third level education. The results will have a significant effect on the debate about the reintroduction of fees, the paper predicts.
Fianna Fáil backbenchers have called for Anglo Irish Bank to be closed down over a period of six to 10 years during a meeting with Finance Minister Brian Lenihan; the alleged identity of the elusive Top Gear "Stig" is divulged by the paper; and Gardaí have (so far) decided not to launch an inquiry into mobile phone expenses  made by Ivor Callley.
In sport, the Times details how Barcelona are ready to make Liverpool an offer for midfielder Javier Mascherano; and the News Review features an interview with the world's fastest solo sailor Ellen MacAurthur. The Sunday Times Magazine talks with the iconic Led Zeppelin guitarist Jimmy Page.
The anger of householders at news of the introduction of a green levy hike from 3% – 5% is the lead story in the Sunday Independent. Domestic electricity consumers will be asked to pay more from October while big businesses and multinationals will pay less, the paper explains.
It also reports that RTÉ stars Miriam O'Callaghan, Pat Kenny and Sean O'Rourke have accepted that the years of mega salaries have come to an end.
Meanwhile in sports news, Stephen Ireland has said that he blames nobody but himself for his continued exile from the Irish team, and has said "I'd rather win the Premier League than the World Cup".
Abroad, The Observer's lead picture shows Wikileaks founder Julian Assange, who was at the centre of a bizarre sequence of events on Saturday, when Swedish authorities charged him in absentia for rape – only to withdraw the warrant hours later.
Assange has hit out at the claims, saying that he has been targeted in a smear campaign. The paper quotes Gavin McFadden, director of the Centre for Investigative Journalism and personal friend of Assange, who said: "This is how smears work. The charges are made and then withdrawn and the the damage is done".
The lead story in the paper concerns how Irish dissident republican groups are targeting the British Conservative party, which has raised fears of an attack echoing the one that almost killed then-Prime Minister Margaret Thatcher in 1984.
The Observer Magazine  features an interview with "remarkably down-to-earth" star of The Office Steve Carell.