TUCKED AWAY IN Kilmainham, is an alley concealed by high walls leading to a steep stairway known as 'The Forty Steps'.
This alleyway was known, for approximately three hundred years, as Murdering Lane.
The specific origins of the eerie name are unknown, but it's probably safe to assume that at one stage the area was notoriously dangerous - at one stage, there was also a Cutthroat Lane adjacent.
Both streets can be seen on this map of Dublin City (PDF) from 1836, which notes that the names go back centuries – "The Murdring Lane [known as such] since 1603″ and "Cutthroat Lane, known as such since 1488″.
With little documentation detailing crimes to have taken place at Murdering Lane, what do we know about this alleyway? (It is now called Cromwell's Quarters).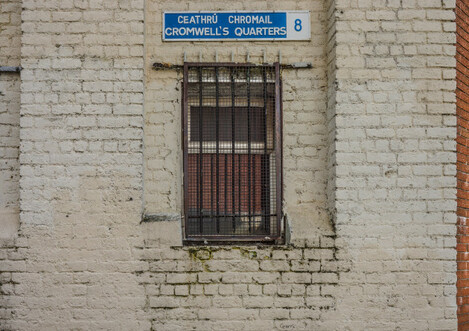 Source: William Murphy
The location is often visited by walking tours specialising in Dublin's ghost stories – the stories of Darkey Kelly and The Green Lady are both said to be based in the Dublin 8 area.
The Forty Steps, meanwhile, were famously used during the 1916 Rising. Today, a tri-colour is kept at the summit of the stairway.
In a detailed history of Murdering Lane published on Medium, blogger Dermott Hayes stated that Alderman McSwiney called for the lane to be renamed Cromwell's Quarters to "preserve historical continuity", in 1876.
This suggestion was, initially, met with "laughter as Oliver Cromwell's sojourn in Ireland from 1649 to 1653, accompanied by his New Model Army, distinctive for their round shaped helmets, was both brutal and bloody", Hayes continues.
However, the Moss Reid blog confirmed that the Cromwell in question "refers not to Oliver but to his son Henry, who became Lord Deputy of Ireland in 1657."
Today, Cromwell's Quarters enjoys perhaps more peaceful views than it did centuries ago.