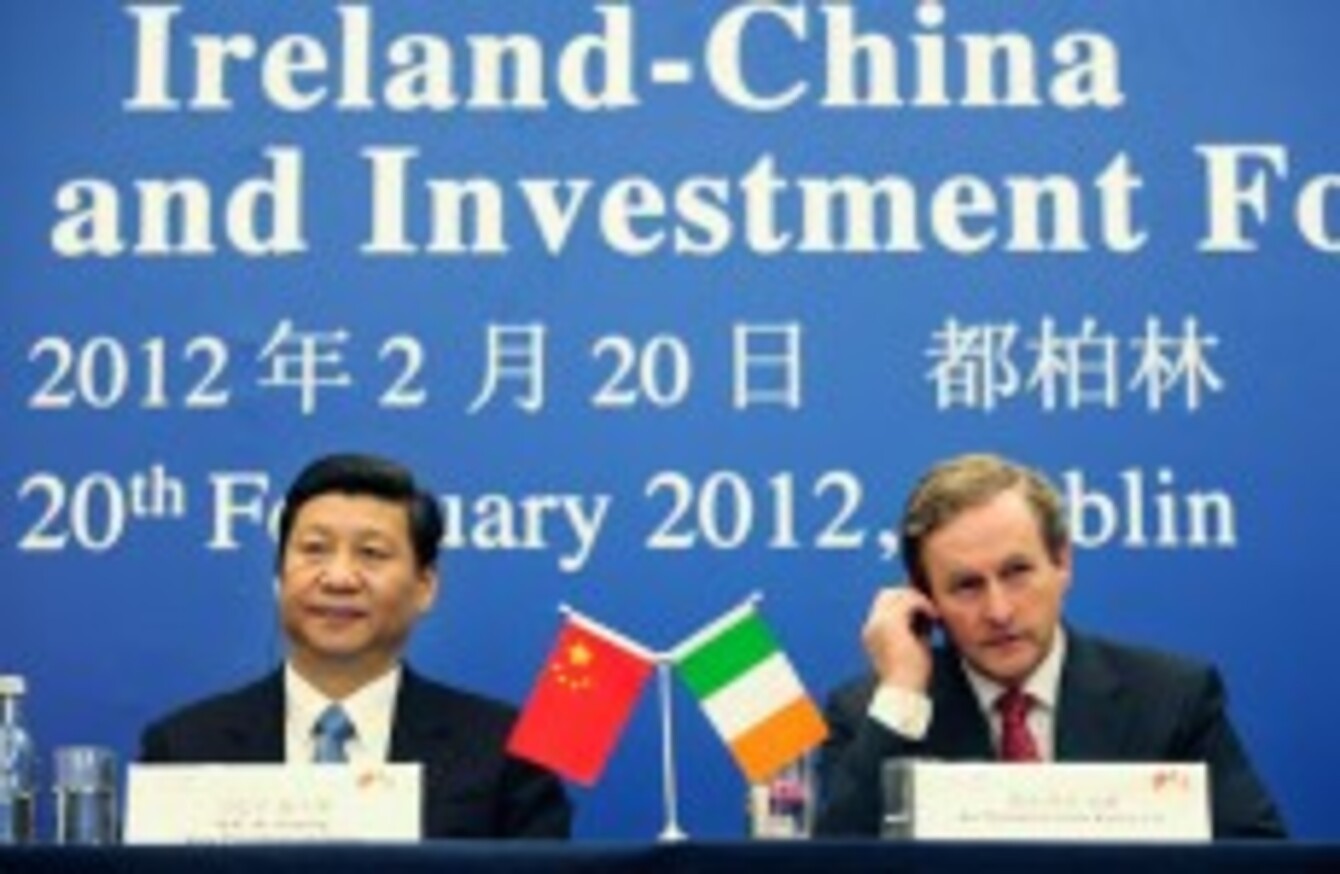 Enda Kenny with Xi Jinping in Dublin last month
Image: Maxwells/PA Wire
Enda Kenny with Xi Jinping in Dublin last month
Image: Maxwells/PA Wire
TAOISEACH ENDA KENNY is to begin a four day official visit to China today, just weeks after Chinese vice president Xi Jinping visited Ireland.
The Taoiseach is due to meet with Chinese premier Wen Jiabao in Beijing during the visit which is focused on promoting trade and investment in Ireland.
Enda Kenny will meet with the mayor of Shanghai tomorrow afternoon before meeting Xi Jinping on Monday evening. He will meet Wen Jiabao on Tuesday evening for official talks before attending a state banquet.
"Although our countries are very different in size we have much to offer each other," said Kenny, adding:
Ireland has advantages which China can benefit from and China represents a vast market for Irish goods and services. Our similarities are greater than our differences and we have in many respects a surprisingly similar business culture, centred on enterprise and innovation.
The Taoiseach said that Ireland has been working hard to build a positive image abroad.
Both Ireland and China have moved rapidly toward a knowledge-based economy built on innovation and technology and our companies have all the elements for working more closely together.
Minister for Jobs Richard Bruton and several business leaders will accompany the Taoiseach on his visit to China.
The Taoiseach added, "We have greatly appreciated the positive signals from China in support of Europe's efforts to resolve the sovereign debt crisis. There is no doubt that this has helped to stabilise financial markets and in the process made it much easier for us in Ireland to address our own problems. Ireland's economy is fundamentally sound and the business world knows that we are recovering well.  China, I believe, also knows this."
The Taoiseach will take part in a number of business events aimed at promoting sectors of education, financial services, tourism, life sciences, cleantech and agri food.