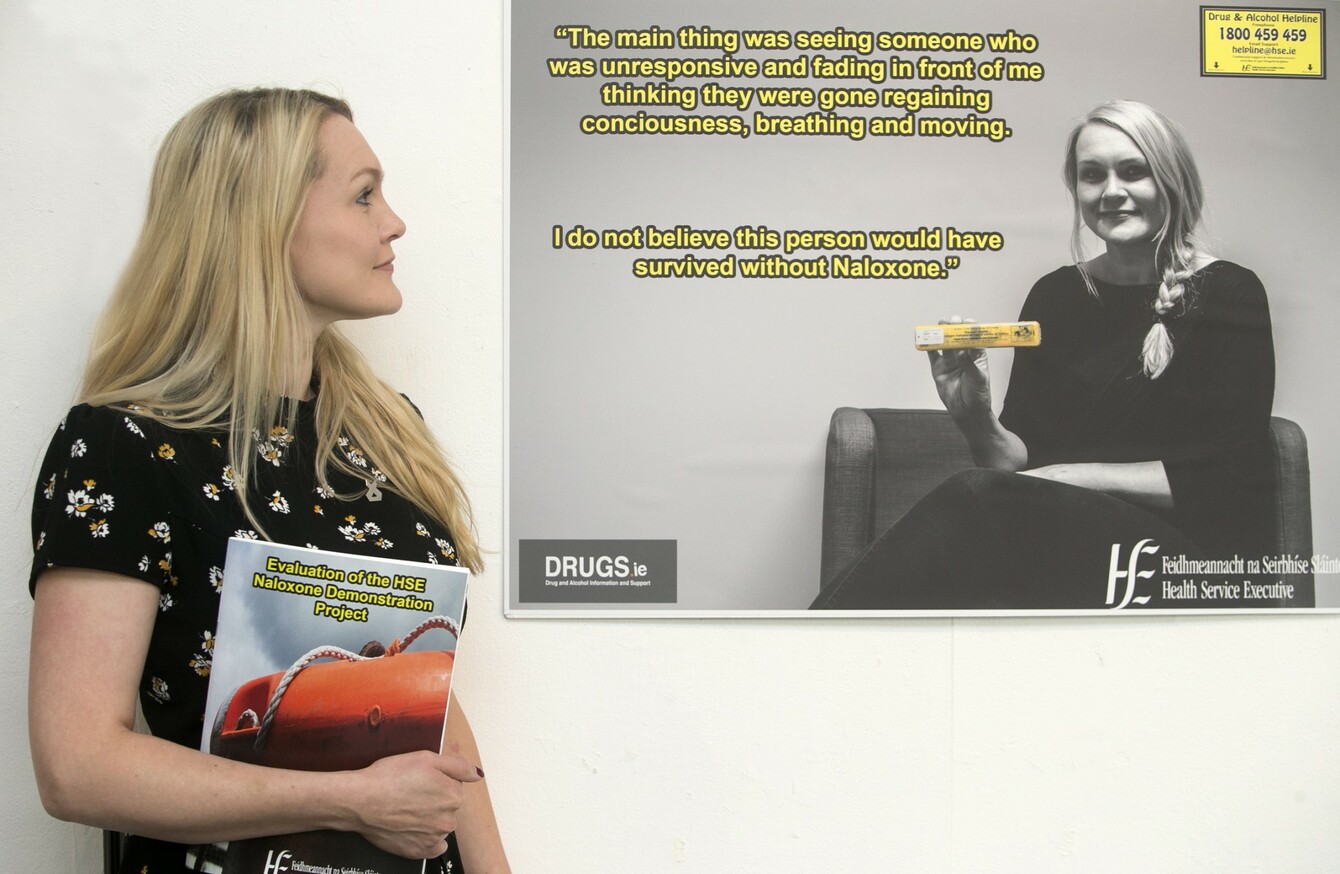 Melanie Froud from Cross Care in Dublin in front of her portrait at the launch of the HSE report into Naloxone at Filmbase in Dublin's Temple Bar yesterday.
Image: Sam Boal
Melanie Froud from Cross Care in Dublin in front of her portrait at the launch of the HSE report into Naloxone at Filmbase in Dublin's Temple Bar yesterday.
Image: Sam Boal
MELANIE FROUD HAS worked at homeless shelters for the past nine years, but it was only last October that she was able to save someone's life by administering a new HSE anti-overdose drug.
Under a HSE pilot project, 600 people – mainly frontline workers and family members – were trained in administering opiate antidote Naloxone over four months last year in Dublin, Cork, Waterford and Limerick.
Overall, the drug was administered five times to people who had overdosed, the report into the trial found.
Froud works in Crosscare homeless hostel in Marlborough Place in Dublin 1, where they have seen their fair share of overdoses over the years.
"I work with homeless people with various needs, including addiction issues," she told TheJournal.ie. She detailed how she dealt with one overdose:
"It was during a busy time of the day, we had 54 people in the hostel and the time, and we do general checks on our residents.
I went into the toilet and found a man sprawled out on the floor.
"Some drug paraphernalia were around, injection needles, and I knew he needed Naloxone," Froud added.
"Nothing else was working so I basically administered the drug. It took split seconds to administer.
I was looking for how he'd respond. It was very quick, the whole thing took five minutes. In that situation it felt like a lot longer. He started moving. His skin changed colour.
Frightening
Froud injected the man who had overdosed in the top of his leg.
"He started to come around, and go from being unconsciousness and not breathing to moving around then.
We stayed with him – when someone comes around it can be quite frightening for them, so we offered reassurance before the ambulance arrived.
"A lot of residents in my service have witnessed opiates overdoses and they know it's a lifesaver.
"It's really empowering people on how to deal with an overdose if one of their friends or one of their family members overdoses.
That person is in front of you and you want to save them. I think anybody in that same situation would do the same.
The government is committed to introducing injection rooms, but there was no mention of them in the recent Misuse of Drugs Bill brought before the Dáil.
"Injection rooms would make it much more humane for people who are addicted," Froud said. "I think it's another step in the path to harm-reduction. It would be much more dignified."
Living with addiction
Maureen Penrose, a mother trained in the use of Naloxone, says the antidote drug is "a gift".
"I've had family members who have been addicted to heroin – one child and some siblings, and a partner," she told TheJournal.ie.
If somebody calls drug users or heroin users scumbags, I would say that you're talking about my family.
"Or you could be talking about your own family, you don't know. You never know what's going to happen. All human beings are valuable.
"I was surrounded by addiction, I've also been a drug user although I've never been addicted to anything."
Stigma
For the past 16 years Maureen has worked for a community group team called Adapt in west Dublin. She has a caseload of 60-70 people.
"It's just a gift to know that if someone was to overdose in front of me that I would have  Naloxone in my handbag," she added.
Drug use can be an accidental progression when you find yourself addicted, it's not what you intended to do. We all choose a substance.
"I'm working in a drug project, I'm trying to make an impact on the drug problem and the stigma, but it's just getting worse, it's not getting better.
Isn't there a trend now where people are urinating on homeless people on the streets when they go out on a Friday night? It's so horrible.
"There's a whole trend around victimising and stigmatising and shaming people who are poor, people who are homeless, drug users. It's a societal thing. We need to change people's points of view."