NAMA HAS TODAY unveiled a pilot programme aimed at encouraging first-time buyers to enter the housing market by insulating them from the possibility of negative equity by up to 20 per cent.
The 80:20 deferred payment initiative hopes to promote the sale of domestic properties by allowing people buying properties in a limited number of locations to buy without fear that the house's price could continue to fall.
Under the scheme, potential buyers will be asked to pay 80 per cent of the value of the home up front, including at least 10 per cent provided by means of the purchaser's own deposit.
The remaining 20 per cent will then be due in five years' time, but will be discounted depending on if the value of the property falls in the meantime.
For example, if a house is bought for €200,000, the purchaser would be asked to provide €20,000 themselves, and be given a mortgage initially worth €140,000 – leaving the other €40,000 to be borrowed in a second tranche in five years' time.
If the value of the house falls to €175,000 in five years, the deferred tranche of the mortgage will be reduced to €15,000 – while if it had fallen to €160,000, there would be no second tranche to the mortgage at all.
NAMA said any mortgages issued under the scheme would, for the first five years, be based on a mortgage including the second tranche – meaning that if the value of the house falls over the first five years, they will effectively have accelerated their repayments meaning they will accrue less interest over the lifetime of the mortgage.
The pilot project is being run in co-operation with Bank of Ireland, EBS and Permanent TSB, who will issue the mortgages directly, and will only apply to properties in 12 specific developments in Dublin, Meath and Cork.
NAMA chief executive Brendan McDonagh explained that the project would ultimately mean a greater cash injection for the agency itself, while also helping it to save money on property maintenance costs and increasing occupancy in part-occupied developments.
The Society of Chartered Surveyors Ireland gave a cautious welcome to the scheme, saying it could address the low level of transactions, but waiting for examples of how the scheme unfolded before making any definite assessment.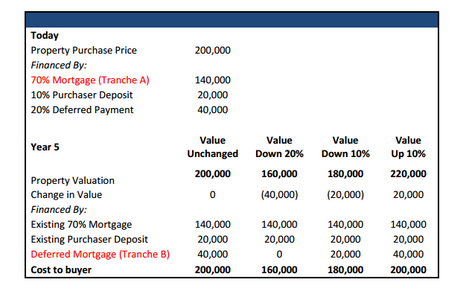 A graphic provided by NAMA to illustrate the various scenarios under which a property's price might increase or decrease in the next five years.