THE MIDLANDS NORTH-WEST constituency covers 13 counties and is often referred to as sprawling.
In reality, oversized could be a better way to describe and it is next to impossible to get all the candidates in room for a debate.
So to its credit, the County Meath Chamber did well to get six candidates together for a European elections hustings in Navan at 8am this morning.
A number of candidates who were to attend sent their apologies, but those who were there participated in a lively discussion on the issues facing business people in rural Ireland.
Six candidates were present: Fine Gael's Mairead McGuinness, Labour's Dominic Hannigan, Renua's Michael O'Dowd, Fianna Fáil's Brendan Smith and independents Dilip Mahapatra and Peter Casey.
Each candidate began by setting out their stall out over three minutes.
McGuinness spoke about climate action and the problems for small businesses in hiring staff and paying for insurance, a topic that would dominate the debate later on.
Hannigan and O'Dowd both spoke about the need to support small businesses with the looming impact of Brexit.
The Renua candidate also spoke briefly about abortion. "On social issues I believe in life at conception and that is where Renua stands," he said.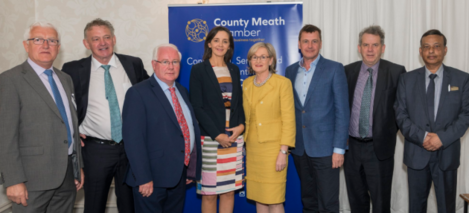 The candidates alongside officials from County Meath Chamber. Source: Meath Chambers
Mahapatra, a doctor by trade, spoke about the 700,000 people on waiting lists and the issues facing the health service. On small business, he argued in favour of greater use of micro-financing and the importance of rural broadband.
He also said that there's a growing "digital divide" between younger people and others with regards to their adoption of smart technologies.
Smith, a TD from the border region, spoke about the importance of trade and protecting Irish exporters. In a reference perhaps to what's happening between China and the US, he said that "trade wars benefit nobody".
Departing from the business focus of the hustings, Casey suggested that Brexit would present a problem for immigration, claiming that the country "couldn't afford" to accept more immigrants.
The former presidential candidate claimed there would be "an influx of immigrants" should Brexit happen, incorrectly stating that Ireland would be "the only other English-speaking country in the EU" (English is also a national language of Malta and is also by far the most widely-spoken foreign language in the EU).
The business people in the room questioned the candidates about their ideas for transport and 'the circular economy' , but a debate on insurance prompted the greatest participation.
Entrepreneur and director of the Alliance for Insurance Reform Linda Murray said her business almost went to the wall because of problems in securing insurance.
Murray runs two activity centres in Navan and has come to national prominence recently as a campaigner against the high cost of insurance. 
She explained that the recreation and leisure industry is facing insurance costs that has it "absolutely on our knees".
"Our business almost closed on 29 April and I was going to be letting 12 people go, but it didn't close. Not through the help of government but because I got together with 61 other activity centres, formed a group and we went across the water to try and get insurance," Murray told the politicians.
We approached five insurance companies in Ireland and 15 insurance companies in the UK and we managed to get insurance in the UK.
Murray said that insurance costs are hurting rural communities by threatening local events, with 200 festivals at risk in 2019.
McGuinness acknowledged that this was a problem and said the EU was failing to implement "a single market for services", insurance included.
"The actions at government level are probably too slow because people are not feeling them, your action of coming together are maybe what needs to be done, " the MEP said.
"And the truth is there's no transparency in the insurance industry."
They need to look at what companies are being asked to pay across Europe for public liability insurance and see whether it claims are the reason for that or are excessive profit levels being made in the insurance industry.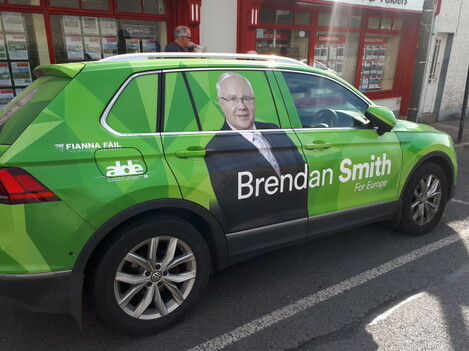 Brendan Smith's campaign car outside the Newgrange Hotel. Source: TheJournal.ie
Another local business owner, Martin Skelly of Navan Travel, said that insurance costs were becoming unbearable in his business also.
He explained that he has observed "a sixfold increase" in the cost of insurance and that it is an issue which has been "percolating under the surface for years".
In the travel business, he explained that travel agents are often at the mercy of their insurance companies.
We are compelled when there is a claim lodged against us or when there is a complaint lodged that we must go to our insurance companies.
"They'll unilaterally make the decision to instruct us to stand back and take not further action. Because of that, they will say there is a claim pending for a certain amount and they will increase our premium accordingly."
"As it stands, nothing has happened and we're facing a sixfold increase next year and the year after," he added.
In response, most of the candidates agreed that Europe needed to do more to help Irish SMEs with insurance costs.
Smith said that a "standardised model" is needed and suggested more could be done on data sharing to allow for greater competition across member states.
Labour's Hannigan chipped in:
"I used to run a business abroad as well as here in Ireland, and the premiums were a fraction of what they are here and it seems to be it's because of a lack of access here."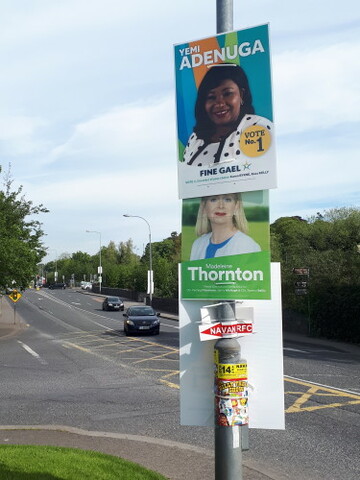 Local election candidate posters in the town. Source: TheJournal.ie
Casey, however, went against the tone of the other candidates and the rest of the room by saying that he was "getting annoyed" by all the talk about insurance.
"Insurance is important, of course it is, but we've much more important issues than insurance," he said.
I'm getting annoyed here listening to this, the Irish government could sort that out. You don't want to be waiting on Europe to sort it out, it's an Irish government that should step in and sort it out, and should sort it out next week.
Casey also attacked the Irish government for its approach to Brexit, saying that the government "should have been more aligned to the United Kingdom".
In his final statement to the audience Casey then returned to immigration, calling for a "temporary freeze on migration of labour" because "we just can't afford it".
"We could afford it if you started paying taxes Peter," Hannigan interjected.
"I've paid ten times more taxes than you Dominic, " Casey responded, having explained during last year's Áras debates that he was taxed on worldwide income due to being a US Green Card holder. 
After this back-and-forth, the chair sought to bring some order to the room and gestured towards McGuinness.
"There's a lot of male hormones at the top table," she said.
Of that there was no debate.
(Note: The other candidates running in this  constituency are: Maria Walsh, Anne Rabbitte, Matt Carthy, Saoirse McHugh, Cyril Brennan, Patrick Greene, Luke 'Ming' Flanagan, Fidelma Healy Eames, Olive O'Connor, James Miller, Diarmaid Mulcahy)