NEED TO CATCH up? TheJournal.ie brings you a round-up of today's news.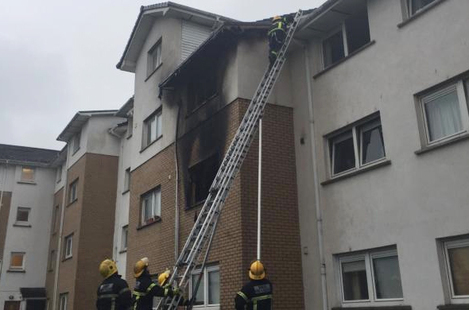 The scene of a fire in Dublin which saw a child and two adults taken to hospital. Source: Dublin Fire Brigade/RollingNews.ie
IRELAND
WORLD
Ground staff from Brighton and Hove Albion Football Club look at a shirt and flowers they laid in memory of their ground staff colleague Matt Grimstone, killed in the plane disaster Saturday. Source: Associated Press
#ASHLEY MADISON: Two suicides have been linked to the website hack.
#SHOREHAM AIR SHOW: Nine more bodies could be found in the air show wreckage.
#QUEENS: A bus driver is critical and several others are injured after a bus crashed into a building in New York.
#WANTED: A man with an Irish accent is wanted in connection with an attack in the UK that left a man with a broken jaw.
#DESTRUCTION: Islamic State blew up a 2,000-year-old temple.
#CALM DOWN: One Direction might be breaking up and some people are not taking it well at all.
INNOVATION
PARTING SHOT
We already knew St Patrick's Cathedral in Dublin was stunning but this drone footage shows just how spectacular it is:
Source: Sky Pixels Ireland/YouTube
Get our daily news round up