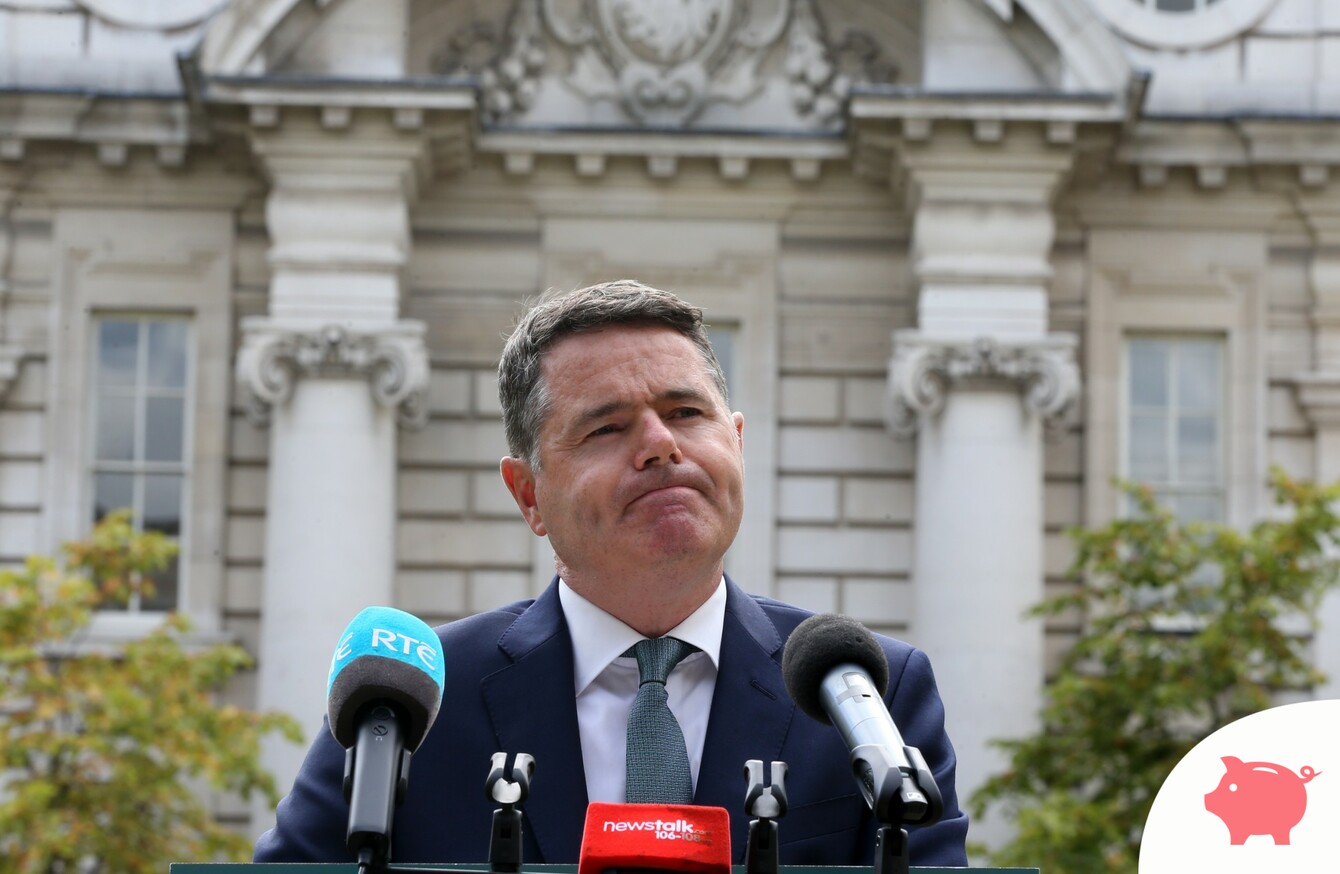 Donohoe will deliver Budget 2020 on 8 October.
Image: Sam Boal
Donohoe will deliver Budget 2020 on 8 October.
Image: Sam Boal
Updated Sep 11th 2019, 2:39 PM
FINANCE MINISTER PASCHAL Donohoe has ruled out a reduction in personal taxation in the next Budget and said the welfare package will be "different in scale" to previous years. 
The minister received approval from Cabinet to base Budget 2020 around the assumption that there will be a no-deal Brexit come 31 October.
The Government is set to deliver a range of budgetary measures on 8 October to the tune of €2.8 billion.
Some €2.1 billion of that has already been committed to projects outlined in the Summer Economic Statement in June, with the remaining €700 million thought to be earmarked for tax cuts and increased spending. 
With a no-deal Brexit looking more likely by the day, Donohoe sought permission from Cabinet today to base the Budget around the impact this would have on Ireland. 
Speaking to reporters today, he said the government had to make sensible choices for the Budget, ruling out any reductions in personal taxation or sweeping welfare increases.
Donohoe said there are many who would argue, given that the economy is doing well, that there is a case for personal tax reductions before Brexit.
"I am not going to do that, I am going to make a set of very safe choices."
He said he wanted to maximise the resources available to the government to help citizens who find themselves in difficulty as a result of a no-deal fallout. 
The minister said the government has already seen a situation in Ireland where taxation and welfare decisions were made that the country later could not afford. 
"And we have seen the difficulty in undoing them."
A statement from the Department of Finance said the budget aims "to give certainty to businesses and citizens" and "supporting sectors and regions most exposed to Brexit-related disruption". 
Speaking after the meeting, the minister said: "A no deal Brexit will have profound implications for Ireland on all levels. These include macroeconomic, trade and sectoral challenges, both immediately and in the longer term."
He added: "While there are risks ahead there are also opportunities; our goal is to position our economy to minimise these risks and to maximise the opportunities that lie ahead."
Sensible
The Irish Fiscal Advisory Council this morning said a no-deal Brexit budget is the most sensible option for Budget 2020 ahead of Donohoe's meeting with cabinet ministers.
In its pre-budget submission, the budget watchdog warned that the economic outlook  has deteriorated in recent months as the risk of a hard Brexit has increased.
#Open journalism No news is bad news Support The Journal

Your contributions will help us continue to deliver the stories that are important to you

Support us now
It also warned the Government should not rely on corporation tax outperformances to balance the budget and that it should not expect long-term spending to be offset by such a volatile source of income. 
Seamus Coffey, Chair of the council said there is significant uncertainty in relation to Brexit just weeks out from the 31 October divorce deadline.
"I think planning on the basis of a hard Brexit given what we know is the most appropriate course of action," he said speaking on RTÉ Radio 1′s Morning Ireland programme.
"That's not to say that it will happen or even that the probability of it happening is above 50% but of the range of possible outcomes that Brexit can bring, it does appear that a hard Brexit is the most likely and planning on the basis of that for the budget over the next couple of weeks is the most appropriate action to take."
"In overall terms, what happens with Brexit shouldn't have an impact on the overall package that Government chooses to deliver," Coffey said. 
"The Government has set out a plan for budgetary measures in the 2020 budget totalling €2.8 billion. The advice of the IFAC is that the Government should adhere to, stick to and deliver on that plan."
"If a no-deal or a hard Brexit is the base line for what they should do in that scenario, then this sort of environment should frame what they do with this €600 million but that is up to the Government to choose what individual or particular measures it wishes to introduce," he added.
- With reporting by Michelle Hennessy.