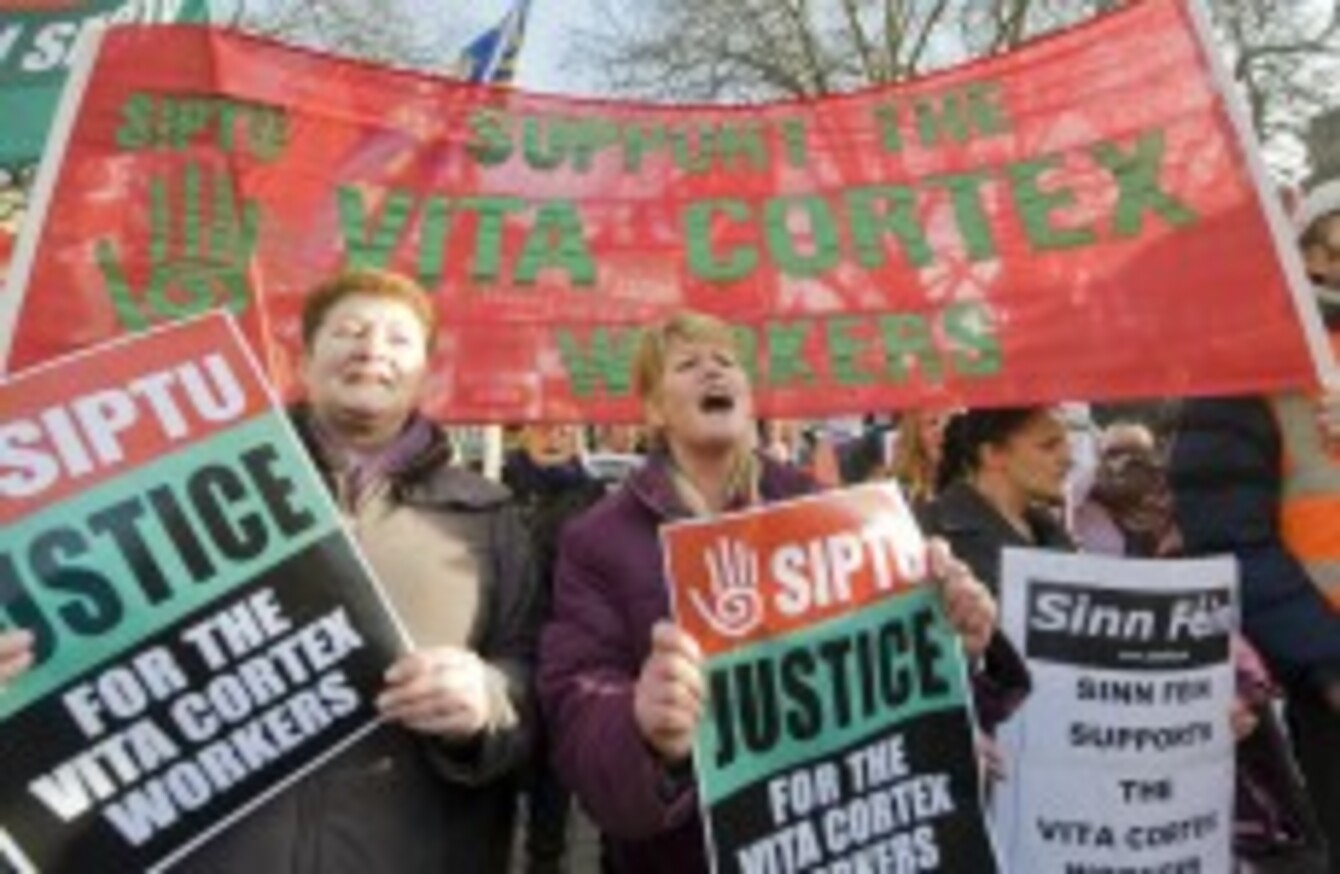 Supporters of the Vita Cortex workers at a rally in Dublin last weekend
Image: Laura Hutton/Photocall Ireland
Supporters of the Vita Cortex workers at a rally in Dublin last weekend
Image: Laura Hutton/Photocall Ireland
Updated, 12.38pm
MARATHON TALKS BETWEEN striking Vita Cortex workers and management at the Labour Relations Commission broke up late last night without any resolution, the workers have said.
The two sides met yesterday in an attempt to broker an end to the dispute over redundancy pay. Thirty-two laid-off employees have been staging a sit-in at the company's plant on Kinsale Road in Cork since December 16, when management closed the plant and said it could not pay statutory redundancy.
Both sides had been invited to join talks at the LRC, which broke down last night, the workers said. They posted on their Facebook page:
We hoped to bring you all better news but unfortunately talks have finished for tonight with no resolution. We are tired but we will not give up. The battle begins again next week.
They said the week had been a "rollercoaster of emotions". Earlier the staff had expressed their hopes for a successful end to the talks, tweeting:
Yesterday saw the 32 workers, who are being represented by the Siptu union, receive a message of support from world-renowned human rights campaigner Noam Chomsky, as well as trending nationwide on Twitter.
Management at the firm say it is unable to pay statutory redundancy because the necessary money is in an account controlled by Nama. However, Nama has said it is not responsible.