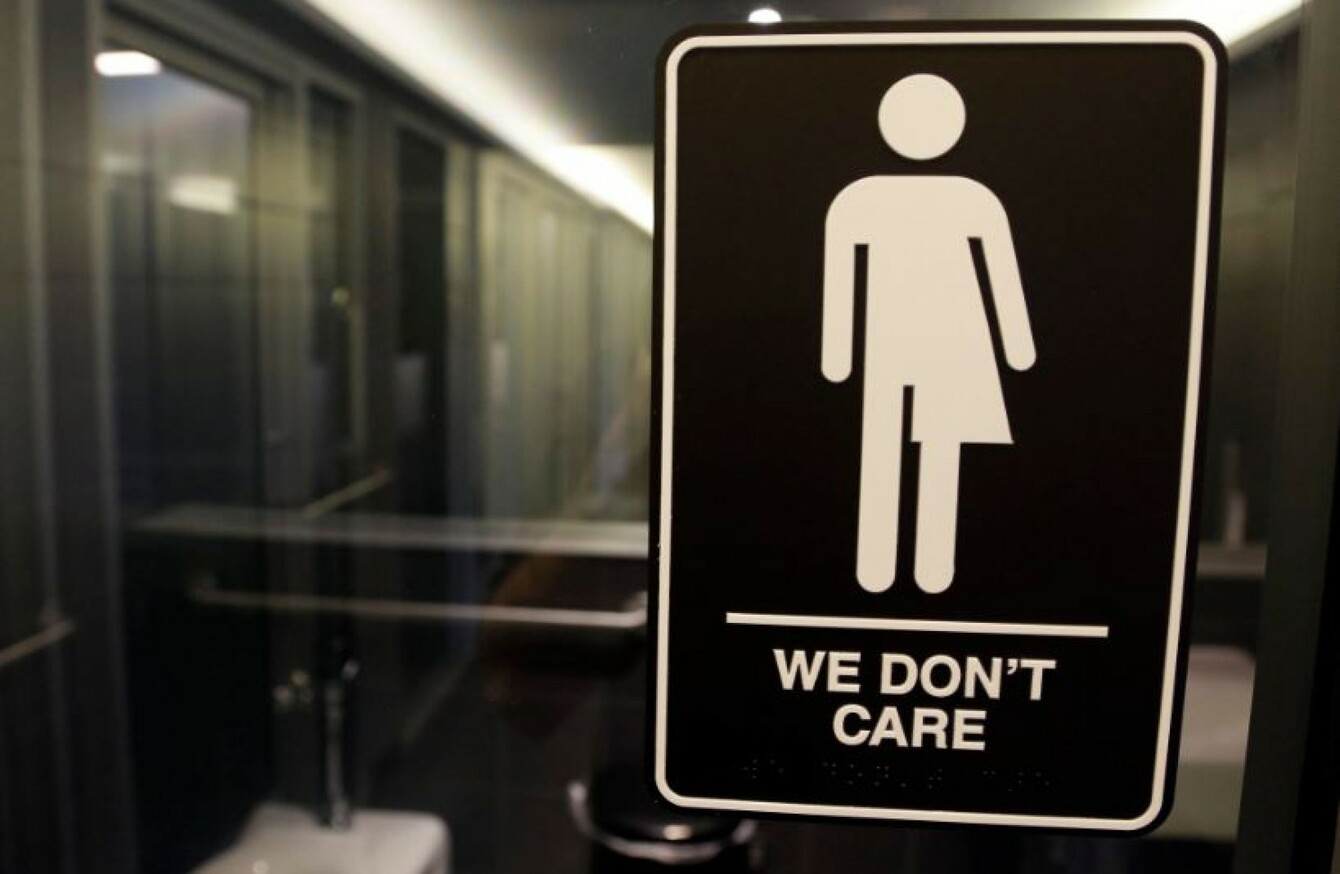 A toilet sign at 21c Museum Hotel in Durham, North Carolina
Image: Gerry Broome AP/Press Association Images
A toilet sign at 21c Museum Hotel in Durham, North Carolina
Image: Gerry Broome AP/Press Association Images
NORTH CAROLINA LAWMAKERS have failed to scrap a law that served as a spark in America's 'bathroom wars' over transgender identity, and the broader cultural battle between conservatives and liberals.
The state assembly had convened a special session to do away with the so-called House Bill 2, which requires transgender people to use toilets corresponding to the gender on their birth certificates — not the one they identify as — in schools and government buildings.
Democrats and Republicans had earlier reached an agreement to repeal the law in exchange for Charlotte — North Carolina's most populous city — dropping new gay rights provisions that were the trigger for the 'bathroom law'.
However, lawmakers clashed for hours when discussing the issue yesterday – bickering over details of the compromise.
Ultimately, the Senate rejected a bill to repeal the law, and the House adjourned without making a decision.
The lawmakers aren't scheduled to be in session again until next month.
"It is a shame that North Carolina's General Assembly is refusing to clean up the mess they made," James Esseks, director of the American Civil Liberties Union's LGBT and HIV Project, said in a statement.
"The support for the LGBT community from political leaders, faith leaders, businesses, and everyday people that has emerged this year will not fade. These attempts to expel transgender people from public life will not be tolerated," he said, adding that his group planned to challenge the law in court.
Business and concert boycotts 
The law, which was passed in March, was widely condemned as discriminatory and resulted in North Carolina suffering a string of business boycotts.
Performers such as Bruce Springsteen and major sports groups cancelled events, and there was blowback from corporate titans such as Apple and Starbucks.
Republican Governor Pat McCrory is believed to have lost his re-election bid in November in part due to the law — which his incoming Democratic successor pushed to do away with.
Governor-elect Roy Cooper had argued that scrapping the bathroom law would help win back business and restore North Carolina's tarnished reputation.
Political correctness 
Amid the fray in North Carolina, President Barack Obama in May issued instructions for all public school districts in America to let transgender children use the toilet of their gender identity.
American conservatives protested this, saying the idea was political correctness gone too far.
Despite both parties seemingly reaching an agreement on the issue, many conservatives never wanted to repeal the law.
Social conservatives defended the transgender bathroom requirement — which has no enforcement or punishment provisions — as necessary to prevent heterosexual predators from masquerading as transgender to molest women and girls when they are vulnerable.
However, the US Justice Department and others contend the threat of sexual predators posing as transgender people to enter a bathroom is practically nonexistent.
Marriage equality
The US Supreme Court ruled last year that a marriage between people of the same sex is just as legitimate as one between heterosexuals.
The North Carolina gender law and others like it are widely seen as a backlash against the Supreme Court gay marriage ruling, with transgender people caught in the crossfire of a war between conservatives wed to traditional family values and progressives seeking greater rights for the LGBT community.
The US Supreme Court entered the debate in October, announcing it will consider the case of a 17-year-old in Virginia who was born a female but identifies as a male and has filed lawsuit to be able to use the boys' bathroom at his high school.
Contains reporting from Associated Press