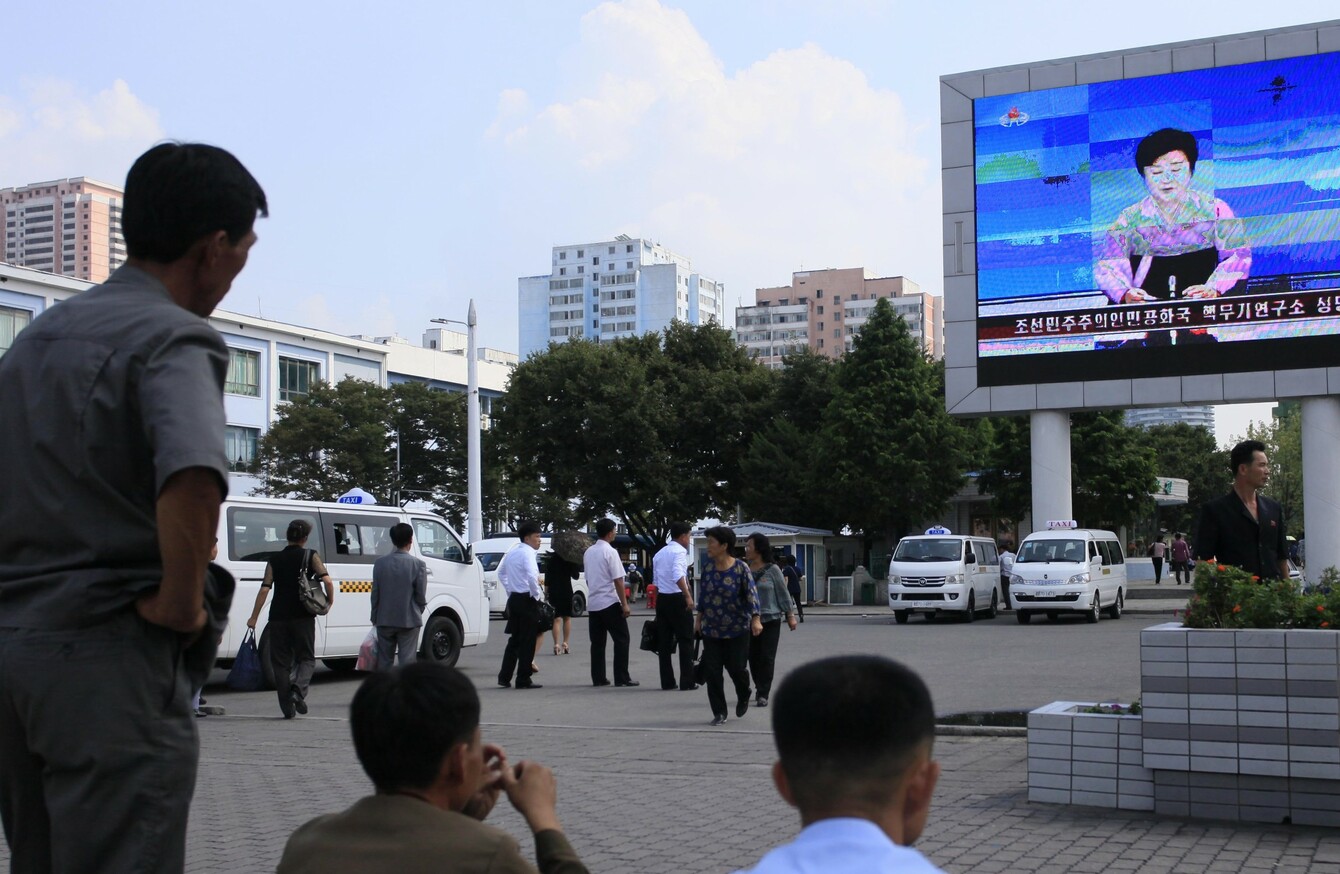 North Koreans watch a news report about the nuclear test on a large screen outside the Pyongyang Station.
Image: Jon Chol Jin
North Koreans watch a news report about the nuclear test on a large screen outside the Pyongyang Station.
Image: Jon Chol Jin
Updated 6.55pm
NORTH KOREA HAS successfully tested a nuclear warhead, it said today, drawing condemnation from the South which said the "maniacal recklessness" of young ruler Kim Jong-Un would lead to self-destruction.
Ireland's Minister for Foreign Affairs and Trade, Charlie Flanagan, said he was "gravely concerned" about the news.
Pyongyang's state media said the test, which comes after a series of ballistic missile launches that have drawn international condemnation and UN sanctions, had achieved its goal of being able to fit a miniaturised nuclear warhead on a rocket.
"Our nuclear scientists staged a nuclear explosion test on a newly developed nuclear warhead at the country's northern nuclear test site," a North Korean TV announcer said.
"Our… party sent a congratulatory message to our nuclear scientists… for conducting the successful nuclear warhead explosion test," she said, as the South judged it was the North's biggest test yet, at 10 kilotons.
Reaction
Minister Flanagan said he was "gravely concerned" at the latest reports.
He said it "represents a real threat to peace and security on the Korean Peninsula, and the entire North East Asia region".
The reported test is the latest in a series of provocative actions undertaken by North Korea this year, and is a flagrant violation of its international obligations not to produce or test nuclear weapons. It shows a blatant disregard for recent efforts of the international community to encourage North Korea to cease such actions.
He also described the reported test as "a major challenge to international efforts to advance global nuclear disarmament and non-proliferation, a longstanding goal of Ireland's foreign policy".
Nuclear weapons are never a means to guarantee peace and security; far from it, they pose the greatest threat of all. The regime in Pyongyang must realise that this act is reckless and provocative and will only isolate it further from the international community.
He said the reported test draws into sharp focus the urgent need for engagement on nuclear disarmament by all stakeholders, and called on the North Korean authorities to cease all nuclear testing and re-engage with the Six Party Talks on the denuclearisation of the Korean Peninsula, "immediately and without pre-conditions".
The Irish Campaign for Nuclear Disarmament also condemned the test, describe nuclear weapons as "weapons of genocide, capable of killing thousands".
"We call on all nuclear armed states to engage in negotiations leading to the elimination of nuclear weapons," said its chairperson Dr David Hutchinson Edgar. "The possession and modernisation of nuclear arsenals by a small number of states acts as an incentive to states like North Korea to acquire these horrific weapons. Non-nuclear-armed states like Ireland have an important role to play within the international community in keeping up pressure to stigmatise, ban and eliminate nuclear weapons."
French President Francois Hollande said he "strongly condemns" North Korea's latest nuclear test and called on the UN Security Council to take up "this violation of its resolutions," his office said today.
The international community must unite against this new provocation which comes after unanimous condemnation by the Security Council of the ballistic missile tests by North Korea on Monday.
China "firmly opposes" the foreign ministry of Pyongyang's main diplomatic protector said, after its fifth atomic blast.
"Today, the DPRK again conducted a nuclear test despite widespread international opposition – the Chinese government firmly opposes this," the ministry in Beijing said in a statement on its website, using the North's official name.
We strongly urge the DPRK to honour its commitment to denuclearisation, comply with the relevant security council resolutions and stop taking any actions that worsen the situation.
The statement called for the issue to be resolved through six-party talks – the long-stalled negotiations process chaired by China that also brings together the two Koreas, Japan, Russia and the United States.
China's environmental protection ministry activated a contingency plan following the blast, the official news agency Xinhua reported, adding that it was monitoring for radiation on the North Korean border.
Ties between China and the North have become strained in recent years as Pyongyang has pressed ahead with its nuclear tests, and with Kim Jong-Un yet to visit Beijing since inheriting power from his father, who died in 2011.
- © AFP 2016 additional reporting Aoife Barry