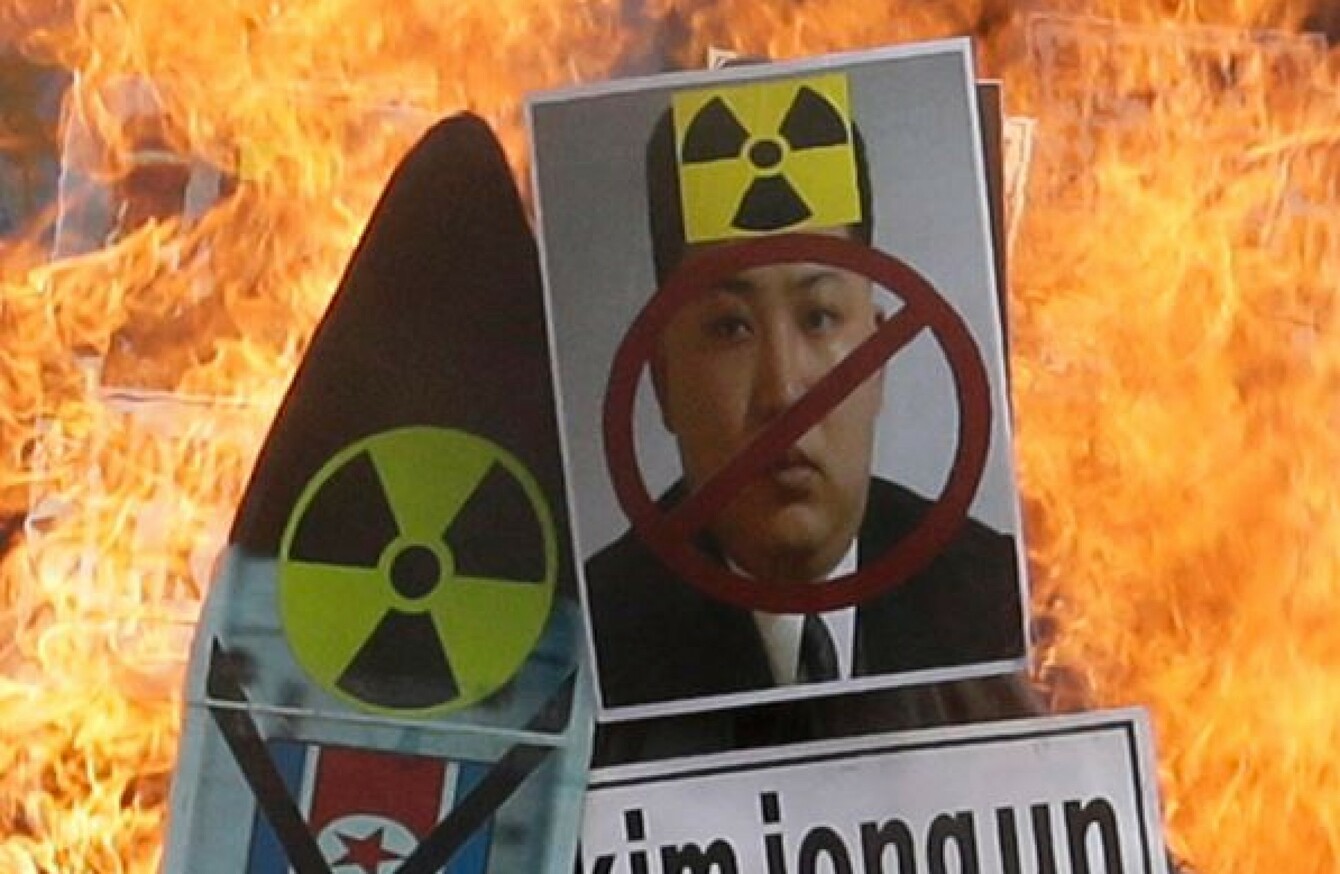 A defaced image of North Korean leader Kim Jong Un is burned by South Korean protesters during a rally denouncing North Korea's latest nuclear test, in Seoul, South Korea, today.
Image: Ahn Young-joon/AP/Press Association Images
A defaced image of North Korean leader Kim Jong Un is burned by South Korean protesters during a rally denouncing North Korea's latest nuclear test, in Seoul, South Korea, today.
Image: Ahn Young-joon/AP/Press Association Images
NORTH KOREA HAS sought to justify its weapons programme as a defence against US nuclear "blackmail" as world powers debated ways to punish Pyongyang for its fifth and most powerful atomic test.
South Korea said the nuclear threat from its wayward neighbour was growing fast and called for tough new sanctions from the UN Security Council to force it to change tack.
The yield from yesterday's test, which sparked international shockwaves, was estimated at 10 kilotonnes — almost twice as much as the one Pyongyang conducted only eight months ago.
North Korea also boasted the test was of a nuclear warhead that could be mounted on a missile.
"It is believed that the North's nuclear capability is becoming more advanced to a considerable level, and at a faster pace," South Korea's Foreign Minister Yun Byung-Se told senior ministry officials, calling for "more and stronger sanctions".
The UN Security Council agreed to start work on just that — even though five sets of UN sanctions since the first nuclear test a decade ago have failed to halt the North's drive for what it insists are defensive weapons.
During a closed-door meeting yesterday, the council strongly condemned the test and agreed to begin drafting a new resolution under Article 41 of the UN charter, which provides for sanctions.
"The members of the Security Council will begin to work immediately on appropriate measures under Article 41 in a Security Council resolution," New Zealand's ambassador Gerard van Bohemen, who holds the council's rotating presidency, told reporters.
South Korea, the United States, Japan, Russia and China all condemned the blast at the Punggye-ri nuclear site.
Protest
In Seoul, dozens of protesters burned an effigy of the North's leader Kim Jong-Un and called for "strong retaliation", including pre-emptive attacks on the North's nuclear complex.
"Eliminate Kim Jong-Un!" and "Destroy North Korea's nuclear weapons!" the activists shouted.
Some newspapers were equally scathing. "South Korea left unguarded before nuclear maniac," read the banner headline of the top-selling Chosun Ilbo.
However, the North's ruling party newspaper today vowed not to submit to US nuclear "blackmail", and described the South's President Park Geun-Hye as a "dirty prostitute" for working with US forces.
"Gone are the days never to return when the US could make a unilateral nuclear blackmail against the DPRK," Rodong Sinmun said, using the country's official name.
"The US is exasperated by the strong military steps being taken by the DPRK in a phased way."
'Holding the world hostage' 
The US stations 28,500 troops in South Korea. The Joongang Ilbo newspaper recommended they should be armed with tactical nuclear weapons, as they were until the early 1990s.
#Open journalism No news is bad news Support The Journal

Your contributions will help us continue to deliver the stories that are important to you

Support us now
The Security Council met at the request of Japan, South Korea and the United States to agree on a response, despite resistance from Pyongyang's sole ally China to calls for tougher measures.
After Pyongyang carried out its fourth nuclear test, the council in March adopted the toughest sanctions resolution to date, targeting North Korea's trade in minerals and tightening banking restrictions.
But since that measure was adopted, North Korea has carried out 21 ballistic missile launches, US ambassador Samantha Power said.
"North Korea is seeking to perfect its nuclear weapons and their delivery vehicles so they can hold the region and the world hostage under threat of nuclear strike," Power said.
Pyongyang's state media yesterday said the nuclear test had realised the goal of being able to fit a miniaturised warhead on a rocket.
"Our nuclear scientists staged a nuclear explosion test on a newly developed nuclear warhead at the country's northern nuclear test site," a TV presenter said.
North Koreans gathered around public screens to watch the official announcement of the test.
The nuclear programme has accompanied a series of ballistic missile launches, the latest of which took place on Monday as world powers gathered for a G20 meeting in China.