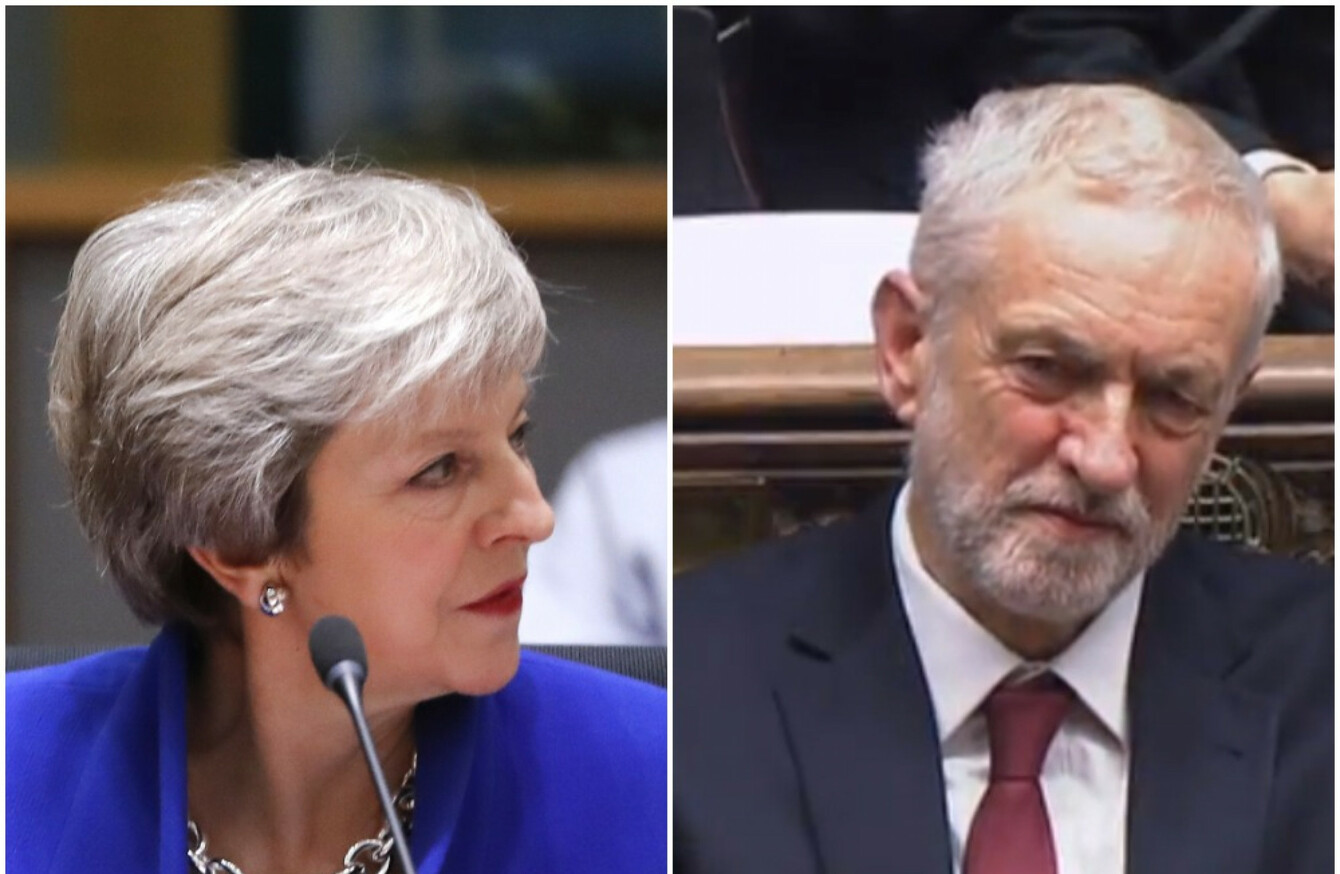 A VOTE IS SCHEDULED for the House of Commons on the 11 December – but what's the magical number Theresa May needs to get her Brexit deal through?
There are 650 seats in the House of Commons; in June 2016, at the time of the Brexit vote, the David Cameron's Tory party held 330 seats, which represents a slim majority.
After Theresa May took over as Prime Minister, she called a snap election for 8 June 2017, looking to increase her party's majority to make passing legislation easier. But they actually lost their majority – winning just 315 seats.
This led to a "confidence and supply" agreement with the Democratic Unionist Party, which had 10 MPs after the election.
In exchange for their pledge to vote with the Tory government, DUP leader Arlene Foster got €1 billion in additional funding for Northern Ireland.
Of the 650 elected MPs, four do not vote. They are the speaker of the House of Commons and his three deputies (who have the titles of Chairman of Ways and Means, First Deputy Chairman of Ways and Means and Second Deputy Chairman of Ways and Means).
There are also Sinn Féin's 7 elected MPs, who won't take their seat due to a long-standing policy of abstentionism. Since it was announced that the EU and UK struck a deal, it's been argued that Sinn Féin should take the oath, which they are ideologically opposed, in order to vote in favour of the Brexit deal, which includes provisions for Northern Ireland that would avoid a hard border in Ireland.
But they have been steadfast in their refusal to take their seats, saying they could not pledge an allegiance to the queen, and that if they took their seats as a one-off this time, it would open up requests for them to take their seats the next time.
So that's 639 active members of the House of Commons, making 320 the magic number that Theresa May has to reach. So will she do it?
As it stands
The prime minister and the whole House knows the mathematics. The deal will never get through. And even if it did – which it won't – the DUP on who we rely for a majority, have said they will review the confidence and supply agreement. So it's as dead as a dodo.
This was the take of Conservative MP Mark Francois, who wants May to step down as leader of the Conservative Party.
He outlined the reasons why he was opposed to the deal when he said: "No sooner is the ink dry than the Spanish are after Gibraltar and the French are after our fish."
#Open journalism No news is bad news Support The Journal

Your contributions will help us continue to deliver the stories that are important to you

Support us now
The inclinations of more moderate Brexiteers also hints that the House will vote against the deal: May can probably rely on the votes of 240 MPs; around 40 Tory MPs are predicted to vote against the Brexit deal (revised down from 80).
Labour's 257 MPs are expected to vote against the deal in theory, but with its leader Jeremy Corbyn being seen as weak on Brexit, and with reports of May lobbying labour MPs earlier this year, chances are that she'll gather the votes of a few members.
Passing the bill will also depend on winning over the 10 DUP MPs, which have said won't back her dela because of provisions given only to Northern Ireland (the backstop). 
There are also options such as the Norway Plus model that are being used to try sway Brexiteers in favour of voting for the deal.
On Tuesday, senior Tory backbencher Michael Fallon, who is considered to be largely supportive of May, said that her deal was "the worst of all worlds" and was "doomed", adding that he would be voting against it.