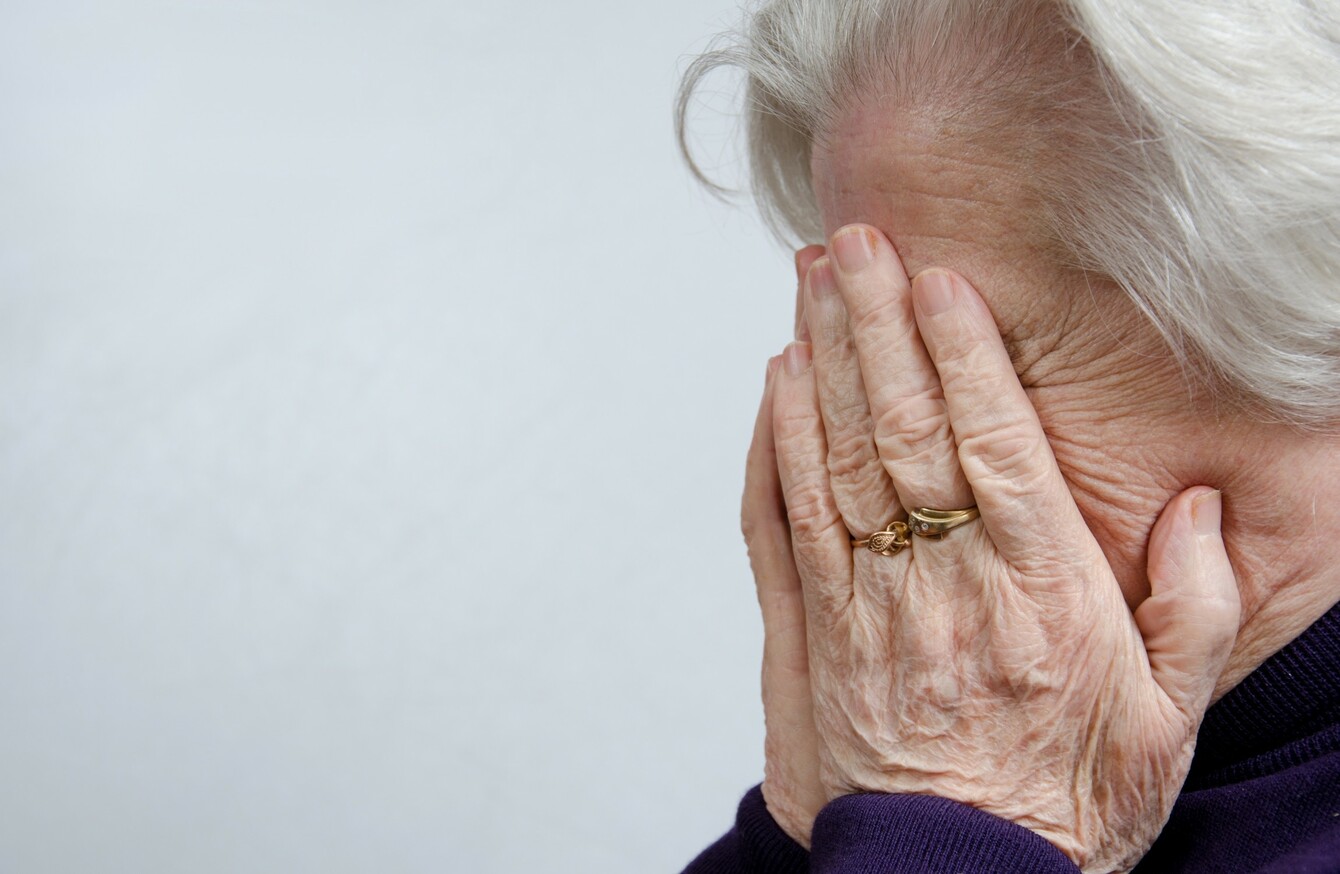 Image: elderly woman via Shutterstock
Image: elderly woman via Shutterstock
A STAFF MEMBER of a nursing home used "foul and abusive language" to threaten lives while working, according to information received by Hiqa.
The complaint received by the Health Information and Quality Authority (Hiqa) on 11 May raised issues regarding the misappropriation of money in a nursing home as well as abusive language being used by a staff member and threatening language being used to intimidate people.
The information is contained in documents about various nursing homes around the country released to TheJournal.ie under the Freedom of Information Act.
None of the nursing homes are named, however. All the information provided by Hiqa is heavily redacted to protect the identities of all concerned parties.
The documents deal with information received by Hiqa from people with regards to nursing home care. The information can come from family members of residents, residents themselves, staff members at nursing homes or anyone else who has an issue to raise.
Hiqa is the health watchdog and is responsible for overseeing the standards in all nursing homes around the country.
In the case above, it appears that the complainant alleges that a staff member at a nursing home used threatening language to intimidate other people at the home. Whether the people being threatened are other staff members, residents or anyone else is not clear from the documents.
The entry in full is below:
Unsolicited information
The documents in question deal with information received by Hiqa between 7 March and 21 July of this year.
In total, 138 separate incidents or concerns were filed between the dates in question.
While heavily redacted in many cases, the information raised with Hiqa offers a glimpse into the issues surrounding nursing homes around the country.
Another complaint points towards staff being "verbally abusive" when issues were raised with them. That same complaint points towards personal belongings and clothes going missing, and "bruising with no explanation provided by staff".
There are mentions of abusive staff in a number of the complaints received by Hiqa.
Many issues raised have to do with sanitary conditions at nursing homes and personal hygiene concerns.
One concerned person found a room in a nursing home "to be generally unclean" with "urine stains on the floor".
There is also reference made to excrement being "lodged under" what appears to be the nails of a person mentioned, as well as staff wearing dirty uniforms.
Complaints 
While some cases point towards extreme cases of elder abuse, in the main the concerns raised have to do with issues around staff, hygiene and food.
Concerns around adequate staffing and properly trained staff at nursing homes make up a large number of the issues raised, as do ones concerned at the level of care being provided.
Another complainant states that "personal hygiene is ignored"; while a separate case states that "staff were rough handling [a patient]".
A more serious complaint alleges that a phone at a nursing home was answered by someone who was confined to bed rather than a member of staff.
In a statement to TheJournal.ie, Hiqa stated that it did not have a remit to investigate individual complaints received.
"The aim of the Health Information and Quality Authority is to advance high-quality and safe care for people accessing health and social care services in Ireland," a spokesperson for the organisation said.
Hiqa does not have a remit to investigate individual complaints, however all unsolicited information received is used to inform the Authority's monitoring of each residential centre.
Where Hiqa has concerns related to the safety of residents and the quality of care that they are receiving, providers are required to take immediate action to address this.
Hiqa inspectors follow up with providers to ensure that the actions are being implemented and are resulting in improvements for residents.