A NEW REPORT has sought to highlight some of the challenges Irish young people who come from a minority background can face growing up in Ireland.
The study by the National Youth Council of Ireland is called Make Minority a Priority and points out that about one in seven people in Ireland between the ages of 15 and 24 are of a minority ethnic background.
By that, the NYCI says that the young people are from a background that is an ethnicity apart from 'white Irish'.
Source: Youth.ie
As part of the research, the NYCI conducted a series of anonymous focus groups with young people from different ethnic backgrounds to spark a debate and to come up with a set of recommendations for schools and other state bodies to follow.
The report emphasised that one of the keys to supporting integration of minority young people was to build a cultural awareness and understanding within the wider Irish community.
The report said it was critical to foster an environment in which young people from minority backgrounds could be themselves and not merely "be expected to assimilate".
This can be challenging for young people from minority backgrounds who can be torn between Irish cultural norms and their parents who may "promote and expect different behaviour in line with their cultural heritage".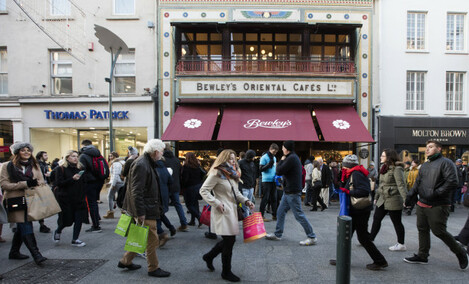 One in seven young people is from an ethnicity other than 'white Irish'. Source: Eamonn Farrell/RollingNews.ie
Another key issue to emerge from the focus groups was the degree to which racism had become a "normal" feature of young people's lives.
The report found that the racism faced by young people in Ireland is often 'shrugged off' but that there is an eagerness among them to discuss it.
On foot of that, one of the recommendations within the report is the provision of "safe and supported spaces" for the young people to share their experiences.
During the course of the focus groups, the young people spoke specifically about these issues.
On identity an belonging
"You're scared to show people who you are because you're afraid that they're going to judge you from where you came from, and how you act. So you're just like scared of really being yourself." (Asian female, under 18, Leinster)
On racism and exclusion
"Just be realistic here, because this actually does happen, I'm seen as a nigger, [...] seen as a monkey. [...] we get called these names. That even if it's not on a daily basis, at least once a week. I'm just saying this actually does go on and you're not taking it seriously." (Black female, 18+, Ulster)
Parental and community relationships
"Your parents might be hanging on "but you're African and this is the way you should be"…. [but] just because your background is African doesn't mean that your culture can't be both African and Irish." (Black male, 18+, Munster)
Integration
"Sometimes people are surprised [by cultural practices]… even though you try and explain they don't understand….We should be taught more about other cultures so that you understand why people act differently. Like what you might think is weird is completely normal to another person. If you're not taught that then you don't really know that." (Black male, under 18, Dublin)
The complete report is available here and the summary report is available here.