US PRESIDENT BARACK Obama hailed an historic interim deal with Iran as "an important first step" towards a comprehensive pact to end the showdown over Tehran's nuclear program.
The president however quickly ran into criticism from opponents on Capitol Hill, reflecting the deep mistrust of Tehran after more than 30 years of Cold War-style hostilities and Obama's own ragged domestic political fortunes.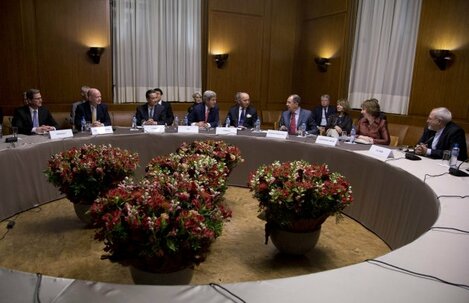 From left, Germany's Foreign Minister Guido Westerwelle, British Foreign Secretary William Hague, Chinese Foreign Minister Wang Yi, U.S. Secretary of State John Kerry, French Foreign Minister Laurent Fabius, Russia's Foreign Minister Sergey Lavrov, EU foreign policy chief Catherine Ashton and Iranian Foreign Minister Mohammad Javad Zarif, gather at the United Nations Palais. Pic: AP Photo/Carolyn Kaster, Pool
First step
"While today's announcement is just a first step, it achieves a great deal," Obama said in a late night statement from the White House after the agreement was clinched in talks between P5+1 world powers and Iran in Geneva.
"For the first time in nearly a decade, we have halted the progress of the Iranian nuclear program, and key parts of the program will be rolled back."
The president also warned that if Iran did not live up to its side of the bargain, it would both lose the nearly $7 billion in sanctions relief allowed under the interim deal and face increased sanctions.
Washington and its allies had taken "an important first step toward a comprehensive solution that addresses our concerns with the Islamic Republic of Iran's nuclear program," Obama said.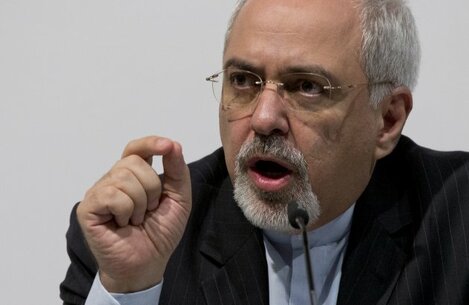 Iranian Foreign Minister Mohammad Javad Zarif. Pic: AP Photo/Carolyn Kaster
Senior US officials said the deal did not "recognise" Iran's right to enrich uranium, and committed Tehran to take a number of steps to halt progress on its nuclear program.
These include, according to the White House, a commitment to halt uranium enrichment above five percent and to neutralise a stockpile of 20 percent enriched uranium.
The White House said that Iran agreed to not to install additional centrifuges or to use any of its new generation centrifuge, and to leave inoperable roughly half of installed centrifuges at the Natanz plant and three-quarters of installed centrifuges at Fordow.
Tehran also agreed to not commission its Arak reactor, designed to eventually produce plutonium that could be used in a nuclear bomb, and to halt construction on the plant.
In return, world powers, including the United States, Russia, China, Britain, France and Germany plus the European Union, agreed to a set of "modest" measures to ease sanctions that have choked the Iranian economy.
Sanctions
Obama stressed that the "toughest" sanctions would remain pending a final deal.
We will refrain from imposing new sanctions, and we will allow the Iranian government access to a portion of the revenue that they have been denied through sanctions.
Obama's political allies will likely frame the deal as a victory for a president who has seen his global standing erode over an National Security Agency spying scandal, and who has struggled to reach a coherent policy towards Syria's use of chemical weapons.
Obama's Iran policy however faces intense opposition from Republicans and some Democratic hawks on Capitol Hill, an early hint of the tough sales job he and Secretary of State John Kerry face.
In his speech, Obama warned lawmakers planning to impose new sanctions on Iran that such a move could "derail" the progress over the next six months designed at getting a comprehensive deal.
Much of the criticism from Capitol Hill mirror concerns expressed by Israel – something Obama acknowledged when he said that he recognised that the interim deal would make some US allies nervous.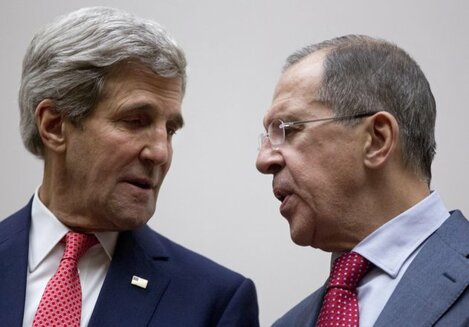 US Secretary of State John Kerry, left, and Russia's Foreign Minister Sergey Lavrov. Pic: AP Photo/Carolyn Kaster
US resolve "will remain firm, as will our commitment to our friends and allies – particularly Israel and our Gulf partners, who have good reason to be skeptical about Iran's intentions," he said.
White House officials said they expected Obama to call Israel Prime Minister Benjamin Netanyahu to brief him on the deal.
"I have a profound responsibility to try to resolve our differences peacefully, rather than rush towards conflict," Obama said.
"Today, we have a real opportunity to achieve a comprehensive, peaceful settlement, and I believe we must test it."