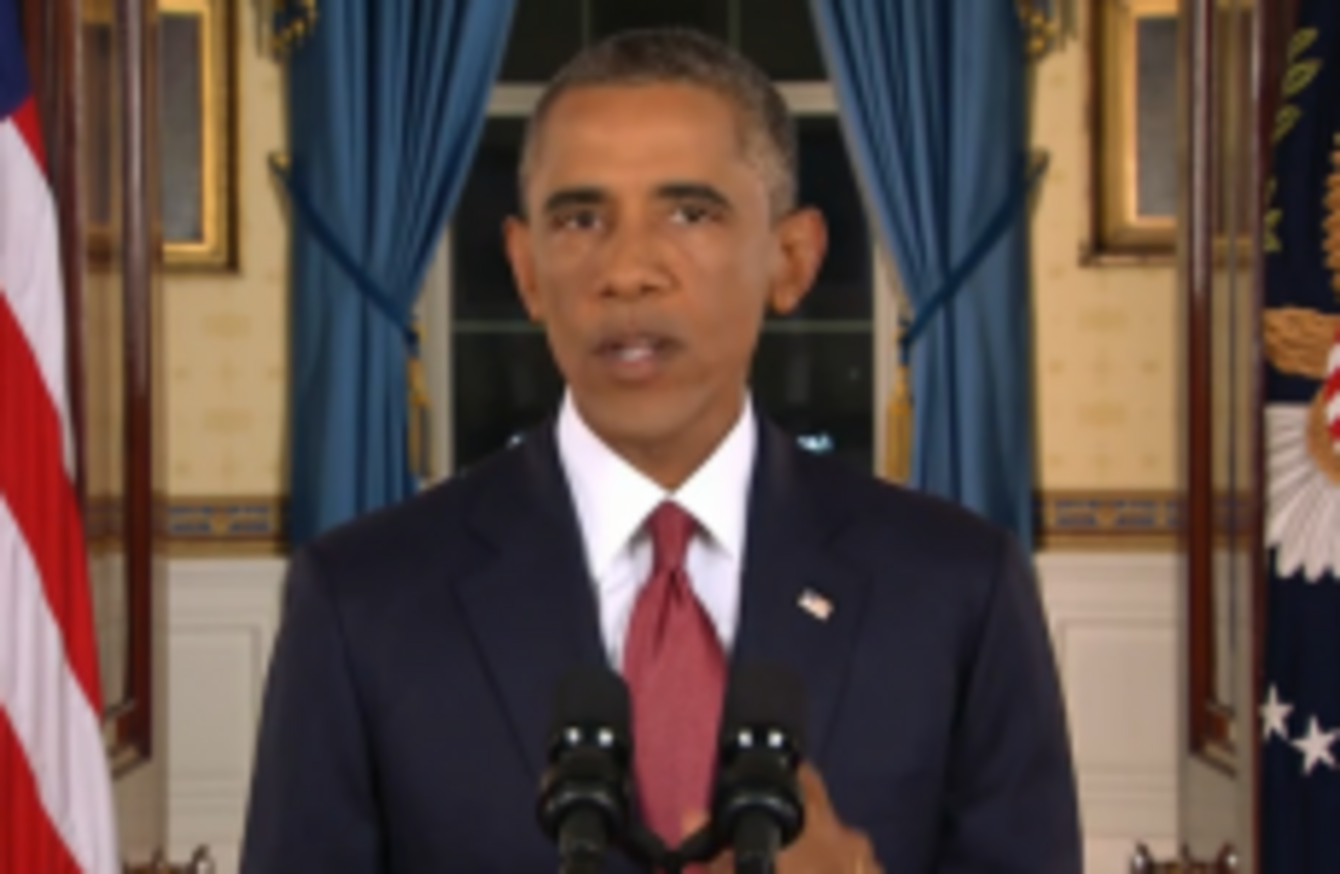 Image: Screengrab/YouTube
Image: Screengrab/YouTube
US PRESIDENT BARACK US Obama has ordered a "relentless" war against the Islamic State, including air strikes in Syria and expanded operations in Iraq to "destroy" the marauding jihadist army.
Obama – the president who hoped to go down in history for ending wars, not starting an open-ended escalation in the Middle East — also pledged to bolster Iraqi forces and to increase military assistance to Syria's opposition.
In a sombre, measured prime-time televised address, Obama said the Islamic State, which has beheaded two US journalists and seized a swathe of land in Iraq and Syria, was a uniquely brutal group even by the blood-soaked standards of the Middle East.
"They execute captured prisoners. They kill children. They enslave, rape and force women into marriage," he said.
Such barbarity could occasion only one response, Obama said.
"Our objective is clear: we will degrade, and ultimately destroy, ISIL through a comprehensive and sustained counter-terrorism strategy," Obama said, steeling his nation for a new foreign war.
"I will not hesitate to take action against ISIL in Syria, as well as Iraq," he said, using an alternative acronym for the self-declared Islamic State.
This is a core principle of my presidency: if you threaten America, you will find no safe haven.
Source: PBS NewsHour/YouTube
A senior US official left no doubt that Obama's words represented an order for military operations in Syria, despite his long-held reluctance to get embroiled in the country's civil war.
"There will be action in Syria," the official said, but declined to say when the first strikes would take place. "We are not going to telegraph our punches."
A senior defence official added: "The US military is ready to conduct direct action against ISIL targets in Syria.
Neither Iraq, nor Afghanistan 
But, seeking to preserve his doctrine of replacing strength-sapping wars using bogged-down land armies with limited but lethal arms-length warfare, Obama compared the new conflict to anti-terror operations in Somalia and Yemen.
And he made clear in the 14 minute address that the new front against terrorism will not become a repeat of the exhausting ground wars of the last decade.
"I want the American people to understand how this effort will be different from the wars in Iraq and Afghanistan," Obama said.
It will not involve American combat troops fighting on foreign soil.
Instead, Washington will empower local partners like the Iraqi forces, Kurdish fighters and Syrian rebels, to fill in territory opened up by US air power.
US operations in Somalia and Yemen have largely used drone strikes and air raids, though US special forces did stage a raid in Somalia last year, which failed to snare its target, a prominent Islamist militant.
A US official also said that Obama would loosen the previous criteria for air attacks on IS in Iraq, which were stipulated on the need to safeguard US diplomatic personnel and avert humanitarian tragedies.
"If there is an ISIL target in Iraq that we need to hit, we will hit it," the official said.
Personnel
Obama also announced the dispatch of another 475 military personnel to help train Iraqi forces to take on the Islamic State, bringing the total number of US troops in the country to 1,600.
Obama made clear that the burgeoning challenge of IS, which has carved out a haven in Iraq and Syria that has made national borders obsolete, had made him change his mind about arming Syrian opposition forces.
He also called on Congress to swiftly authorize an operation to train and equip moderate Syrian fighters.
Saudi King Abdullah, to whom Obama spoke earlier on Wednesday, had promised to support the effort, officials said.
Obama also warned that Washington would never work with Syrian President Bashar al-Assad to combat IS, arguing he had lost legitimacy by waging a brutal civil war against his own people.
He urged lawmakers to swiftly approve a $500 million request for funding for the Syrian training mission which he first made in June.
He said he believed he had the power to conduct the campaign against IS under existing anti-terror authorizations.
Politically, Obama's address, on the poignant eve of the September 11 attacks in 2001, which pitched the United States into an unresolved confrontation with radical Islam, was an attempt to shore up his position after a few tricky weeks.