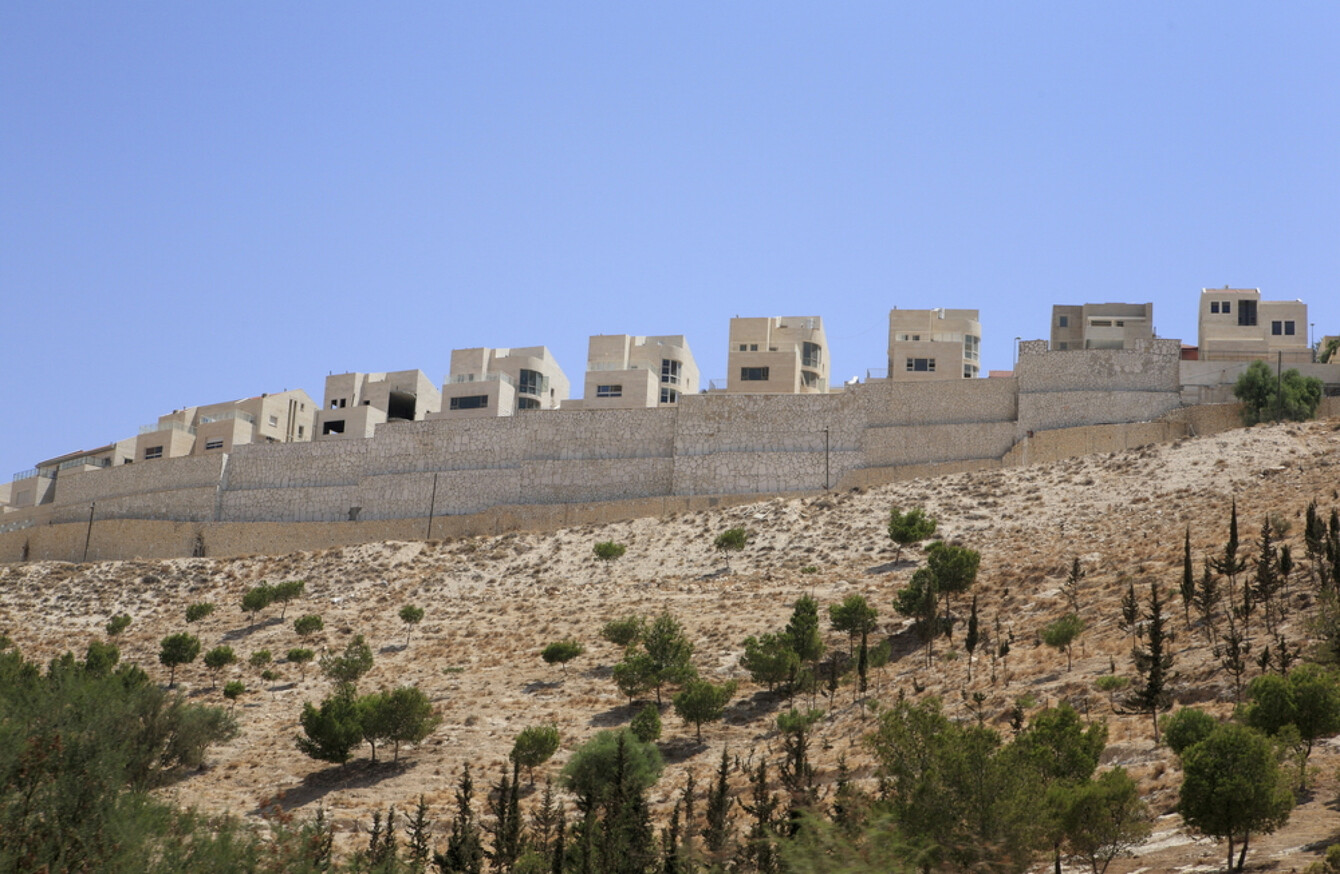 Settlements in the West Bank
Image: Shutterstock/Purplexsu
Settlements in the West Bank
Image: Shutterstock/Purplexsu
FIANNA FÁIL'S NIALL Collins has confirmed that his party will support Senator Frances Black's Occupied Territories Bill when it is debated in the Seanad later this month.
The Bill aims to prohibit Ireland from trading in goods and services from Israeli-occupied territories by prohibiting "the import and sales of goods, services and natural resources originating in illegal settlements in occupied territories".
Last week at a concert in Dublin, former Pink Floyd star Roger Waters urged people to support the Occupied Territories Bill 2018.
Opposition parties including Labour and Sinn Féin as well as independent senators have all voiced their support for such a move to prohibit trade – however with Fianna Fáil support on board, the Bill is certain to pass.
Fianna Fáil's party leader Micheál Martin had hinted last week his party would support the Bill, but a formal decision was made at tonight's parliamentary party meeting.
Commenting on his party's position, Collins said Fianna Fáil is fully committed to supporting efforts to secure peace in the Middle East and a two state solution.
'Illegal settlements'
Critical to that outcome is dealing with the issue of illegal settlements in the West Bank, he said.
"My colleague Billy Kelleher TD and I traveled to Israel and Palestine to see at first hand the reality of what is happening on the ground before taking a view on the Occupied Territories Bill that will soon be debated in the Oireachtas.
"Having done that and having met with a wide range of agencies and groups, it is my view that Ireland passing the Occupied Territories Bill has the potential to send a strong message that the issue of illegal settlements is being taken seriously and needs to be addressed," said Collins.
He said Ireland has a long history of positive engagement in the Middle East.
"It is my view that passage of this Bill fits comfortably in that tradition and I am pleased that Fianna Fáil will play a key role in making it happen," he added.
https://www.facebook.com/frances.black.5/videos/1743082285775203/
Reacting to the news that she has won over Fianna Fáil support for her Bill, Senator Black told TheJournal.ie this evening that she is "absolutely over the moon".
"I knew we had to focus on Fianna Fáil and in fairness to them – credit where credit is due – they have delivered," said Black, adding:
"It is very courageous for Fianna Fáil to take this step."
The Bill has been delayed for a number of months, due it being adjourned following discussions between Senator Black and Tánaiste and Foreign Affairs Minister Simon Coveney.
The Tánaiste sought the extra time stating that he would use the few months to use Ireland's influence with Europe and the US to try to make progress in Israel.
Since making this statement, the Coveney has visited with Israeli Prime Minister Benjamin Netanyahu on the issues, describing their conversation as "frank".
Black said this evening that the time in which the Bill was adjourned gave her and others, like Collins, the time to travel to Palestine to see conditions first-hand.
"It gave me even more inspiration to really get focused on why we had to get this legislation over the line," she said, adding: "We have worked tirelessly to get to this point."
'A powerful message'
With cross-party support, the Bill is almost certain to pass. Black said she believes it will send a powerful message to Israel.
#Open journalism No news is bad news Support The Journal

Your contributions will help us continue to deliver the stories that are important to you

Support us now
"It is really important for Ireland to lead on this. Hopefully other countries will follow suit and do the same.
Voicing his concern about the Bill earlier this year, Coveney recognised that to prohibit the import and sales of goods from the territories would "send an important signal to the Palestinian people".
However, he argued that the memory of such a signal may fade over time and Ireland's reputation would be of a country willing to go it alone, rather than a country determined to influence, persuade and bring others with Ireland.
"I understand that Coveney is coming from a place where he would like to see EU leadership on this, but I feel if we wait for the EU to take the lead, we could be waiting forever," Black told TheJournal.ie.
'Immoral'
The Israeli Embassy in Ireland has slammed the Bill calling it "immoral".
In a statement, the Embassy of Israel said it is "concerned by bills that further the divisions between Israel and the Palestinians. Legislation, which promotes a boycott of any kind, should be rejected as it does nothing to achieve peace but rather empowers the Hamas terrorists as well as those Palestinians who refuse to come to the negotiating table".
It continued:
Closing doors will not in any way facilitate Ireland's role and influence. There are direct parties to the conflict. Boycotting one of them will not do any good and is immoral.