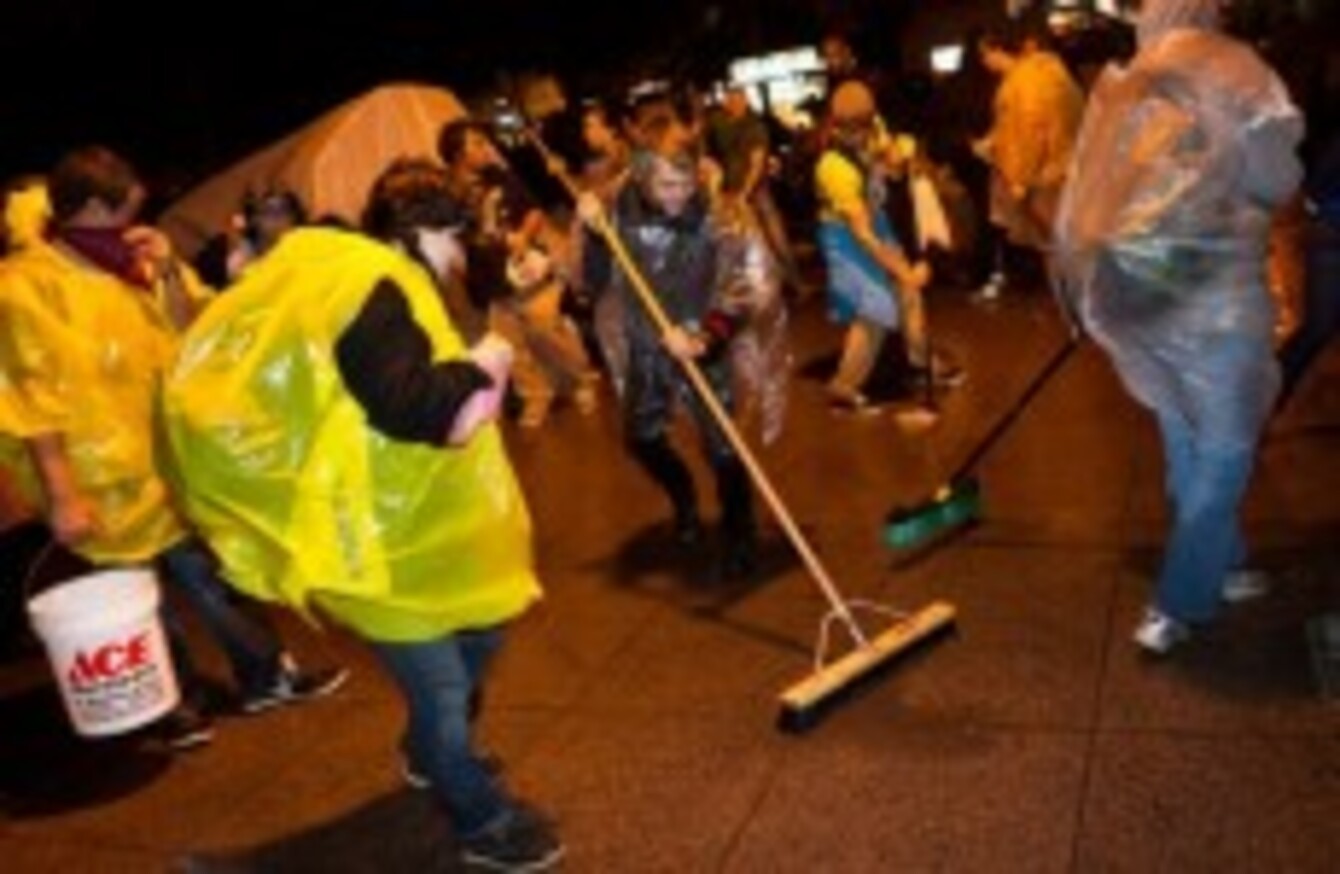 Demonstrators affiliated with the Occupy Wall Street protests sweep Zucotti park to preempt a scheduled cleanup by owners Friday morning that protestors say is a move to shut them down, Friday, Oct. 14, 2011
Image: John Minchillo/AP/Press Association Images
Demonstrators affiliated with the Occupy Wall Street protests sweep Zucotti park to preempt a scheduled cleanup by owners Friday morning that protestors say is a move to shut them down, Friday, Oct. 14, 2011
Image: John Minchillo/AP/Press Association Images
NEW YORK OFFICIALS announced yesterday that the monthlong occupation by Wall Street protesters of a park – which spawned similar gatherings across the United States – will have to clear out for a cleanup, a move that protesters say is a move to shut them down.
Some demonstrators at the half-acre park in lower Manhattan said they won't go anywhere at the Friday morning deadline when the park's owners want them to leave.
Other protesters said they would wait and see if they are allowed back into the park after the cleanup. If not, they said, they will engage in nonviolent civil disobedience. Some 100 protesters volunteered yesterday to get arrested and protesters went over various scenarios, including what happens if police are confrontational.
Han Shan, 39, of New York, a spokesman for Occupy Wall Street, said it was clear to everyone that the plan is to shut down the protest.
"There is a strong commitment to nonviolence, but I know people are going to vigorously resist eviction," he said. "I think we're going to see a huge number of supporters throughout New York and the surrounding area defend this thing … I'm hoping that cooler heads will prevail, but I'm not holding my breath."
The company that owns the private park where the demonstrators have camped out said it has become trashed and unsanitary. Brookfield Office Properties planned to begin a section-by-section power-washing of Zuccotti Park, near Wall Street, at 7 am local time this morning.
#Open journalism No news is bad news Support The Journal

Your contributions will help us continue to deliver the stories that are important to you

Support us now
"They're going to use the cleanup to get us out of here," said Justin Wedes, a 25-year-old part-time public high school science teacher from Brooklyn who was one of about 400 people in the park Thursday night. "It's a de facto eviction notice."
The demand that protesters clear out sets up a turning point in a movement that began 17 September with a small group of activists and has swelled to include several thousand people at times, from many walks of life. Occupy Wall Street has inspired similar demonstrations across the country and become an issue in the Republican presidential primary race.
The demonstrations, aimed at rallying against the corporate greed protesters say is the primary cause for the country's failing economy, have sparked similar protests in other countries. In Ireland, the Occupy Dame Street protests have been taking place in central Dublin for nearly one week.