AN INVESTIGATION HAS been launched into the alleged online grooming of children from St Patrick's Football Club, Belfast.
The UK's National Crime Agency (NCA) is investigating the allegations, and are informing parents who they suspect have children who've been targeted.
The Irish News is reporting that the chairman of the club was informed by a parent that police were investigating whether a number of children at the club were groomed online by a man posing as a teenager.
Last night St Patrick's Football Club, which is located in the New Lodge area of north Belfast and caters for 5 to 19 year olds, posted a statement to Facebook in relation to the investigation.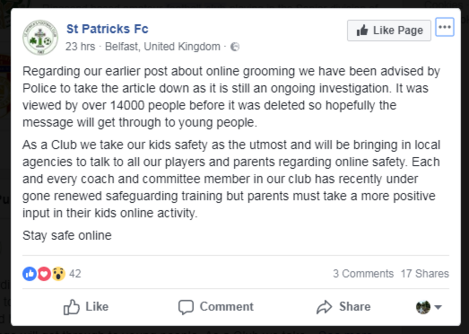 Source: Facebook
As a club we take our kids' safety as the utmost and will be bringing in local agencies to talk to all our players and parents regarding online safety.
Each and every coach and committee member in our club has recently undergone renewed safeguarding training but parents must take a more positive input in their kids online activity.
"Stay safe online," it signed off with.
In a statement, the PSNI said: "Officers from the PSNI Child Internet Protection Team are providing assistance to officers from the National Crime Agency as they carry out their enquiries into an ongoing operation."
The PSNI referred to the NCA for more information; the NCA told TheJournal.ie it could not provide any additional information as investigations were still ongoing.