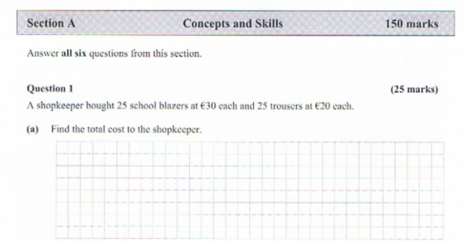 Source: StudyClix
A QUESTION ON today's Leaving Certificate Ordinary Level Maths Paper 1 has been described as "ridiculously easy" by a secondary school teacher.
The first question on the paper asks students the total cost to a shopkeeper who has bought 25 school blazers at €30 each and 25 trousers at €20 each.
After the exam, Luke Saunders, Maths teacher and founder of Studyclix said: "Most students coming into my first year classes from national school would have been able for Question 1 on the Ordinary paper."
"Inconsistency is a big problem with assessment of the new project Maths course," he added. "The difficulty is varying wildly form question to question and students are sometimes left looking for the catch in overly simple questions."
Higher level paper
Of the higher level students surveyed on Studyclix immediately after sitting their Paper 1, some 69 percent described it as "difficult" with the remainder describing it as "extremely difficult".
A staggering 86 per cent of higher level students surveyed said that they had either "definitely failed" or were "borderline".
David Maguire, a student in Moyne Community School commented "I think that Maths is being taught in a way that understanding comes second to getting the course done and that the way it's meant to be taught by teachers is unrealistic as there simply isn't enough time. In short the Maths course should be made shorter or taught in a way that promotes understanding."
Saunders said the problem for teachers and therefore students lies in the "inconsistencies we are seeing each year in how the course is examined".
The bonus point system in place for those taking higher level appears to be working as 54 per cent of higher students said they would not have taken Higher level had the bonus point system not been in place.