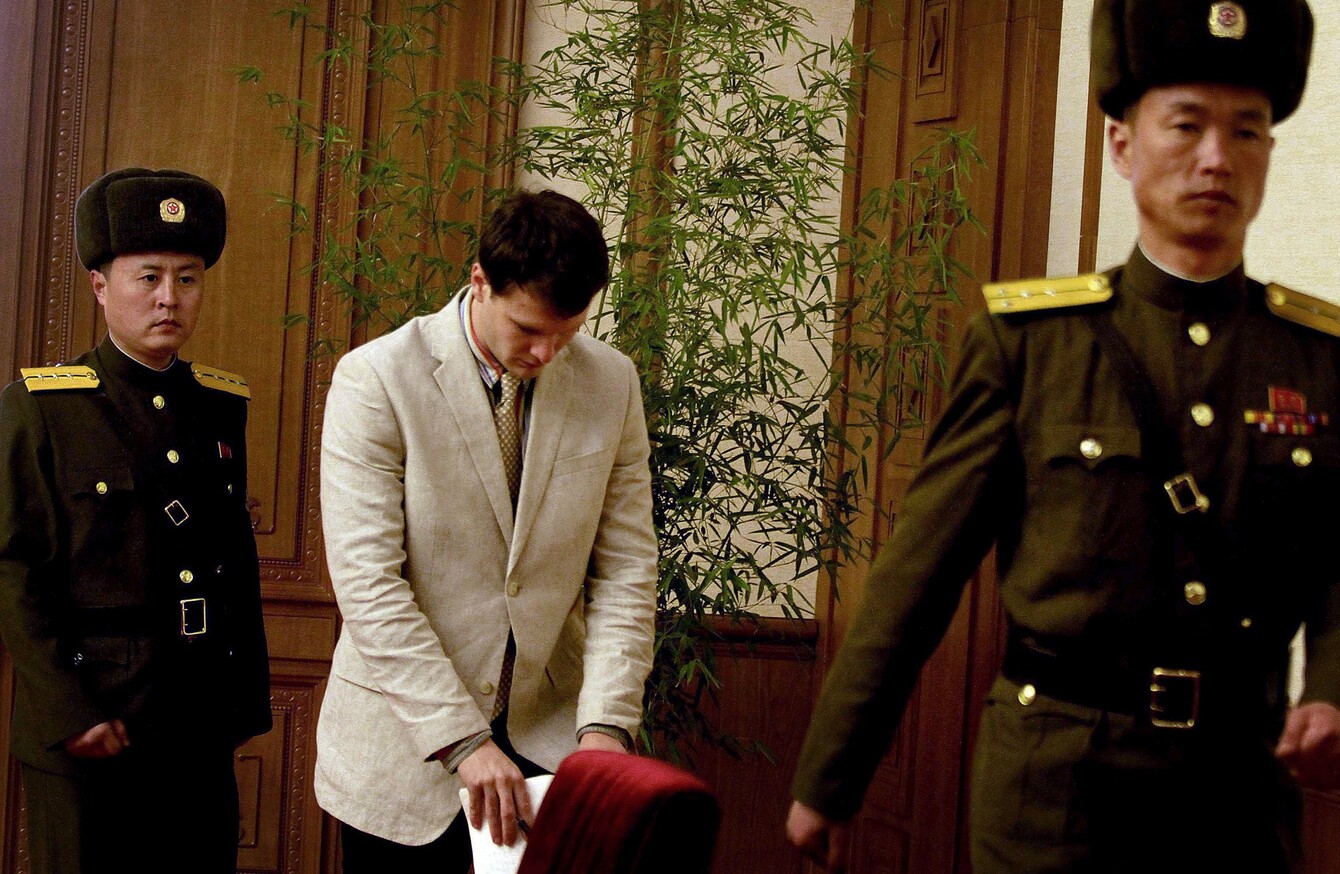 Otto Frederick Warmbier
Image: Kim Kwang Hyon/AP/Press Association Images
Otto Frederick Warmbier
Image: Kim Kwang Hyon/AP/Press Association Images
AN AMERICAN STUDENT arrested in North Korea has admitted to stealing propaganda material at the behest of a US Methodist church and with the encouragement of a secret university society, state media has reported.
The North's official KCNA news agency said Otto Frederick Warmbier, who was arrested in early January as he was leaving the country, had given an "interview" today with domestic and foreign journalists in .
In an opening statement quoted by KCNA, the 21-year-old student from the University of Virginia said he had removed a political slogan from the staff-only area of the Pyongyang hotel being used by his tour group.
In a video clip supplied to CNN, a sobbing Warmbier said he had made "the worst mistake of my life" and pleaded to be released.
The clip showed Warmbier, his head bowed and wearing a suit and tie, being marched into a room by two North Korean guards.
According to KCNA, Warmbier said he had been tasked with stealing the slogan by a member of the Friendship United Methodist Church back home who wanted it "as a trophy".
Payment offered 
The member – the mother of a friend of Warmbier's – had promised him a used car worth $10,000 if he succeeded and a payment of $200,000 to his family if he was detained, the agency said.
"Since my family is suffering from very severe financial difficulties, I started to consider this as my only golden opportunity to earn money," he was quoted as saying.
"The aim of my task was to harm the motivation and work ethic of the Korean people. This was a very foolish aim," he added.
Foreigners detained in North Korea are often required to make a public, largely-scripted acknowledgement of wrongdoing as a first step towards a possible release.
Political slogans, extolling the achievements of the country and its leaders and encouraging citizens to work harder and demonstrate their loyalty, are all-pervasive in North Korea.
They can be seen on the streets and in nearly every public building, as well as every work unit.
According to KCNA, the slogan removed by Warmbier was aimed at inspiring "the Korean people's love for their system".
In its original announcement of Warmbier's arrest, North Korea said he had engaged in a "hostile act" with the connivance of the US government.
Sensitive time 
His detention came at a sensitive time, with the United States taking a leading role in efforts to secure tough international sanctions on North Korea over its latest nuclear test.
According to KCNA, Warmbier said he had been encouraged in his mission by the secretive "Z Society" at the University of Virginia which had promised him membership if he succeeded.
According to the university magazine, the society is known for its philanthropic efforts, hosts numerous honorary dinners and grants academic awards.
"There is no doubt that the CIA knows the Z Society's encouragement of my crime," Warmbier was quoted as saying.
Today's KCNA despatch did not clarify the precise charges Warmbier was facing, and gave no indication if he would be put on trial.
Warmbier had entered North Korea as part of a New Year tour organised by China-based Young Pioneer Tours. He was arrested when the group was set to return to Beijing on 2 January.
The United States has no diplomatic or consular relations with the North, and the Swedish embassy in Pyongyang provides limited consular services to US citizens detained there.
Warmbier is one of three North Americans currently detained in North Korea, which last month sentenced a 60-year-old Canadian pastor to life imprisonment with hard labour on sedition charges.