A TEENAGE GIRL burst into tears, saying she was "violated in so many ways", as she took the stand again facing the man she accuses of raping her at a top US prep school.
She testified that she was traumatised and in shock when she spoke to police five days later.
Owen Labrie, 18-years-old at the time of the incident, is charged with multiple felonies including rape, aggravated sex assault, endangering the welfare of a child and using a computer to lure his victim to him.
Under questioning yesterday from Labrie's lawyer JW Carney, the girl, now 16, acknowledged saying in a police report that she had helped Labrie remove her shirt and pants.
She said she didn't protest because she didn't want to be offensive.
The girl cried during the exchange saying saying she was "violated in so many ways."
Asked if she was laughing during the encounter, she said "only once or twice" and described it as nervous laughter.
The New York Times reports that the girl had been asked by Carney to only give yes or no answers.
When asked whether she laughed during the encounter, she first answered, "I'm sorry, again, a yes or no answer would not do that question justice."
The judge said that she was "entitled to explain her answer".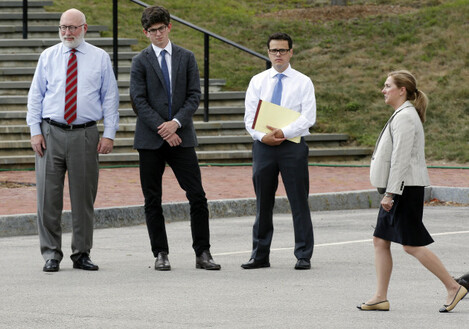 Owen Labrie, second from left, stands between his lawyers J.W. Carney, left, and Sam Zaganjori. Source: AP/Press Association Images
Carney tried to undermine her credibility, questioning her about friendly emails she later exchanged with Labrie.
In one email, Labrie wrote "J'adore" to which she replied, "good". She described this and other brief replies as "conversation fillers".
Carney also sought to note discrepancies between her testimony and what she told police.
At the time, she told a detective she was "excited to have attention" from Labrie and didn't know "whether to be proud or happy" over their encounter.
The girl told Carney: "I try not to lie as much as possible.""Sometimes I guess you're not successful," Carney told her.
During Wednesday's testimony, the girl, now 16, said she didn't remember telling a close friend about sexual acts she was prepared for when she met up with Labrie.
This was brought up again yesterday when Carney alluded to an assertion by the girl's friend that that she considered having oral sex with Labrie.
The girl says she does not remember saying this.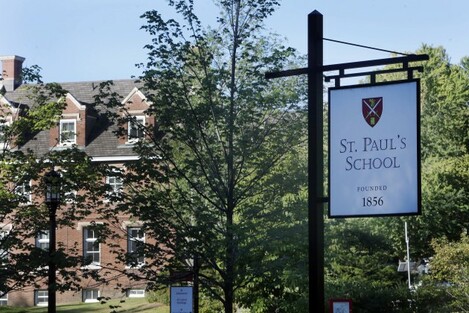 The case has led to questions about the 'Senior Salute' practice at St. Paul's. Source: AP/Press Association Images
Prosecutors say Labrie was two days away from graduation last year when he raped the then-15-year-old girl in a building on the grounds of St. Paul's School in New Hampshire as part of "Senior Salute", a school rite in which seniors proposition younger students for a sexual encounter.
Labrie's defence teams says the two had consensual sexual contact but deny that they had sexual intercourse. 
In court yesterday, the girl's parents asked the judge to prohibit people in the courtroom from recording, broadcasting, tweeting or otherwise distributing testimony or other court proceedings with the exception of the approved media pool camera.
The judge didn't specifically address Twitter posts but said that only those designated to provide pool coverage could photograph, record or broadcast within the courtroom. He said bailiffs would confiscate the equipment of anyone who violated that rule.
After the day's testimony, the judge sent the jury home until Monday. The trial began Tuesday and is expected to run for two weeks.
- Additional reporting by Rónán Duffy