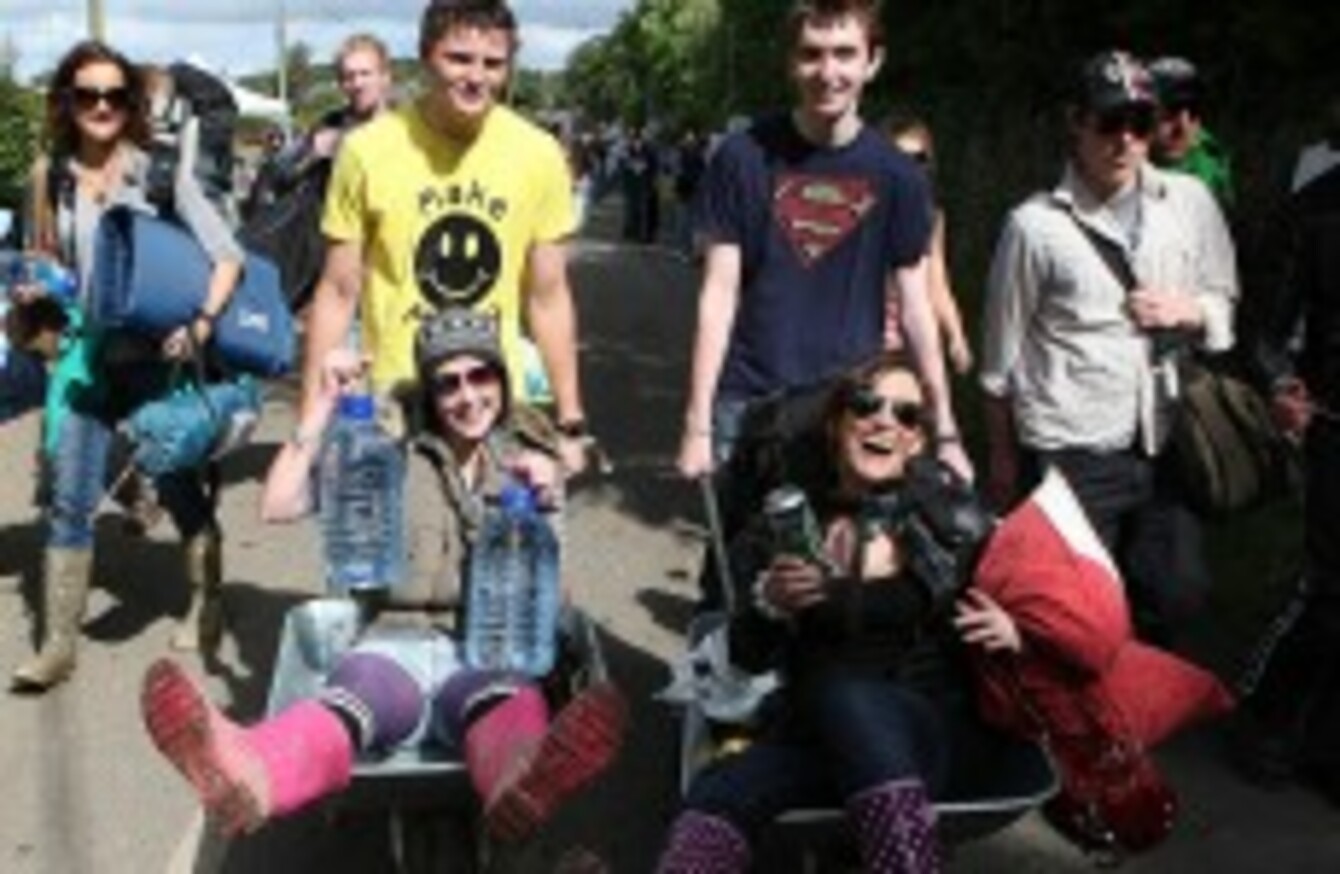 Festival goers arriving at Electric Picnic in 2009.
Image: Julien Behal/PA Archive
Festival goers arriving at Electric Picnic in 2009.
Image: Julien Behal/PA Archive
This article was originally published in 2012
FESTIVALS ARE A blast but chances are, in all your pre festival excitement, you'll forget to bring some of the comforts that will make sleeping in a muddy field and waking up hungover in a tent more bearable. To save you from this as some of you head off to Electric Picnic today, we've got a checklist of items you must not go without.
The obvious:
Tickets – if you forget those it's all over and everything else can either be bought or borrowed if you forget them.
Phone – it's a big place so if you lose your friends a phone will be essential. Also great (if it's a smartphone) for sharing photos online and making friends who couldn't make it jealous.
Cash, cards and ID.
Accomodation:
Camping can be the most fun part of a festival but those extra little comforts will be your saving grace if the weather turns against you. If possible, get a tent with two skins to ensure you and your belongings will stay dry if the tradition of torrential rain at festivals continues this weekend.
Don't forget your sleeping bag and don't underestimate the difference a camping mat will make to a good night's sleep.
Torch – for reading Proust before bed, obviously. Or for telling ghost stories.
Ear plugs will block out the noise of the yobs in the next tent who think they're an Oasis cover band.
Small pillows are optional.
Wardrode:
Rain gear is a must. Everyone will probably look terrible by the middle of the first day anyway so forget about appearances and bring a raincoat and wellies.
Make sure you have enough clothes (and clean underwear) to change if you get soaked or just really filthy.
Bring at least one warm jumper and a couple of pairs of cosy socks.
A scarf can be used in a host of different ways and won't take up too much space in your bag.
Sunglasses and a hat. You'll look mad cool and they'll protect your eyes and face from the sun which might make an appearance this weekend.
Hygiene:
Baby wipes are compact and will freshen you up nicely if the queues for the showers in the morning don't appeal to you.
Toilet roll. They always run out and at the very least you can use it to make a funny hat on the last day if it's left over.
Toothpaste – get one of the travel size ones and revel in the minty freshness.
Dry shampoo. One for the ladies, it makes all the difference.
A small bottle of antibacterial gel is handy if the taps in the portaloos stop working.
Pack a few black sacks to use as bins or for sitting on the wet ground if it rains.
Health:
Make sure you bring any prescription medication you're on and your inhaler if you suffer from asthma. Hayfever sufferers should pop a few antihistamines in their bag as well.
Pain killers, Alka Seltzer and Berocca for obvious reasons. Just don't take them all at once.
Bring condoms just in case – you never know.
A couple of plasters and some anti septic cream will keep you covered if you graze your knee or get a bee sting.
Sun protection:
Temperatures could reach up to 20 degrees this weekend so sun cream with an SPF factor of at least 20 is a must and apply it regularly.
After sun for when you forget to apply it regularly.
Water. Keep a large bottle in your tent to drink at night and in the mornings and try to remember to hydrate yourself with something non alcoholic every so often throughout the day.
Extras:
Food and drink. No glass bottles and no perishables.
Disposable camera. Don't bring your fancy DSLRs or mini touchscreen cameras, go retro and then actually get the photos developed so you can pass them round on a night out and laugh at all the random shots you got.
Lighter and matches for smokers, or if you just want to make friends.
If you can think of any other essentials, feel free to leave your advice in the form of a comment below. Stay safe and have fun.