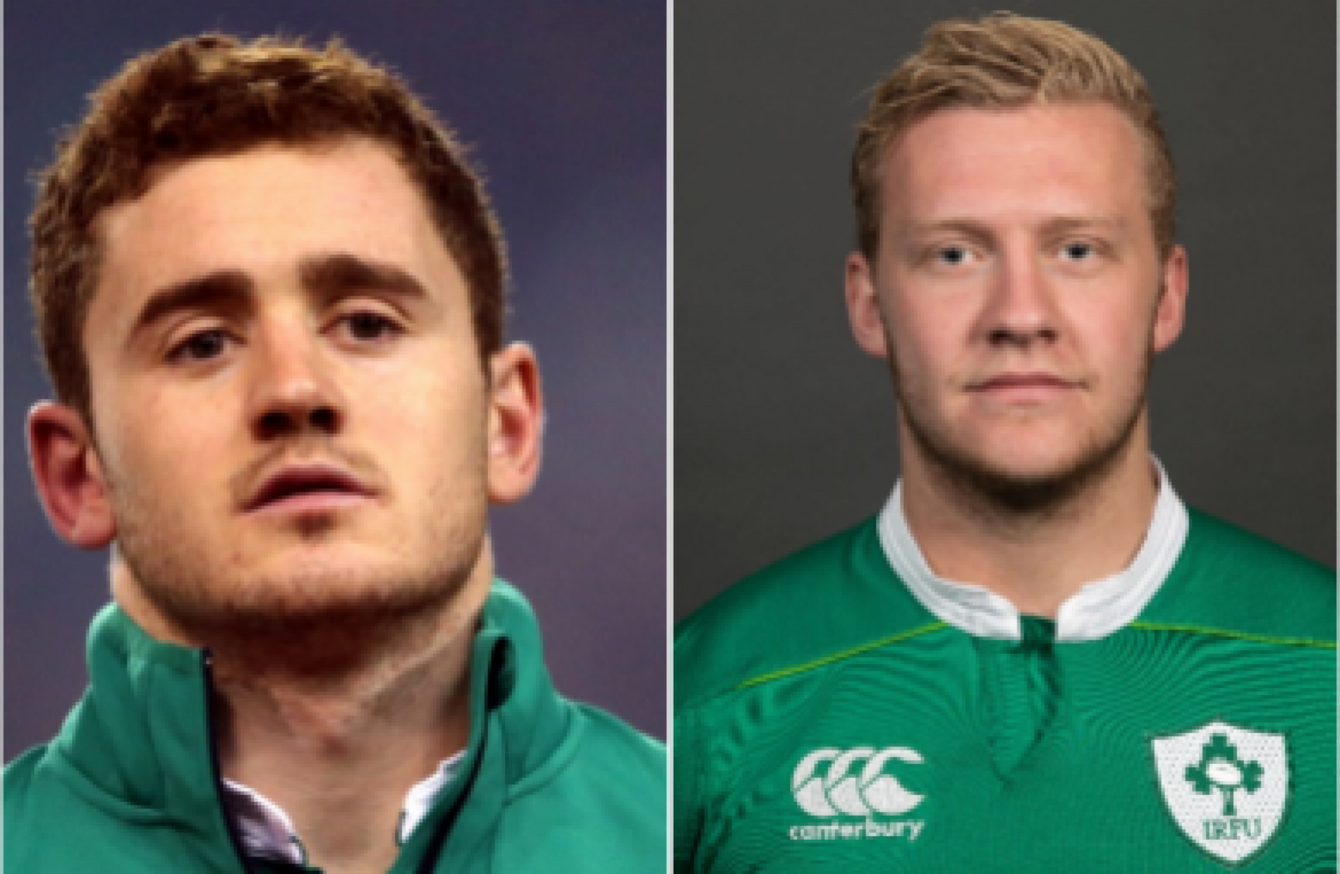 Paddy Jackson, left and Stuart Olding.
Image: PA Archive/PA Images
Paddy Jackson, left and Stuart Olding.
Image: PA Archive/PA Images
ONE OF THE two international rugby players accused of raping a young woman in south Belfast described the alleged incident as "like a merry-go-round at a carnival", a court heard today.
As the Crown opened its case against rugby players Paddy Jackson (26) and Stuart Olding (24), the sportsmen and a third defendant, 26-year old Blane McIlroy, have been accused of "serious sexual misconduct" in the bedroom of Jackson's home in June 2016.
Presenting the Crown case to a jury of nine men and three woman, prosecuting barrister Toby Hedworth said that after a night out in Belfast, a group of young people went back to Jackson's home.
Hedworth said the night ended with Jackson and Olding "engaging in sexual activity with that young woman against her wishes, as they well knew or simply were not interested in considering", and that McIlroy "was hoping to join in".
A fourth defendant, 25-year old Rory Harrison, has also been charged with offences arising from the alleged rape. Harrison – who dropped the woman home in a taxi after leaving Jackson's home in the early hours – has been accused of "ostensibly seeking to comfort and help the complainant" but who in fact tried to cover up what his friends had done and "misled the police enquiry that followed".
As details of the alleged sex attack emerged for the first time today, Hedworth QC spoke of all four men's actions on both the night in question and in the aftermath of the incident.
The court heard that later that morning, while the complainant was texting her friends telling her she had been raped by "Ulster rugby scum", the four defendants had a WhatsApp conversation which the Crown say "give a true flavour" of their attitude to what happened.
In the WhatsApp conversation, Olding said, "We are all top shaggers" and described the scene in the bedroom as "it was like a merry-go-round at a carnival".
Jackson from Oakleigh Park in Belfast, and 24-year old Olding, from Ardenlee Street, have both been charged with rape, while Jackson also faces a charge of sexual assault.
Blane McIlroy, from Royal Lodge Road in Belfast, has been charged with exposing his genitals, and Rory Harrison from Manse Road, is facing charges of perverting the course of justice, and withholding information.
All four men have denied all the charges against them.
In his opening, Hedworth told the jury the case concerned a "young woman going to an after-party with young sportsmen", and asked the 12 members to caution against applying stereotypical images.
He said that after enjoying a night out in Belfast with her friends, the then 19-year old went back to Jackson's house.
The court heard that she went upstairs with Jackson to his bedroom, and while she "does not have a clear recollection of what that was", she does recall kissing him consensually – but made it clear she didn't want things to go any further.
She said when she later decided to leave the party, she realised her bag was upstairs. She said when she went up to retrieve her bag, she was followed by Jackson, who pushed her down on the bed, stripped her from the waist down and raped her.
Hedworth said it was the Crown's case that "he had not in any way sought her consent and indeed used force to achieve his aim". The barrister also said during this, the woman was "numb … as if she herself was not there".
She claimed that as she was being raped by Jackson, Olding entered the room and she said "please not him as well". She said she was then orally raped by Olding, then digitially penetrated by Jackson.
Whilst this was going on, McIlroy sent Jackson a text asking "Is there a possibility of a threesome?" Jackson did not reply, but moments later McIlroy entered the bedroom "stark naked".
Hedworth said at this point, the woman "simply could not face the prospect of a further attack". She pulled on her trousers, picked up her pants and shoes, and as she was leaving the room, McIlroy thrust his genitals at her and asked why she wouldn't have sex with him too.
She said she replied:
How many times does it take for a girl to say no before it sinks in?
#Open journalism No news is bad news Support The Journal

Your contributions will help us continue to deliver the stories that are important to you

Support us now
As she was leaving Jackson's home, his friend Rory Harrison appeared concerned for her welfare, and offered to share his taxi with her as she was upset.
After dropping her home at 5.15am, Harrison sent her a message on WhatsApp that said, "Keep your chin up, you wonderful young woman." Around noon that day, when she received a message from Harrison which asked "Feeling better today?", she replied:
To be honest, no. I know you must be mates with those guys, but I don't like them. And what happened was not consensual which is why I was so upset.
She also texted two of her friends, telling them she had been raped by Ulster rugby players. Describing what happened to her in a text as "worse night ever", she told her friends she had been left with bruising.
She also texted: "second then a third guy tried to get involved … I was crying." And when her friend told her to go to the police, the woman replied, "I am not going to the police, Going up against the Ulster rugby. Yea because that'll work."
She also told her friend "Thing is I would report it if I knew they would get done. But they won't. And that's just unnecessary stress for me. It will be a case of my word against theirs."
She was persuaded by a friend to go to the authorities and was subsequently examined by a forensic medical officer, who observed bruising and a 1cm cut to her vaginal wall.
She reported the matter to the PSNI on Wednesday, 30 June 2016 and all four defendants were arrested. They all denied the woman's claims, and made the case any sexual activity was consensual.
The trial will continue tomorrow.