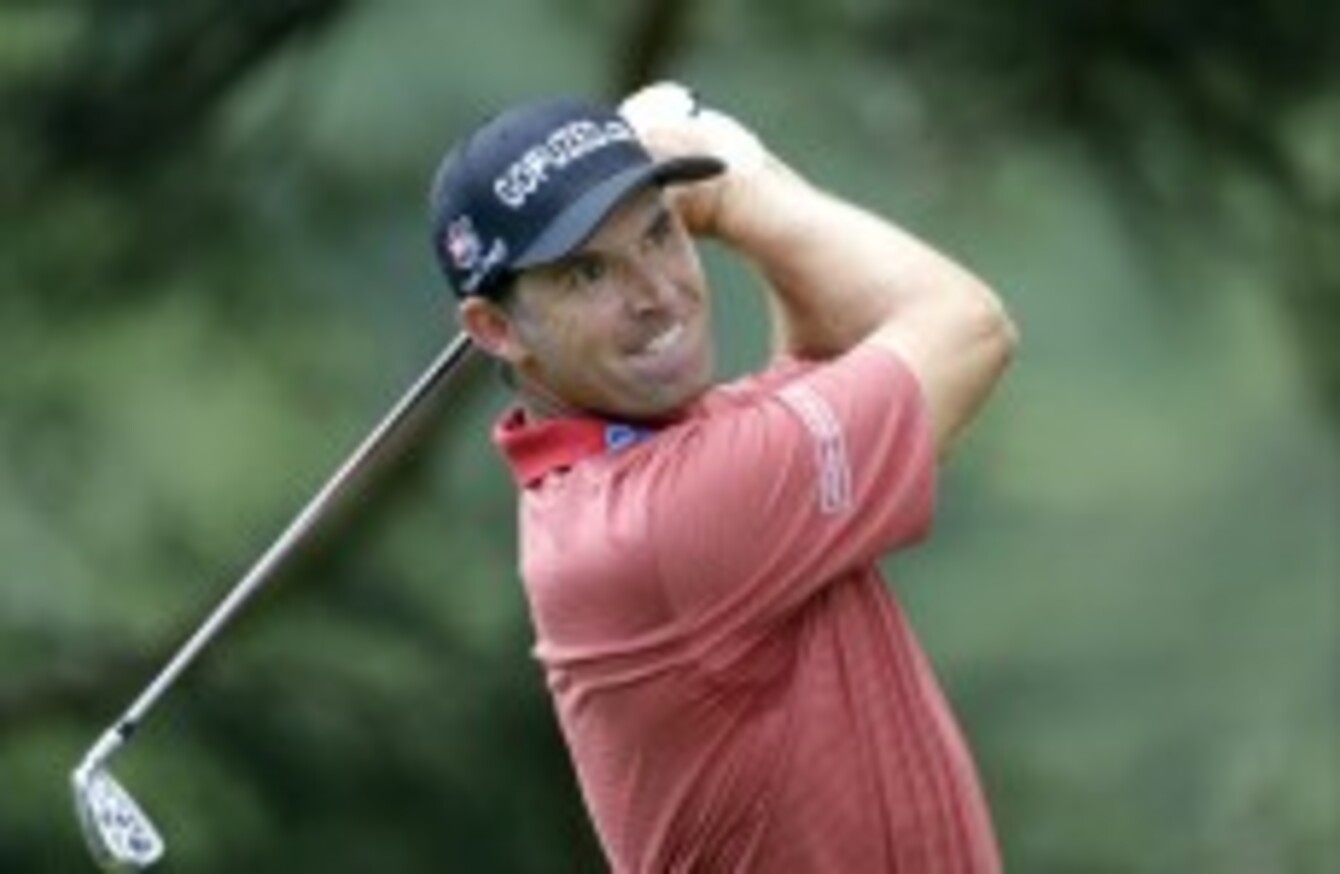 Padraig Harrington has dipped in form in recent years
Image: Julio Cortez
Padraig Harrington has dipped in form in recent years
Image: Julio Cortez
THERE'S NOT LONG to go until Budget 2015 is announced with much debate still to take place between now and 14 October on what the government should do on taxation and expenditure. 
In the fourth in a series of articles Dr Daragh McGreal, an economic advisor to the independent TD Stephen Donnelly, examines the issue of competitiveness. 
IT'S HARD NOT to be a fan of Padraig Harrington. From about 2000 to 2008 he birdied at will, was always in the mix, and quite often won events. He was competitive like nobody else, winning Ryder Cups and becoming a major winner in 2007 and 2008.
By August 2008 he was the highest ranked European golfer and things looked bright. But since then it's downhill. He hasn't won a tournament in six years. He plods along, hacking away, and you can sense he yearns for yesteryear.
But what has this got to do with economics?
Well it teaches us that once you become uncompetitive it is very difficult to get back on track. Harrington's struggles since 2008 mirror those of the Irish economy: having been prosperous and admired throughout most of the 2000s, both have desperately tried to get back in the hunt again.
In Ireland's case it's about exporting goods and attracting foreign direct investment (FDI). We did that well during the Celtic Tiger, in spite of high costs, and the economy grew strongly. But when the recession hit we became both uncompetitive and unappealing. We had lost our edge.
Between 2008 and 2012, all the indications were that Ireland was becoming more competitive. Figures from Eurostat show that, across indicators like consumer prices, producer prices, and unit labour costs, there was a shift toward 1999 levels.
Slipping down the rankings
This was mainly due to wages falling and inflation being either small or negative. By 2013, gross earnings were below the EU-27 average, despite being amongst the highest in the world in 2007. With inflation so low, our previously high costs came down, but because our pre-recession costs were so high, our 2012 price levels were still 13 per cent above the EU average.
It is for this reason that Ireland slipped down the World Economic Forum's ranking of international competitiveness, falling from 21st in 2007 to 28th in 2014. Meanwhile, during its recession, the UK moved up the ranking.
But what does this actually mean?
Effectively, we didn't become competitive at a fast enough rate. While we were knocking in birdies everyone else was knocking in eagles.
The importance of all of this is that since 2012 Ireland has started becoming uncompetitive again. The downward push on wages and prices was driven almost completely by the private sector, but by 2012 there was little left to consolidate. So it was inevitable that prices would increase again.
That companies and workers drove Ireland's improvement in competitiveness is important for policy makers. It highlights that competitiveness can be achieved in other ways. The World Bank's Ease of Doing Business annual report is instructive here. It shows that Ireland ranks 15th globally, having peaked at 6th in 2008.
Being smarter and more efficient
In general we do relatively well: starting a business isn't too burdensome, but could be simplified, getting credit is possible, but could be made easier, and investor protection is strong.
On the other hand, dealing with construction permits is complicated and costly, registering a property takes too long, getting an electricity connection is well above the average cost found in other OECD countries, and exporting is expensive (even as an island). Hence there are numerous costs associated with both starting and growing a business.
In identifying best practice, the aforementioned World Bank report emphasises better coordination between the private sector and government bodies. Institutional and administrative barriers can be both simplified and strengthened, so that regulation is not compromised.
A one-stop shop for starting a business could reduce the current average waiting period from 10 days down to 1 day, electronic property registration would both speed up that process and give greater certainty to sellers and buyers, and traders and customs officials could be allowed exchange information online, thereby reducing exporting costs.
Becoming more competitive boils down to being smarter and more efficient than your competitors. The data shows that Irish businesses and workers did that during the recession but that Ireland still slipped in international rankings.
As we hit the bunker with our first effort, Budget 2015 offers the chance to hit the pin with our second.
Dr Daragh Mc Greal is an economist and human rights consultant currently working with Stephen Donnelly TD on Budget 2015 and other policies.
What would you do to increase Ireland's competitiveness in Budget 2015? Let us know in the comments…