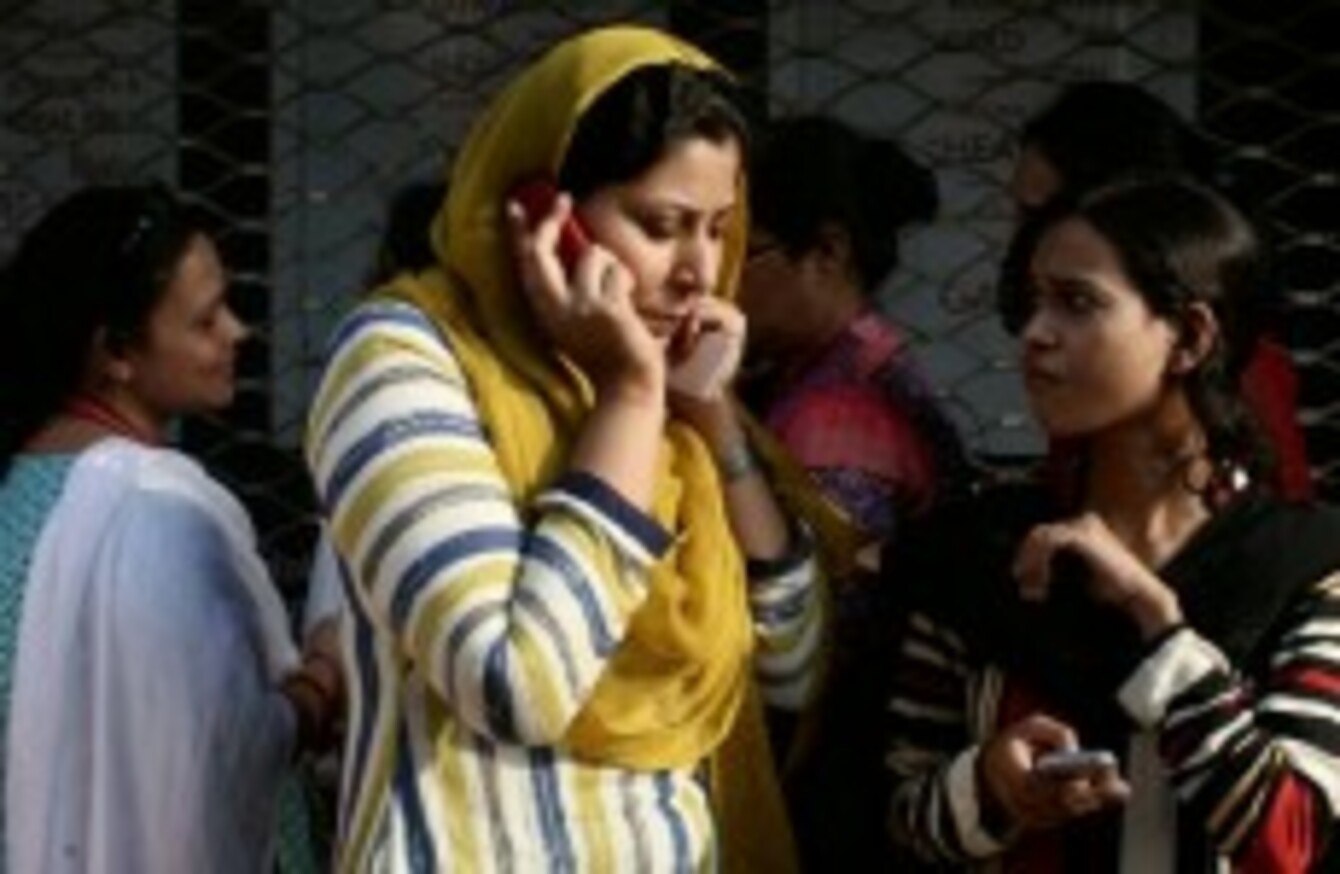 A Pakistani woman speaks on her mobile phone after rushing out of her apartment.
Image: AP Photo/Shakil Adil
A Pakistani woman speaks on her mobile phone after rushing out of her apartment.
Image: AP Photo/Shakil Adil
A MAJOR EARTHQUAKE struck a remote area in southwestern Pakistan today, killing at least 39 people as houses collapsed and possibly pushing up the earth to create a new island off the country's southern coast.
The Pakistani military said it was rushing troops and helicopters to Baluchistan province's Awaran district, where the quake was centred, as well as the nearby area of Khuzdar. Local officials said they were sending food and tents for people who had nowhere to sleep as strong aftershocks continued to rock the area.
Most people were killed when their houses collapsed before they could rush outside, according to the chief spokesman for the country's National Disaster Management Authority, Mirza Kamran Zia, who gave the casualty toll. He warned that the death toll might rise and said they were still trying to get information from officials in the district.
"We all ran out for safety in the open field in front of our house. Many other neighbors were also there. Thank God no one was hurt in our area but the walls of four or five house collapsed," said Khair Mohammed Baluch, who lives in the town of Awaran, roughly 50 kilometres south of the epicentre.
Pakistan's chief meteorologist, Mohammed Riaz, put the magnitude of the quake at 7.7, while the US Geological Survey in Golden, Colorado said it was magnitude 7.8.
Pakistani officials are investigating whether the powerful earthquake pushed up the earth and formed a new land mass.
Baluchistan is Pakistan's largest province but also the least populated.
The area where the quake struck is at the centre of an insurgency that Baluch separatists have been waging against the Pakistani government for years. The separatists regularly attack Pakistani troops trying to suppress the uprising as well as symbols of the Pakistani state, such as infrastructure projects.
Baluchistan is also poorly developed with little economic activity.
Hundreds of food packages and 1,000 tents were sent to the affected areas along with doctors and paramedics, provincial government
spokesman Jan Mohammad Buledi said.
The quake was felt as far away as New Delhi and even registered on Irish seismographs.