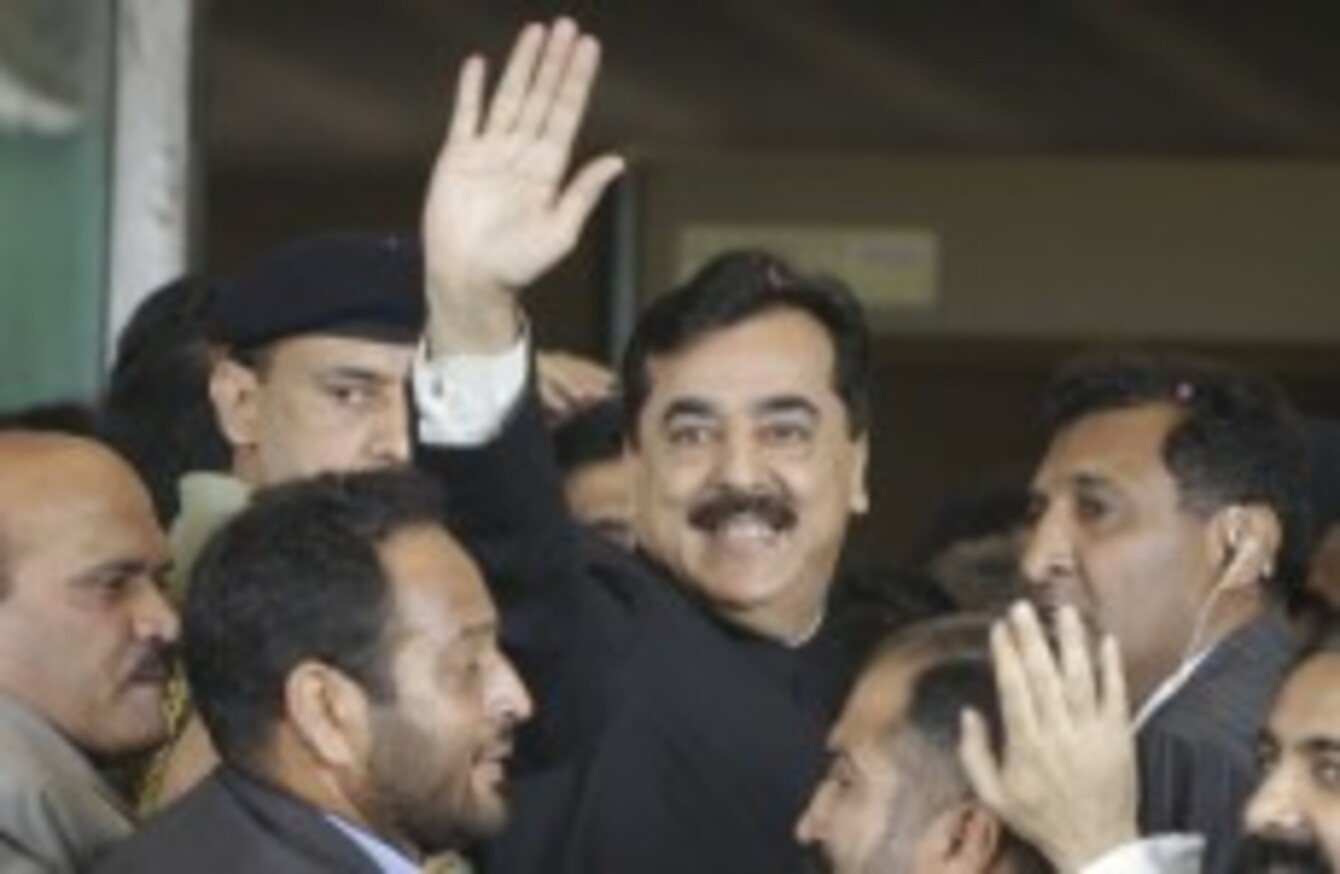 Prime Minister Yousuf Raza Gilani.
Image: AP Photo/BK Bangash/PA Images
Prime Minister Yousuf Raza Gilani.
Image: AP Photo/BK Bangash/PA Images
PAKISTAN'S SUPREME COURT has convicted Prime Minister Yousuf Raza Gilani of contempt over his refusal to reopen a corruption case against the president.
However, although he could have faced a maximum of six months in prison, the court did not sentence him to any jail time. Instead, it sentenced him to be detained for the sitting of the court, meaning that as soon as the judges left the room he was free to go.
ANI reports that the symbolic sentence lasted less than a minute.
The case has stoked political tensions across Pakistan. President Asif Ali Zardari and his late wife Benazir Bhutto (the former PM assassinated at a campaign rally in 2007) were accused of receiving corrupt payments from Swiss companies during Bhutto's time in office. They were found guilty in absentia in a Swiss court in 2003 and Zaradari launched an appeal.
Swiss prosecutors ended up dropping the case in 2008 after the Pakistani government approved an ordinance giving the president and others immunity from old corruption cases that many agreed were politically motivated.
However, in 2009 the Pakistani Supreme Court ruled the ordinance unconstitutional and ordered the government to write a letter to Swiss authorities requesting they reopen the case against Zardari, the AP reports. Gilani has refused, saying the Pakistani constitution grants the president immunity from criminal prosecution while in office.
Gilani, the country's longest-serving PM, could be dismissed from office over his conviction and his lawyers said that they would appeal the verdict, which would delay the possible dismissal.
Dawn.com reports that the head of the Pakistan Muslim League party has called on Gilani to resign, saying that he should step down from office "without causing further crisis".
Elections are scheduled for later this year or early next, suggesting that Gilani could stay in office until this government sees out its term.
- Additional reporting by the Associated Press