THE SUSPECTED RINGLEADER of Friday's terror attacks in Paris has died in a police raid, prosecutors have said.
Investigators had identified Abdelhamid Abaaoud, a 27-year-old Belgian of Moroccan descent, as the chief architect of the attacks, which killed 132 people and wounded 368 others.
"Abdelhamid Abaaoud has just been formally identified… as having been killed during the raid" in a northern Paris suburb yesterday, the prosecutor's office said in a statement, adding that he was identified after fingerprint analysis.
Police staged a ferocious seven-hour assault in the north of Paris yesterday after intelligence led investigators to an apartment where Abaaoud was thought to be hiding.
Yesterday evening, Paris state prosecutor Francois Molins did not rule out the possibility that he was one of two suspected jihadists killed during the operation, which began at around 4am.
A woman in the apartment detonated her suicide vest and a body was found so riddled with bullets that it was difficult to identify, Molins had said.
Trauma
In an interview with Le Figaro yesterday, the head of Raid, France's specialist anti-terrorist unit, confirmed that there were two men and one woman inside the apartment, and that they were armed with Kalashnikov rifles and suicide vests.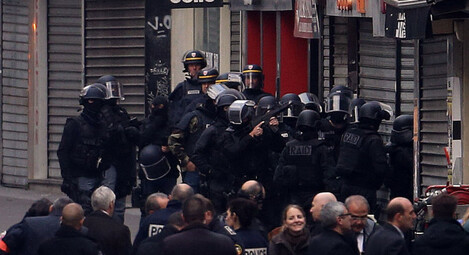 Source: AP
Jean-Michel Fauvergue described the end of the assault in graphic detail.
The exchange of fire lasted between 30 and 45 minutes. Hundreds of rounds were exchanged. The terrorists also launched grenades.
[A little later], the woman inside shot a long burst of gunfire, and there followed a big explosion. It shattered windows down on the street.
A body part, a piece of spinal column, landed on one of our vehicles.
Jean-Marc Falcone, director general of France's Police Nationale, told French TV network BFMTV that some of the agents involved in the raid have been left traumatised by the experience.
Some of what the anti-terror unit went through was really difficult. Even men who are well-used to violence have been scarred.
BFMTV shared this short video, acquired from the TF1 channel, which they claim shows the last words of the female resident of the apartment.
Source: BFMTV/YouTube
A police officer can be heard shouting back and forth with her, amid the sound of automatic gunfire:
"Where's your friend?" "He's not my friend!" "Where's your friend?" "He's not my friend!"
Immediately after this, a large explosion can be heard.
Additional reporting by Dan MacGuill and AFP