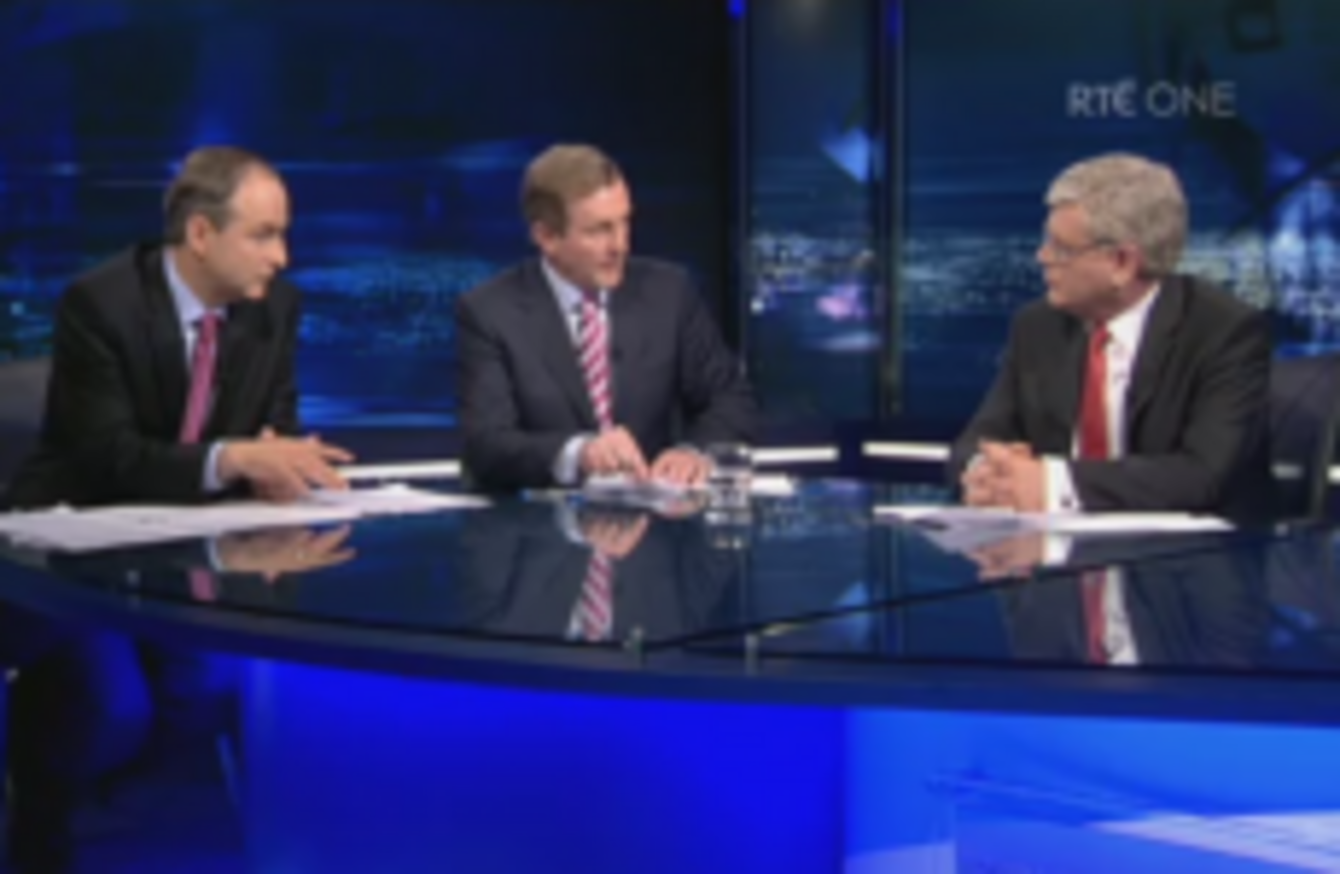 THE LEADERS of the country's three main political parties have squared off in the last of four debates between the party leaders of the 2011 general election campaign.
On RTÉ's debate, moderated by Miriam O'Callaghan, the three leaders – Micheál Martin, Enda Kenny and Eamon Gilmore – traded blows on subjects ranging from job creation, the recapitalisation of Ireland's banks, managing the EU-IMF bailout deal and reform of the health system.
Outlining their overall electoral plans in their opening addresses, Martin said he was "not going to spend the next 90 minutes repeating election soundbites, Kenny said he shared "the frustration" and "anger" of voters, while Gilmore urged voters to consider the impact of the coming government on the "next twenty years".
Kenny said his government would be tasked with cleaning up "the mess Fianna Fáil has left", which would be addressed using the means outlined in the five-point plan.
Gilmore concurred, describing the next government's task as "the biggest mess… in history", though Martin countered by arguing that Fianna Fáil's election platform was the only one to outline precisely where the government would seek its savings and spend its money.
Here's how the debate panned out.
EU-IMF bailout
Gilmore insisted that the deal tied the banks' liabilities to the taxpayers and "straitjacketed" future governments, though Martin said the deal was required in order to continue to pay the state's staff and urged "intelligent diplomacy".
This plea was rejected by Enda Kenny, who claimed the outgoing government had misled the country as to whether the IMF had even arrived in Dublin to formalise a funding agreement – before turning on Gilmore, saying Labour's plans to extend the 2014 budget deadline meant the country would need to borrow further.
Martin argued that Fine Gael was "pandering to the electorate", and said the bailout deal – which could not be renegotiated unilaterally – would be amended when the "stability fund will change in character and nature".
Bank recapitalisation
Micheál Martin attacked Fine Gael for simultaneously criticising and welcoming Brian Lenihan's choice of delaying the €10bn bank recapitalisation, though Kenny asserted that the move was only called "prudent" by Michael Noonan because the results of new stress tests were needed first.
Gilmore complained that Anglo was a "piggy bank for developers", who were "tied at the hip" to the outgoing government, while resuming TV3 hostilities on whether Anglo was a "systemic" bank or not.
Kenny asserted Ireland's reluctance to default on its sovereign debt, but that some burden sharing with bondholders was required.
Martin said the first step to tackling Ireland's debt was to make sure that AIB and Bank of Ireland, which had taken out most of it, were back on a sound footing.
Fine Gael said business could only be reinflated when small businesses had access to credit – a point Labour brought forward by outlining its plans for a Strategic Investment Bank (though Kenny said Ireland had "too many banks" already).
Taxes and spending
Labour attacked Fine Gael over its plans for €2.4bn in taxes, which Gilmore said didn't include the taxes local authorities would be empowered to collect, like water charges.
Fianna Fáil said it was "broadening the base" of taxation by water charges and site valuation  taxes, and said local authorities under a Fine Gael government would "screw small businesses". Kenny disagreed, saying Fianna Fáil had "no plans at all".
Martin countered, asking Kenny for Fine Gael's proposals of where each individual government department would find savings or having budgets cut – and rubbished Kenny's complaints as formulaic, anticipating that each response would discuss Fianna Fáil's fourteen years in power and Fine Gael's five point plan.
Gilmore offered that Fine Gael, in government alone, would have to seek compulsory redundancies under its plans to cut public service jobs; the extra cost of this would add to the greater cuts the government would need to make in order to abide by the 2014 deadline which Labour had already opposed.
Kenny said public servants were all aware of areas in which waste could be cut, and small changes could save millions at a time. Martin argued, however, that this plan was not enough to recoup the €6.5bn Fine Gael was proposing.
Rounding on Kenny, Gilmore said Fine Gael plans to cut 30,000 public service jobs would mean robbing each school of two teachers; if frontline services were to be safeguarded, other areas would have to absorb 20 per cent cuts in staffing level.
Health reform
Kenny began by attacking the HSE, which was set up under Martin's tenure as Minister for Health, and said Fine Gael would pursue "radical" changes to end the co-location of private and public hospitals within seven years.
Gilmore said reforming individual institutions like the HSE would not be enough, and that Labour would reform "the system and not just institutions".
Martin attacked the Fine Gael proposals to adopt a copy of the Dutch healthcare system, citing Dutch studies which condemned the system, pointing out that it required seven health insurers to work properly, and cost the average family around €5,500 a year.
Kenny attacked Martin on the HSE's culture of waste, such as spending €200m on an unused national patient database, and added that Martin had promised the end of waiting lists in 2001 – only to see 17,000 people awaiting medical treatment in 2011.
Why I'm best
Kenny had "a deep sense of conviction" that he could fix problems that had affected Ireland for too long, and wanted Ireland to be able to control its own affairs and be the "best small country in the world" in which to start businesses, grow old, or raise children.
Martin had the "capacity to be radical and make big decisions", like the pursuit of political reform which would bring people from outside the political sphere into the running of the country.
Gilmore said he was committed to an Ireland where "we were all equal"; saying he had the capacity for best judgement and a passion in his country, Labour was "best placed" to oversee Ireland's recovery.
#Open journalism No news is bad news Support The Journal

Your contributions will help us continue to deliver the stories that are important to you

Support us now