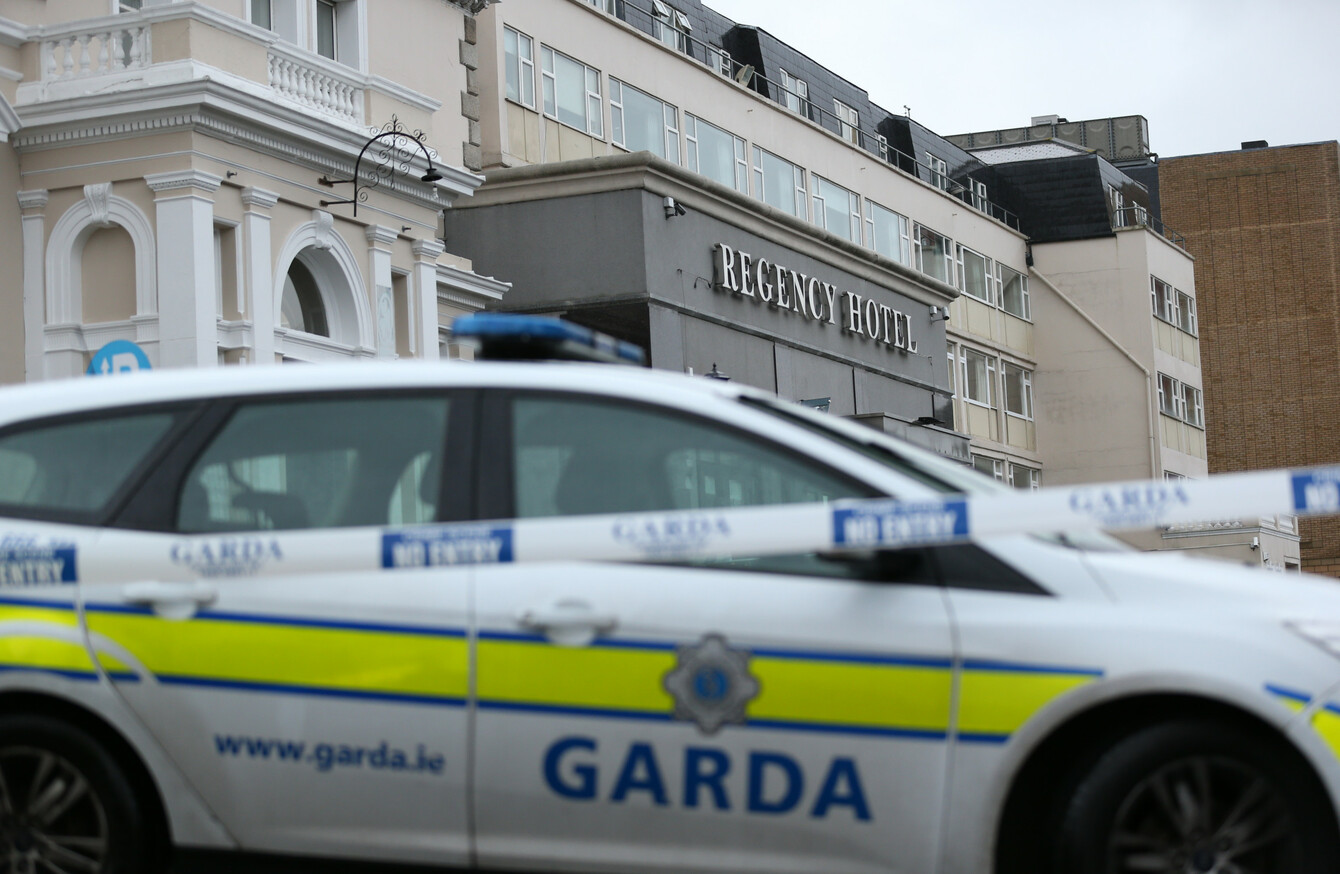 The scene outside the Regency Hotel in February 2016
Image: Sasko Lazarov
The scene outside the Regency Hotel in February 2016
Image: Sasko Lazarov
THE TRIAL OF Patrick Hutch began before the Special Criminal Court this afternoon amid a large security presence.
Hutch (24) is charged with the murder of David Byrne at the Regency Hotel in February 2016.
Dressed in a grey suit and a white shirt, Hutch stood to confirm his name.
When the charge of murder was put to him, Hutch responded that he is "not guilty".
There was a number of gardaí present outside the Courts of Criminal Justice in Dublin this afternoon as units of the public order unit checked the names and credentials of all those who wished to enter the non-jury courtroom.
Father-of-two David Byrne (34) from Crumlin in Dublin was shot dead during a boxing weigh-in at the popular hotel on 5 February 2016 by a gang of heavily armed raiders.
In May, Patrick Hutch (24) of Champions Avenue, Dublin 1, was charged with the murder of David Byrne and was remanded in custody.
He is also facing a number of other charges including possession of three assault rifles. He denies these charges.
The court heard from prosecuting counsel Sean Gillane that Byrne was the victim of a well-resourced "carefully planned murderous attack" and that the way in which Byrne was killed "displayed perfected callousness".
Gillane said that there were six people involved in the murder – three dressed as gardaí, one dressed as a woman, one man wearing a flat cap and the getaway driver of the silver Ford Transit.
It is the prosecution's case that Hutch was the man dressed as a woman. Gillane said that two detectives based in Mountjoy positively identified the man dressed as a woman as Patrick Hutch.
Gillane explained the confusion which gripped those who were attending the boxing weigh-in at the Regency.
When the initial shots rang out, many thought that the men brandishing assault rifles were real members of gardaí.
Gillane also explained the exact sequence of events leading to Byrne's murder. He explained that the three people dressed as gardaí, which he referred to as TAC1, TAC2 and TAC3, began firing.
He said Byrne emerged from the weigh-in and was shot by TAC1.He was then shot by TAC2. Byrne fell to the ground and began crawling towards the reception desk in the lobby.
TAC2, having observed Byrne on the ground jumped onto the reception desk, pointed his weapon at Byrne and "coldly discharged more rounds into the head and body of Mr Byrne", according to Gillane.
At one point, the man in the wig began shouting "he's not fucking here" and "I couldn't fucking find him".
The men then left the hotel and jumped into the waiting silver van which was driven a short distance to a housing estate where it was set on fire.
The trial continues tomorrow.