PAUL BRADFORD HAS said he 'regrets' if people feel his comments that there are "no such babies as babies with fatal foetal abnormalities" are insensitive.
The Renua senator was responding to criticism of his remarks in the Seanad yesterday on a Belfast court ruling that abortion should be made available in cases of rape and fatal foetal abnormality (FFA).
Arlette Lyons, who is part of the Termination for Medical Reasons (TFMR) campaign, said she was "upset, horrified and angry" over Bradford's "insensitive" comments.
Writing in this website's comments section, Lyon said that Bradford should rethink his comments, adding:
This is about choice. Many women choose to continue and that is their choice which should be supported. Others feel it is best for their baby and for them and their family to end the pregnancy.
Bradford told TheJournal.ie today: "If she feels that my comments were insensitive I certainly regret that very much."
He said he was one of the few public representatives to have attended a briefing session with TFMR in recent years, but said he had also been influenced by organisations who have a pro-life stance.
He said that in his Seanad remarks he was urging against "sweeping statements" that there must be a referendum to deal with issues such as fatal foetal abnormality:
There are many, many cases where unborn babies have had profound medical problems, very life-limiting. Some of them live for an hour, some a day, some a month. We have met some of them. Our overall use of language must try to encompass all of that as well.
Source: Newsworthy. ie/YouTube
He added: "I hope that I am a very balanced person who, in every walk of political life, tries to see all sides of the story.
If I see two lives, obviously the life of the mother must always be fully and primarily protected. But I think if a second life could be encouraged to live, even for a moment, I would love to see that situation.
The Renua candidate in Cork East said he did not want to see a situation like in the UK where he said "hundreds of thousands of babies" are being aborted every year.
I am really worried that we could go down that very same route in this country unless we try to see the two persons or two patient scenario.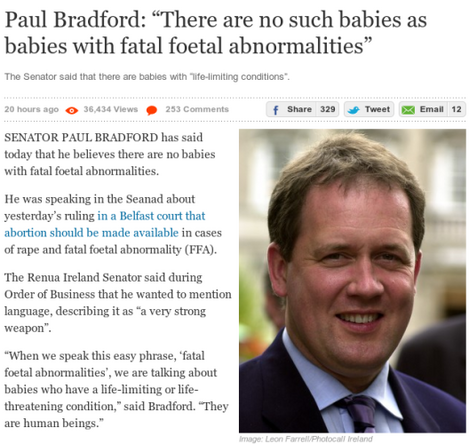 Bradford's comments in the Seanad yesterday have been criticised Source: www.thejournal.ie
Bradford said he would be opposed to a referendum to repeal the Eighth Amendment "as it currently stands" without seeing what alternatives are being offered.
"My starting point would certainly be the need to keep in place the strongest possible protection for the most vulnerable of all," he said.
The former Fine Gael senator said he found it "amusing" that some of those campaigning for repealing the Eighth Amendment also campaign for the right to water to be enshrined in the Constitution, adding:
I think it would be a very sad day if the Irish constitution was talking about having a right to water but not a right to life.