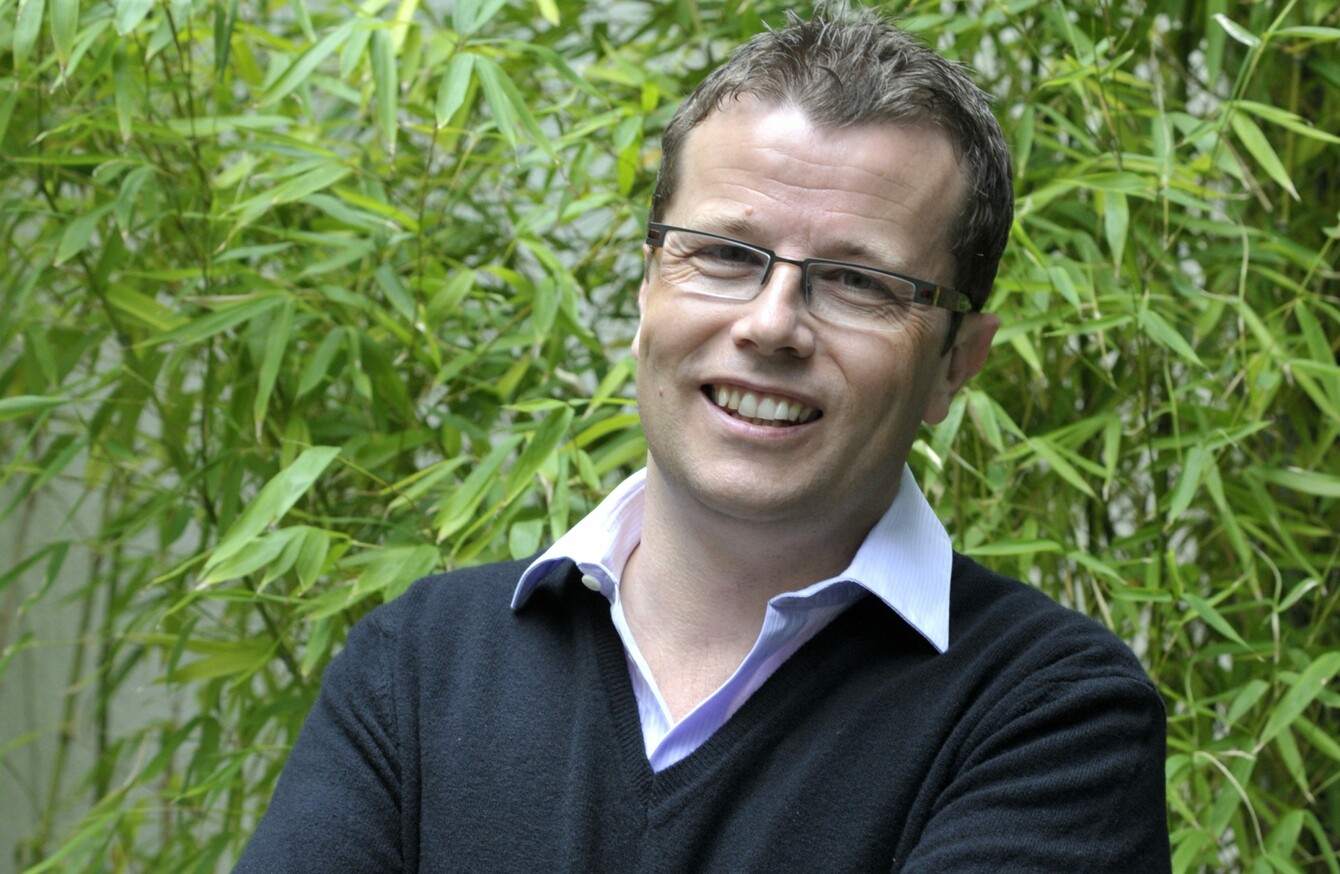 Image: /Photocall Ireland
Image: /Photocall Ireland
He blew his mind out in a car / He didn't notice that the lights had changed / A crowd of people stood and stared / They'd seen his face before / Nobody was really sure / If he was from the House of Lords – The Beatles, 'A Day in the Life'
HE'S BEST KNOWN for creating the quintessential Dublin 4 jock Ross O'Carroll Kelly – but for the last 10 years, author and former journalist Paul Howard has also been working on a book about an entirely different individual.
Howard has penned the biography of the fascinating Tara Browne, a young Irishman and Guinness heir whose death is explored in the Beatles song A Day in the Life.
Browne died aged just 21 in a car crash in London, when his Lotus Elan collided with a parked lorry after driving through a red light.
Son of Oonagh Guinness and Dominick Browne, Tara packed a lifetime into just over two decades. He was a socialite, friend to the Beatles and the Rolling Stones, heir to the Guinness empire, father, husband, lover, business owner and swinging Londoner.
Howard told TheJournal.ie how he interviewed over 100 people in his quest to tell the real story of Browne's life, moving past the online myths, and even the Beatles song itself, to uncover the young man's essence.
"It took over my life, really, for 10 years in a nice way," says Howard when we speak. He's in the midst of promoting the book, but he clearly hasn't tired of talking about Browne.
"It was a life's work really, it's just one of those books: when I look at it I feel like it's a big accomplishment – and I don't mean that in a big headed way."
He put years of work into I Read the News Today, travelling to England to do hours-long interviews, tracking down friends and family of Browne, and gaining the trust of those closest to the young man.
In the end, he had 2.5 million words, which he had to whittle down to 110,000.
"I didn't want to finish the work on the book until I was sure I could speak to everybody I could possibly get," says Howard. He would work on it for a few months of the year, in between writing his Ross O'Carroll Kelly books and other work.
"It is a strange thing when somebody immortalises you in song as John Lennon did with Tara Browne – he made his name famous but somehow that shrank the story, it's like he reduced Tara's life to lines of a song, albeit one of the greatest songs ever written, but people know about Tara as the lucky man who made the grade and blew out his brains in the car," says Howard.
When he describes Browne's almost unbelievable life, it's clear why Howard was fascinated with him.
His life transected with so many interesting people. He had all these wonderful people – he met Igor Stravinsky, met Humphrey Bogart and Truman Capote, Lucian Freud, he met Samuel Beckett… this was all before he was 12.
He was incredibly sophisticated because of who he had met and because of all the experiences he had. And because he had never gone to school.
According to Howard, the Beatles song didn't just reduce Browne's life down to a few lines – it also downplayed the role he played in sixties London.
"The song implies that he was a peripheral figure. In swinging London everybody knew who Tara Browne was, no one was in any doubt as to who he was," assures Howard.
He was a friend of the Rolling Stones and the Beatles, and especially close to Paul McCartney. He ran a shop called Dandy Fashions, and could be seen driving around London in his ill-fated Lotus Elan.
He also came to prominence at a time when the 1960s were exploding in a technicolour riot in London. It was a time when "class was ceasing to matter – it didn't matter if you were high born or so called low born, suddenly the world was a meritocracy and it was suddenly more about what you could say and what you could do".
Source: TheBeatlesVEVO/YouTube
"It's such a haunting piece of music"
Howard's parents lived in London during the 60s and had a deep love for the band – his father even saw the Beatles when they played the famed Cavern venue.
They passed this love on to their child, with Howard – who grew up in England, later moving to Ireland as a schoolboy – having many memories of listening to his dad's original copy of Sergeant Pepper's Lonely Hearts Club Band, with its Peter Blake diorama on the front.
"I think the first time I ever heard A Day in the Life I was really spooked by it," says Howard now. "It's such a haunting piece of music, that intro."
He always wondered about the veracity of the story behind the song, and a decade ago got to interview Tara Browne's older brother, Garech de Bruin (a founding member of the Chieftains) on the 40th anniversary of Browne's death.
Howard "came away from it thinking I hadn't done a really good job, I hadn't even scratched the surface".
So he decided to set about and find the real story of Tara Browne's life. "There are so many myths about Tara Browne and if you go on the internet you can find out hundreds of facts of his life that aren't actually true," he says. "So it was extracting the real person from the mythology – that was my job when I started to write the book."
"It's very invasive, to write a biography"
Howard was conscious that by talking to those closest to Browne, he was delving into a sad and painful time of their life.
"It's very invasive to write a biography about somebody," he says. "You are intruding into people's lives and it's even more sensitive when you are writing a biography of someone who is dead and someone who died at such a tender age."
Browne was taken from his brother just as they were getting very close, and also from his sons Julian and Dorian before they even had a chance to get to know their father.
"I knew there was going to be a lot of stuff that I was going to be bringing up that would be difficult for them," says Howard.
One of the people he aso had to win over was Nicky, Browne's estranged widow. She passed away four years ago but before her death she and Howard got to speak about her late husband.
The couple had two young children and married while they were just teens. When Browne died, they were in the process of getting divorced.
Once Howard had the imprimatur of the four key people in Tara Browne's family, it became much easier to write the book.
Two essential figures Howard got to interview were Marianne Faithfull and Anita Pallenberg, who both had key roles in the Swinging London scene.
"It was not just a case of phoning her up and saying 'I'll chat to you next week'," says Howard of Faithful. "I had to win her trust." Pallenberg, meanwhile, took years to contact – it took letters, knocks on her door, and finally a phone call from Garech's house ( Lugalla in the Wicklow Mountains) after two glasses for Dutch courage.
"She was so sweet," says Howard of Pallenberg, who was the former partner of Brian Jones and Keith Richards. "She said 'the only reason I didn't reply to your letters was I didn't know if you had Garech's approval'."
Howard was on the plane to meet her the following day – and proved to himself that, despite his fears, she was indeed a real person. "To finally meet her was amazing – she was everything thing I thought she would be," he recalls. "She was such a sophisticated lady, so smart. She has done so much living."
To sit down with a woman who was witness to so much of the 60s was one of the highlights of Howard's journalistic career.
Youthquake in London
Howard was born in 1971, but the 60s are a period he has long been fascinated with.
"The music in our house growing up, it was always 60s music. When we lived in England, Sunday lunch was always accompanied by the soundtrack of 60s music. It was what my parents used to call music from the good old days. In a strange way I grew up feeling nostalgic about an era I never ever lived through, and everything about the era excites me."
His mother and father would talk about the 60s being a very happy, optimistic time. "It was an ideal," says Howard now. "They had a sense they could change things."
There were several reasons why the 60s were so unique, says Howard – from the UK bands taking US music and selling it back to the Americans, to the advent of the mini skirt, the appearance of the Pill, and Britain re-establishing itself post-empire.
"[After WWII] London was still bomb scarred. A lot of people were still living on rationed food and suddenly the children of the Blitz – you could say a lot of these kids would have been conceived in air raid shelters – suddenly were coming-of-age teens in the early 60s."
These teens, unlike their parents or grandparents, didn't have to fight a war, and conscription was gone.
"They can suddenly see the future and define themselves in their own ways. Like our Celtic Tiger there was an economic boom – it was young people who had the money," explains Howard. These kids with money were the taste-makers of their generation – if they said the Beatles were the next big thing, they became the next big thing, says Howard.
You had all this fusty grey establishment being pushed to one side and this absolute youthquake appearing in London.
The time was ripe for a figure like Tara Browne to make his mark.
"It was an extraordinary time… when I read about it I get goosebumps, because I wish I was there. I think it is one of the great golden eras," says Howard.
Is there a lesson in Tara Browne's story? "I don't know if there is a lesson from it," muses Howard.
"Probably if there is a lesson, it's that these eras come and go like the tides and eventually all the optimism dies and that's the sad thing.
"Tara died just on the cusp of when people realised that all this optimism they had for the world, about making the world a better place, it was optimism. And so Tara still represents to them the world when it was bright and happy, and people really did think they could for instance bring an end to Vietnam [War]."
The process of writing the book has also had a personal lesson for Howard – it taught him the discipline of journalism again after years of writing fiction. "My stuff comes from my own sick imagination," he laughs. "This was different – this was phone calls, detective work, and I loved that. I'd probably forgotten when I stopped being a journalist."
Now that he's finished this decade-long labour of love, is Howard thinking about his next project? "I don't know if I'd find another subject I'd consider worthy of 10 years," he says.
There is another Ross O'Carroll Kelly book due to be finished before Christmas, but Howard admits:
"I'm sure in the new year I will be itching to get stuck into something. I loved doing the research for this. The 60s is something else."
Just like the story of Tara Browne, something else indeed.
I Read the News Today, Oh Boy is out now.