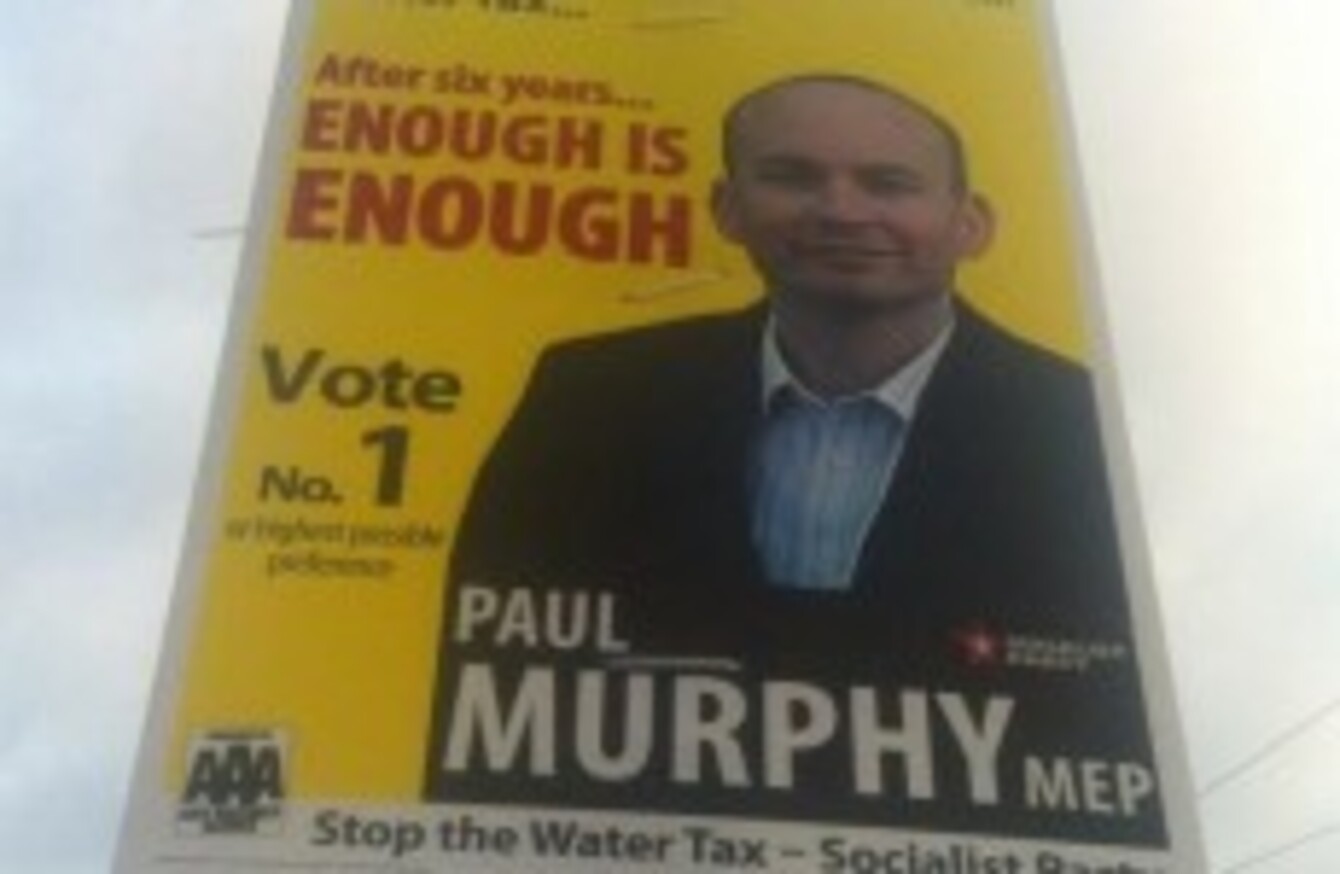 A Paul Murphy election poster photographed in Ballinteer
Image: TheJournal.ie reader
A Paul Murphy election poster photographed in Ballinteer
Image: TheJournal.ie reader
SOCIALIST PARTY MEP Paul Murphy is likely to be fined up to €4,500 for erecting posters before he was legally allowed to do so.
Dún Laoghaire-Rathdown (DLR) County Council has confirmed that it is in the process of issuing fines in relation to one unnamed candidate who erected election posters before they were legally allowed to do so.
TheJournal.ie has learned that Murphy, who is hoping to retain the seat that he took over from Joe Higgins in 2011, is facing fines of as much as €4,500 for putting up posters a day before he was allowed to do so, breaching the Litter Pollution Act.
The European election candidate erected posters a day before the legally allowed time, citing the fact that Fianna Fáil's candidate in Dublin, Mary Fitzpatrick, was putting up her posters. He claimed he did not think people would be bothered.
Candidates can be fined around €150 for each illegally erected poster. But rather than fine Murphy for each of the hundreds of posters he erected in the electoral area, council officials in DLR are likely to take a representative sample of around 20 to 30 posters and issue fines in respect of those.
"Evidence has been gathered in relation to one candidate who erected election posters before the allowed time," a council spokesperson confirmed. "Fines under the Litter Pollution Acts are in the process of being issued."
Any candidate who is fined has 21 days to pay or else face prosecution in court. Murphy said last night he had not received any notification of fines but would pay up if found liable for them.
"If we get fined and we are liable for them, we'll have to pay them," he said last night.
DLR also confirmed that its environmental officials have had removed around 1,200 posters because they were in "dangerous positions" such as on traffic signs or erected too low.  Those who have their posters removed must pay a €3 fine for each poster in order to get them back.
Dublin City Council said it is responding to complaints in relation to illegal posters and monitoring the situation through its enforcement units, but declined to comment on individual posters or candidates. 
"Any poster deemed to be a hazard to either pedestrians or motorists will be removed," a DCC spokesperson said.
Councils in Fingal and South Dublin did not respond to a request for comment.