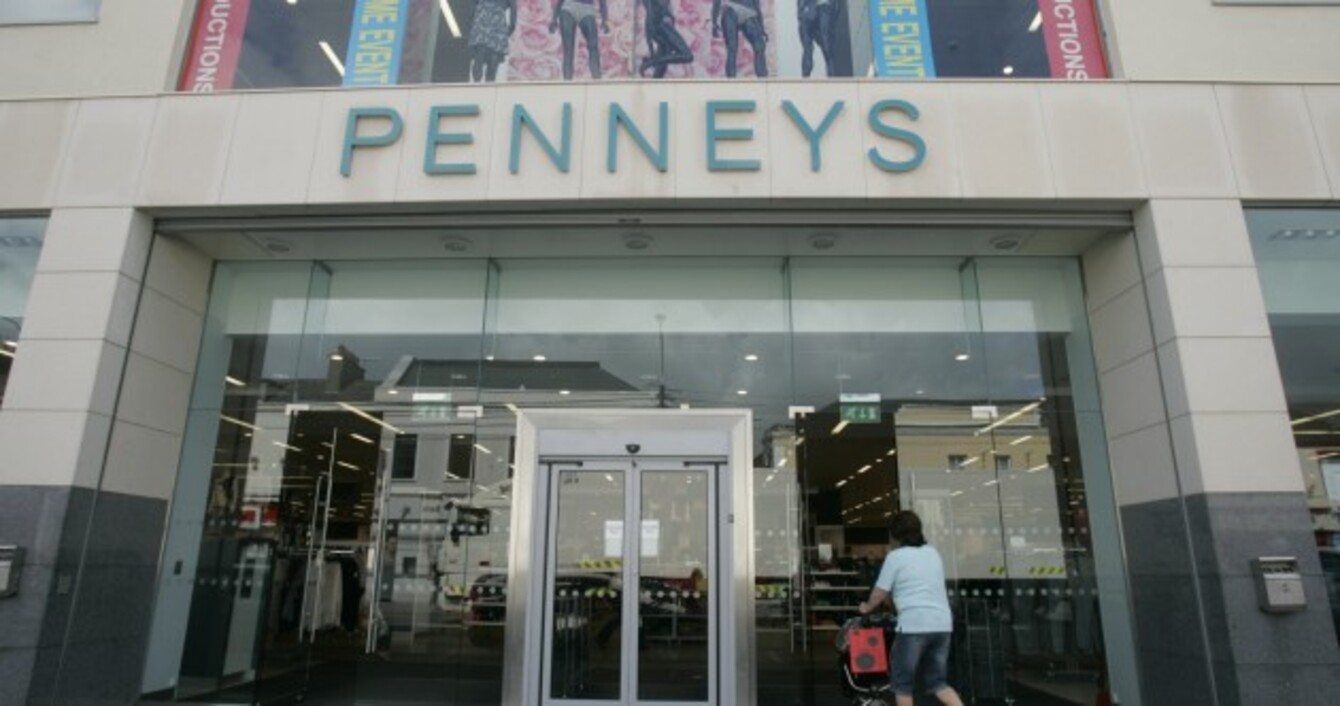 Penneys, on Parnell Street.
Image: PA Archive/Press Association Images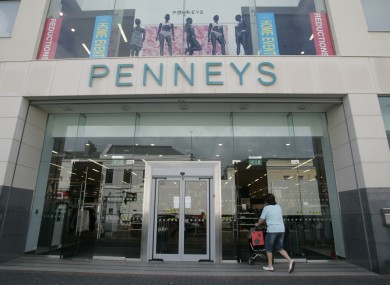 Penneys, on Parnell Street.
Image: PA Archive/Press Association Images
PENNEYS IS A household name in Ireland. Barely a day goes by when you don't ask someone where they got their new shirt or trousers, only to hear: "Penneys, just €11."
While the retailer is best known around the world as Primark, it will always be Penneys to us.
The global domination of the retail world came from humble beginnings: the conglomerate started on Mary Street in Dublin city centre in 1969.
Now, 46 years later, the retailer employs over 57,000 people and operates over 287 stores around the world.
This autumn the store is taking a giant leap and opening its first store in the US in Downtown Crossing in Boston, followed by another shop in New York.
Penneys currently employs more than 5,000 people in its Irish stores, and it was announced this week that a new store is also on the way for Liffey Valley, where up to 280 jobs will be created.
So, where did it all begin? 
In 1969, Dublin-born retailer Arthur Ryan opened the first Penneys store in Ireland on behalf of the Weston family, which had been in the retail business for years.
The late Garfield Weston, whose descendants are the controlling shareholders in Primark's parent company Associated British Foods (ABF), hired Ryan to set up a discount clothing chain. He had previously worked for Dunnes Stores.
Speaking at a business awards ceremony in 2011 about the early days, Ryan said he remembered his first day well.
He recalled standing in the doorway of the Mary Street store on the first Saturday it opened with Galen and Hilary Weston.
He described himself as an innocent southsider on the northside, who was left bemused at how people from the area were taking part in a full football match on the street outside the shop.
People told him he was crazy to set up the shop there at the time.
"There were no customers," said Ryan. "We built the business and got it going."
Speaking about the Weston family, he said Ireland owed them a lot.
"They put money into this country when it wasn't a place to go."
Ryan said he first got a signal things were picking up for Penneys when a busker stood outside the store.
"Buskers don't stand outside empty stores."
He said he knew that meant footfall.
He said he still had an emotional attachment to the Mary Street store, where it all began, and also the first store they opened in the UK in Derby.
Ryan also described how he fought to get Mary Street pedestrianised.
At an event, he got talking to the Dublin city manager of the time about plans to pedestrianise Henry Street. He asked what was happening where his store was located on Mary Street, only to be told that that wouldn't be touched.
Instead, he got in touch with nearby Marks and Spencers, and between them, they paid to pedestrianise Mary Street themselves.
Ryan, now in his 80s, relinquished his chief executive duties in 2009 after reigning over the retail giant for 40 years. He stayed on as chairman, and still holds the role to this day.
The Irish Independent reported this year that Ryan has amassed a €8.3 million share fortune in the chain's owner, Associated British Foods (ABF).
Why is it called Penneys in Ireland and Primark in the UK? 
In 1973, the first store opened in Derby in the UK. The UK now has over 164 Primark stores in total.
The name could not travel to Britain though as the American retailer JC Penney had the right to use the name in the region.
Primark was the name born from that and since then all stores opened around the world have adopted it.
Penneys has built up its worldwide success by offering customers up-to-the-minute fashions at value-for-money prices.
While it began in fashion, its range now includes lingerie, childrenswear, menswear, footwear, accessories, hosiery and homeware, as well as beauty products and more recently beauty treatments.
So why do people love it? 
'Thanks Penneys' is a commonly heard saying, so what makes it so popular?
The company says it focuses on a target audience of people under 35, aiming to offer 'amazing fashion, amazing prices'.
Even our Taoiseach Enda Kenny seems to have soft spot for the company. Here he is opening the new Primark store in Germany:
Source: Video TheJournal.ie/YouTube
Fashion blogger Becky Johnston of Pink Elephant Blog said Penneys has really upped its  game over the past couple of years.
Johnston said their "credible seasonal lines allowing financially challenged fashionistas to invest in seasonal trends without making too much of a dent to their wallet".
Yes, there is always the likelihood that four other people in a bar will be wearing the same ditsy-print tea dress, but for a tenner most people are willing to take their chances! It's nice to keep your cash to invest in more classic pieces that will go the distance, while still keeping your wardrobe up to date.
Fashion blogger Michelle Ross of Needsnotwants blog agrees the key to Penneys popularity is affordability.
What makes them so popular is it is affordable fashion that is on trend with the rest of the high street stores. You can get the same looks, for a lower price and you can recreate the looks from the catwalk that would usually cost you a lot more.
She said Penneys brand knows what it is doing and what the people want.
Johnston said Penneys has tapped into other fashion items people are looking for recently.
It's great that having made their mark in trend based seasonal lines that Penneys have now also rolled out a fashion forward fitness range which is receiving a great reaction from bloggers and media alike; praising not only the edgy style, but also the fact that functional fabrics have been used which cover the practical element of working out.
Ross said Penneys is very popular with fashion bloggers as the brand has really invested in its social media strategy, having one of biggest followings of any of the high street stores.
"Penneys have made huge strides in terms of blogger and public engagement using their Primania hashtag, encouraging bloggers and the public to create real-time self-styled lookbooks of their favourite Penney's pieces featuring themselves alongside the Primania hashtag, " said Johnston, adding:
Social media plays such a huge part in brand perception these days that it's nice to see an Irish retail giant holding their own in the blogosphere. 
Ethics 
However, the brand has not been without controversy. Questions have been raised frequently about the ethics involved in producing high volumes of clothes which are sold at a low cost.
The collapse of the eight-storey Rana Plaza in Bangladesh in 2013 killed more than 400 people. The company confirmed one of its suppliers was located in the building.
Primark is believed to have donated over €10 million in compensation, saying in a statement:
This will include the provision of long-term aid for children who have lost parents, financial aid for those injured and payments to the families of the deceased.
It said it noted the supplier shared the building with other retailers and has urged these other retailers to come forward and offer assistance also.
The company has also defended itself, saying that it has been a member of the Ethical Trading Initiative since 2006, and has been ranked as 'Leader' by the ETI since 2011 which puts it in the top 5% of ETI member brands.
How much money is it making? 
Last year, Primark won company of the year at the Business and Finance Awards – and based on the figures, it looks like it was with good cause.
Penneys is the jewel of its owners eye, with Associated British Foods reporting sales were up 15% over the 16 weeks to the start of January, compared to the same time a year earlier.
Sales at Primark are expected to be 16% ahead of last year at constant currency driven by an 11% increase in retail
As a result of the weakening of the euro against sterling, total Primark sales are expected to be 12% ahead of the same period last year at actual exchange rates.
The Primark retail business is the biggest earner in Associated British Foods' stable and was the only major wing of the £24.6 billion (€31.8 billion) company to increase sales last financial year.
It was doing pretty well in the early days too. In May 1979, Managing Director of Primark Ireland even wrote to the Taoiseach to bring to his "personal attention" to efforts it was making for the Irish economy.
What does it take to work there? 
Ryan said a number of years ago Penneys/Primark want hard workers.
He said the company wanted "committed people" who would put in the hours needed:
If you want to be home for your tea, don't call.
The Penneys head office is still based above the original Mary Street store, and has only just recently been given a makeover. There is another head office in Reading in the UK.