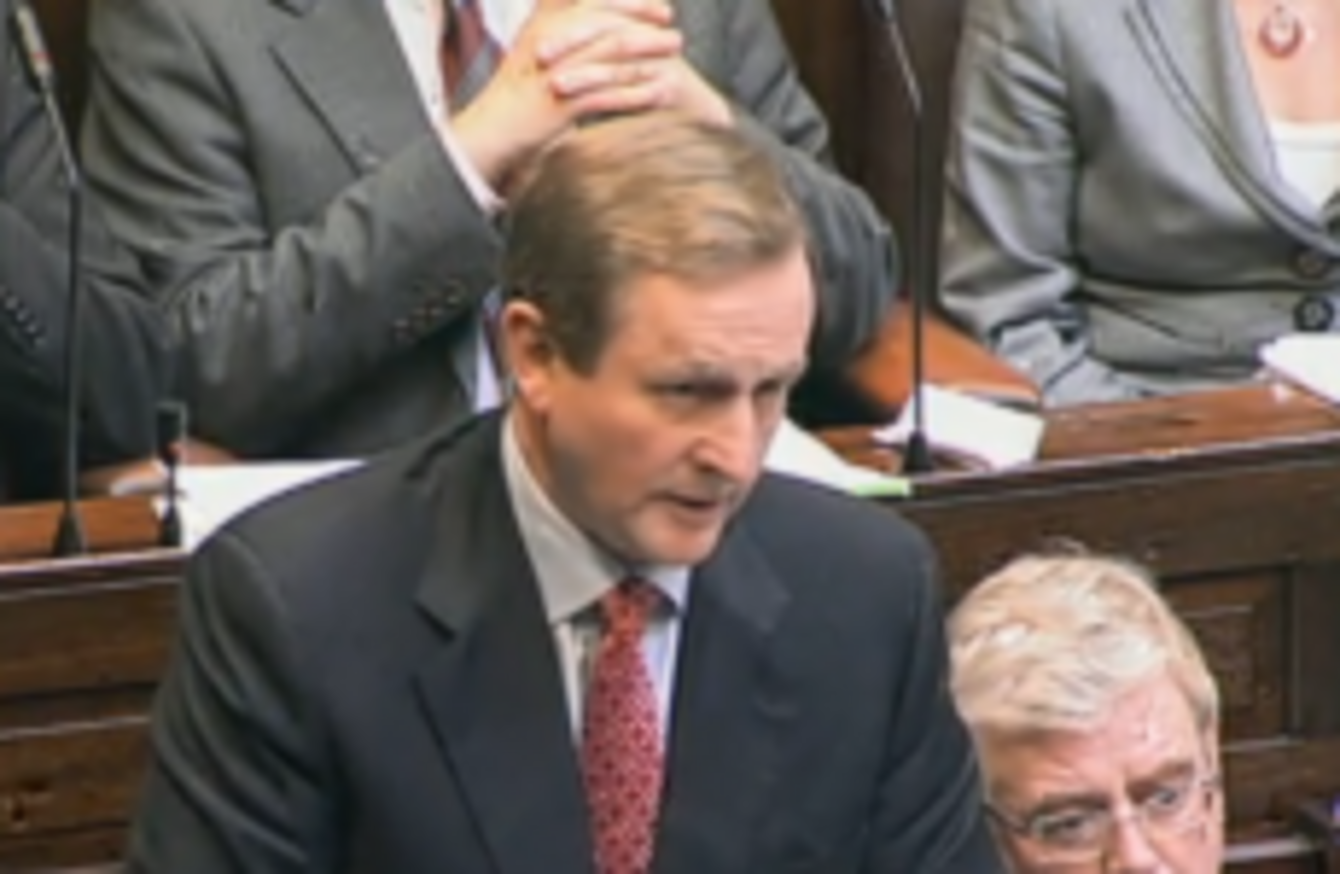 ENDA KENNY has told the Dáil he made it "perfectly clear" to Ireland's fellow member states of the European Union that the issue of Ireland's corporate tax rate is an entirely separate matter to that of its bailout.
Taking his first session of Leaders' Questions in the Dáil since becoming Taoiseach last week, Kenny told Fianna Fáil leader Micheál Martin – who sought clarification on whether a corporate tax increase was demanded by Europe in exchange for a reduced interest rate on the bailout – Kenny said it was made clear that Ireland's taxation policies were "separate matters from the IMF-EU deal."
"Our position has been to seek an improvement in the terms of the [bailout] deal, as far as the taxpayer is concerned."
Martin said he felt a new deal was "on", but said Ireland could not proceed without clarity on whether Europe felt the two issues were intertwined, or whether they could be treated as separate issues.
Kenny had opened the proceedings of the second day of sittings of the 31st Dáil by extending his sympathies, and those of the Irish people, to the victims of Japan's earthquake and tsunami.
Sinn Féin's Gerry Adams, making his own maiden contribution to Leaders' Questions as a TD, said he shared the condolences of the house – but also pointed out that there had been two minor earthquakes in Cumbria recently, and said the implications of that – and of their potential impact on the Sellafield nuclear plant – should be discussed in the Dáil in the coming weeks.
Joe Higgins, speaking on behalf of the Dáil's technical group, said that Fine Gael and Labour had betrayed the public in "six short Hibernian days and nights", having quickly dropped its proposals to enforce burden-sharing on investors holding unguaranteed bonds in the country's banks.
Labour had been "lining up the tanks to roll on Frankfurt" as recently as three weeks ago, he said.
Kenny retorted that Higgins would have known about a parliamentary enquiry into the examination of the banking sector if the voters "had not sent him away to Europe" in 2007, and said he still wanted to punish those who had engaged in "reckless banking".
"My view is that, obviously, no further monies should go into banks beyond what's already committed, without some degree of sharing from those who are involved here," he said.
#Open journalism No news is bad news Support The Journal

Your contributions will help us continue to deliver the stories that are important to you

Support us now
"My focus is on getting a better deal on the bailout, for the taxpayer."
Kenny also formally announced the appointment of the 15 junior ministers to the Dáil this afternoon, before it began a debate on Fine Gael and Labour's programme for government which will conclude at 7:30pm tonight.
The Dáil will then adjourn until next week, in order to allow ministers travel abroad for the St Patrick's Day celebrations around the world.