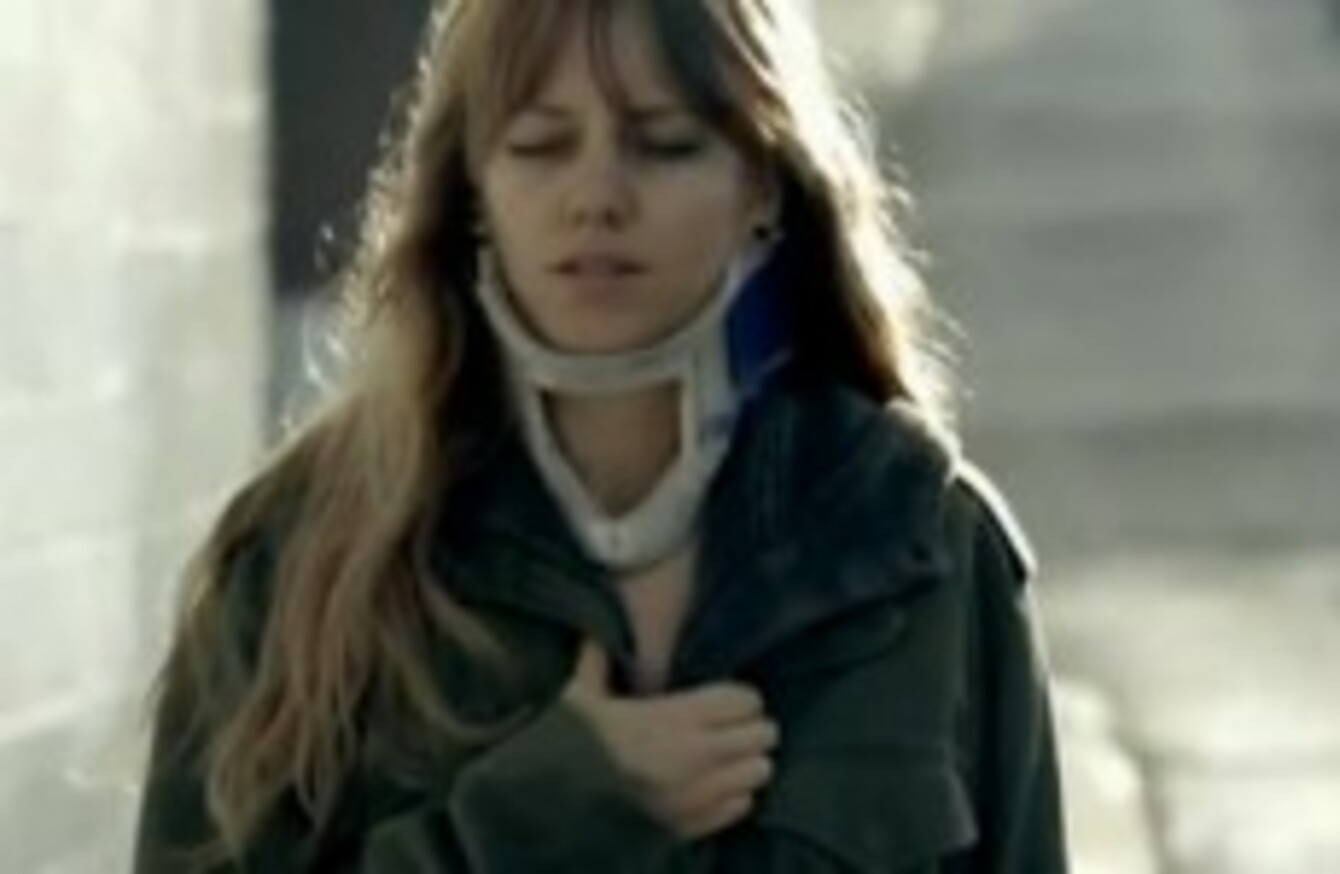 Image: YouTube
Image: YouTube
AN ANIMAL RIGHTS group known for its provocative and controversial advertising has come under fire for its latest campaign which critics say promotes the degradation of women.
PETA's 'BWVAKTBOOM' campaign, which stands for 'Boyfriend Went Vegan and Knocked the Bottom out of Me', features a character called Jessica whose boyfriend became vegan and "can suddenly bring it like a porn star".
In the campaign ad released online on Monday, 'Jessica' wears a neckbrace and she arrives home as her boyfriend patches up a hole in the wall. As 'Jessica' takes off her coat to show her wearing just a bra and briefs, her boyfriends asks: "Are you feeling better?"

(Video via
officialpeta
)
The campaign's website offers advice on pelvic floor exercises which will "strengthen your special area and help you withstand your vegan boyfriend's super-power" and recommends mastering "the art of the 'silent scream'".
However, commenters on the campaign's Facebook page have accused the ad of promoting the abuse of women and of failing to get its pro-vegan message across.
One commenter wrote: "I think its sad that you equate good sex with painful, violent sex, I guess your trying to be sarcastic? But what's the point, if the only people who get it are you? Your not reaching the people you need to."
People defending the ad accused those attacking it of eating meat, saying that they are reacting angrily to suggestions that being vegan could have benefits. Critics were also accused of having no sense of humour.
Meanwhile, a commenter on PETA's YouTube page for the ad summed up many of the reactions posted to the sites when saying:
My problem with this campaign has nothing to do with veganism. It's the positive portrayal of women getting physically injured by their boyfriends. Yes, I get the "joke" of amazing sexual prowess by veganism, but nevertheless, you've ended up with a campaign where you try to get people to do a particular thing, and then show that thing by boyfriends causing girls to wear neck braces and eyepatches [sic]. It's very counter-productive.
Others defended the ad saying, "This commercial was halarious [sic]", and, "This is funny as hell. And I don't see how people equate this with domestic violence."
PETA's associate director of campaigns and outreach told Yahoo News that the ads are meant to be tongue-in-cheek and that 'Jessica's' mischievous smile at the end shows that "she's happy to go back with him. It's playful."
The organisation is no stranger to advertising controversy: in 2009, a proposed PETA Superbowl ad was banned over concerns of sexually explicit images of women with vegetables.
Another proposed ad titled 'Meat can cause inpotence' was also refused an airing during the Superbowl, while a poster campaign featuring Pamela Anderson was banned by Canadian officials in 2010 over concerns it was sexist.